Matej Babič
, International Intern, 2018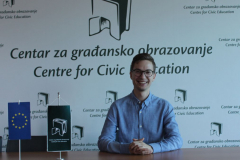 Matej Babič graduated at the Faculty of Law, University of Ljubljana, and is currently pursuing two MA at the University of Ljubljana, namely at the Faculty of Law, International module, and at the Faculty of Social Sciences, Department for Political Sciences and Defense Studies. He has participated in an Erasmus+ student exchanges at the Law Faculty at Charles University in Prague and Law Faculty at the University of Zagreb, as well as in three-month student mobility at the Colegio Guadalupe Seixal in Portugal. As an intern he worked at the Permanent Representation of the Republic of Slovenia to the United Nations, OSCE and other International organisations in Vienna and at the John Paul II International Airport Krakow-Balice, besides that he was a volunteer at the Law Clinic – Group for asylum seekers and aliens in Zagreb. He is an active member of the European Law Students' Association (ELSA) Ljubljana (Secretary General, Director for Seminars & Conferences and Vice President for Student Trainee Exchange Programme (STEP)), and ELSA Slovenia (Vice President for STEP and member of its Supervisory Board). Moreover, he is a Scout Leader and organizer of summer camps for kids. Also, he has successfully participated in the "All-European International Humanitarian and Refugee Law Moot Court Competition", 18th International Summer Law School "Human rights and globalization" in Zadar and Summer Law School about Brexit in Ljubljana. Fluent in English and Croatian, with solid knowledge of German, and currently learning French.
---
Wanda Tiefenbacher
, International Intern, 2014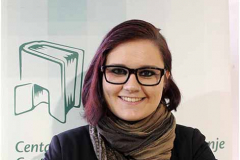 Wanda Tiefenbacher graduated at the King's College London, where she completed her BA in International Politics. Additionally, she specialized International Relations and Psychology at the Harvard Summer School – Cambridge, MA, USA. She is currently also an active member of the International Association for Political Science Students (IAPSS), where she holds a position of Vice-President and Head of International Cooperation and Public Relations. Previously, she has worked for numerous NGOs dealing with human rights and democracy, such as the European Training Center for Human Rights and Democracy in Graz, Austria or the Federation of Young European Greens in Brussels, Belgium. Also, during her high school period, she was active in youth organisations focusing on LGBT rights and HIV/AIDS prevention. On the side, she works as a freelance translator for German and English, as well. She co-authored the publication "Equal opportunities for the media in Montenegro". Fluent in German and English, with advanced knowledge of French and Spanish, and in the midst of learning of Montenegrin.