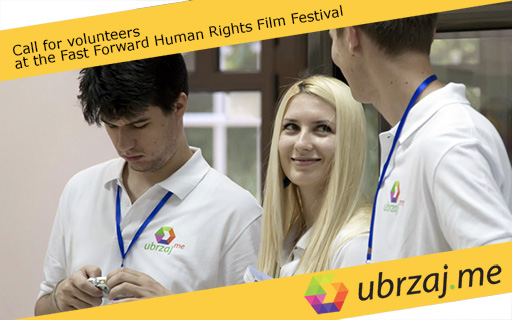 Who can apply for volunteering?
Basic prerequisite is that you are older than 18 years. It is important that you are open and ready to make new friends and share your enthusiasm with others. Any kind of knowledge on films and cinema would be appreciated, but it is just enough that you love movies.
If you also understand the significance of human rights, you are the right person to volunteer at the Fast Forward Human Rights Film Festival.
How?
Send us a short biography, along with a motivational letter and your contacts at the e-mail address nikola@cgo-cce.org until 25 November, 2012.
What do we offer?
New friends, priceless experience and socialising! The most amusing way to learn more about freedom, its boundaries and how to fight for it! A unique opportunity to be part of the team of the Centre for Civic Education (CCE) and to experience what striving for the principles of equality and justice really means on a daily base.
Who are we?
The Fast Forward Human Rights Film Festival, organised by the Centre for Civic Education, is on its third edition: this year the event is from 10 to 15 December at the Montenegrin National Theatre and at KIC "Budo Tomović". All information on the previous events are available at: www.ubrzaj.me.
We are waiting for you!
CCE team