Centre for Civic Education (CCE) organised a press conference today, on International Human Rights Day, whereby it presented the programme and partners of FAST FORWARD Human Rights Film Festival 2015.
Daliborka Uljarević, CCE Executive Director began by underlining that "the idea of the FAST FORWARD Human Rights Film Festival has been developed in the framework of the vision of the Centre for Civic Education (CCE), through which the CCE recognised Festival as different approach in communicating complex matter of human rights to the citizens". She also emphasised that: "We believed, and we still do, that film is the right medium that can subconsciously incite the empathy in us, as well as the motivation for further education and defending the rights of those who are endangered". Uljarević announced that Festival will present eleven excellent movies throughout the course of next five days, movies which already won numerous international recognitions. She presented the programme in detail, noting that Zvonimir Jurić, Croatian director, will be the guest of the opening of Festival, and that Damir Nikšić, famous Bosnian-Herzegovinian conceptual artist and one of the protagonists of movie "One day in Sarajevo" will come on the fourth day of the Festival. She concluded by reminding that the duality of FAST FORWARD Festival combines the art with human rights, adding that CCE and Festival will announce annual awards for the affirmation of human rights and civic activism on the closing ceremony of Festival in the category of individuals and organisations. «These awards are also of one of the characteristics of Festival, and by awarding them we aspire to contribute in the identification and stimulation of those who make generous efforts to better the Montenegrin society, without questioning the versatility of human rights".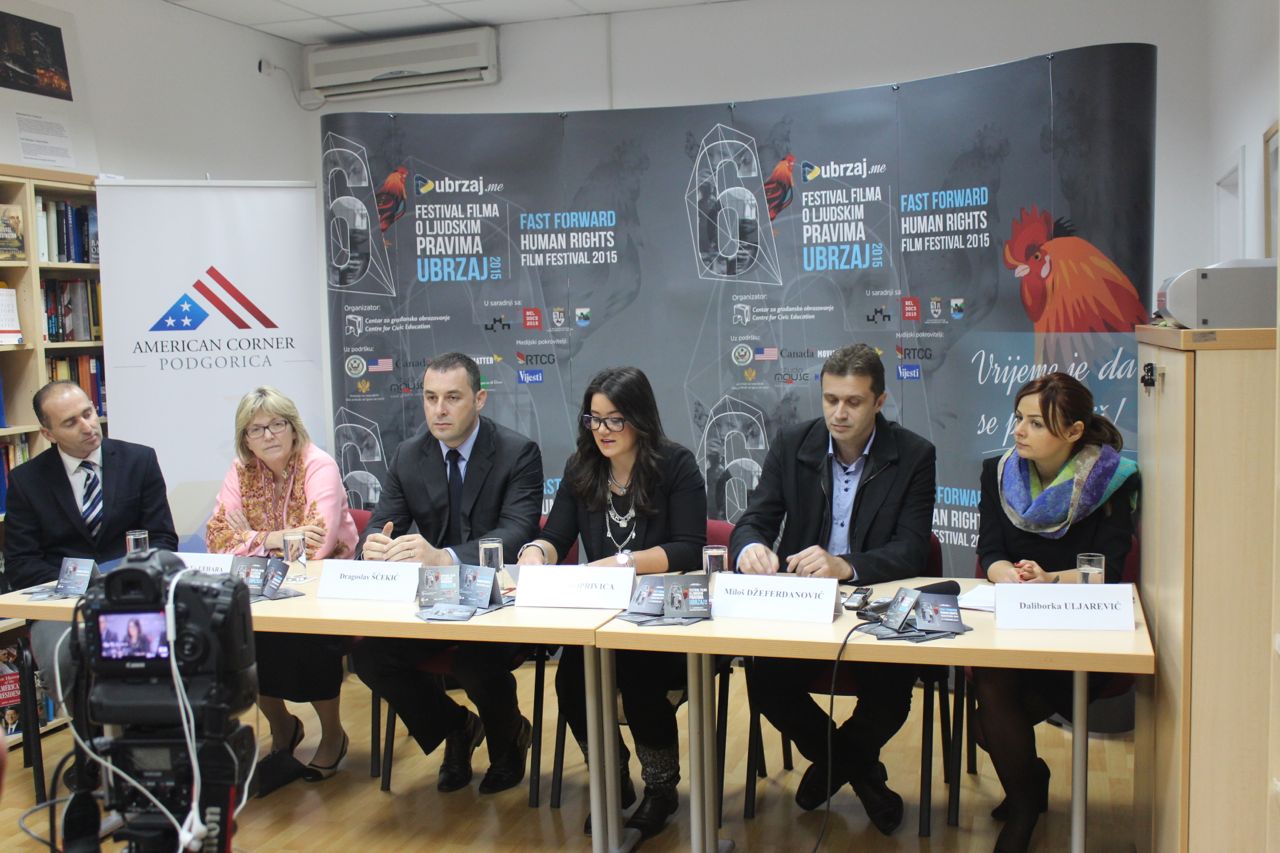 H.E. Margaret Ann Uyehara, US ambassador in Montenegro, pointed out that "I'm very happy that the U.S. Embasy supported the firs edition in 2010. And we are proud that Festival has grown and exceeded initial expectations over the past five years, and it is great that the Festival will aslo take place in Berane and Kotor". By reminding that today we mark the International day of human rights, she underlined that "The Universal Declaration of Human Rights is not a prophecy, but a document that demands a lot of effort to make real the words contained within. This is exactly what our partner, the Centre for Civic Education, is doing through this Film festival. The Centre is underscoring the importance of human rights, in many different aspects, and telling stories from around the world so that audiences from Montenegro can learn more about human rights practices and violations". She stated that "history remembers and honors those who fight for the basic human rights of all people and history condemns those who violate them. Let's all work together to be on the rights side of history during these important and challenging times in Montenegro". She concluded by saying "I congratulate the Centre for Civic Education for their hard work every year to organize the Human Rights Film Festival. I can't wait to see this year's inspiring films".
Mayor of Berane, Dragoslav Šćekić, stated "I am pleased that municipality of Berane joined the family of cities where FAST FORWARD Human Rights Film Festival will be held. I wish to thank the Centre for Civic Education, for supporting our initiative and enlisting Berane among the hosts of Festival which deals with lives of ordinary people and actual problems they face on everyday basis. Our citizens will have the opportunity to witness the stories from around the globe, as well as their similarity, regardless of continent we live on, or belong to". He stressed that basic corpus of human rights underlines the importance of local self-governments as "first partner of citizens in the realisation of human rights". Šćekić reflected on most endangered groups of population that fall under the responsibility of municipality of Berane and pointed out that "great amount of effort is being invested in the protection of endangered individuals, families and groups", as well as that local self-government identified the issues in the area of rule of law and that it is giving its best to address them adequately. Also, he announced that municipality of Berane will produce a movie on challenges which Roma community faces in Berane and try to help and improve the life of this marginalised social group.
Miloš Dževerdanović, director of Public institution Cultural centre "Nikola Đurković" from Kotor stated that regardless of the fact that Kotor is traditionally multicultural city "we wish to remind younger generations of rich tradition of cohabitation and mutual respect". He expressed gratitude due to the fact that Festival will be held once again in Kotor after the pilot project from last year, and emphasised that "times are challenging and we need to invest as much effort as possible in order to maintain this tradition in Kotor, and this Festival is of great assistance for that cause".
Sixth edition of FAST FORWARD Human Rights Film Festival 2015 will be held from 11 to 15 December 2015 in Podgorica in Montenegrin National Theatre (CNP), and the novelty is that this year's Festival will have simultaneous short editions in Kotor and Berane. Film "Reaper", of Croatian director Zvonimir Jurić, will officially open the Festival on 11 December at 20h00 in CNP. Entrance for all screenings is free of charge.
This year's Festival was realised with the support of US Embassy, Embassy of Canada, Commission for the allocation of part of the revenue from games of chance of Government of Montenegro, as well as the prestigious Movie that matters (this is the first time it has supported this type of project in Montenegro). Partners of the Festival are Montenegrin National Theatre (CNP), Beldocs, public broadcaster RTCG (TV and Portal), Vijesti (newspapers and portal), Cultural centre «Nikola Đurković» from Kotor, municipality of Berane, as well as the companies Montepano, Studio Mouse and Compania de Vinos Montenegro.
Svetlana Pešić, programme associate