Centre for Civic Education (CCE) and Coalition for RECOM organised second debate on reconciliation in PR Centre on the subject "How do politicians perceive the process of reconciliation in region?"
Daliborka Uljarević, CCE Executive Director, opening of debate underlined: "It is very important to insist on the responsibility of politicians in terms of the facing the past. Precisely the political calculation over human tragedies further victimised numerous victims, but created new ones as well. Occasional declarative political maxim is not sufficient. On previous debate we indicated on numerous political structures from countries of region, formed during the years of war which still operate, and which greatly hinder the establishment of responsibility for the crimes and prosecution of criminals". She added that "politicians have to come forward and step out of the daily-political framework of tactics and dialectics, and be able to create a social context that will seek out the justice for victims, truth about the criminals, and a fair punishment for perpetrators and all those in chain of command. This is a prerequisite for Balkan societies to evolve in line with civic values, rights and freedoms of each individual".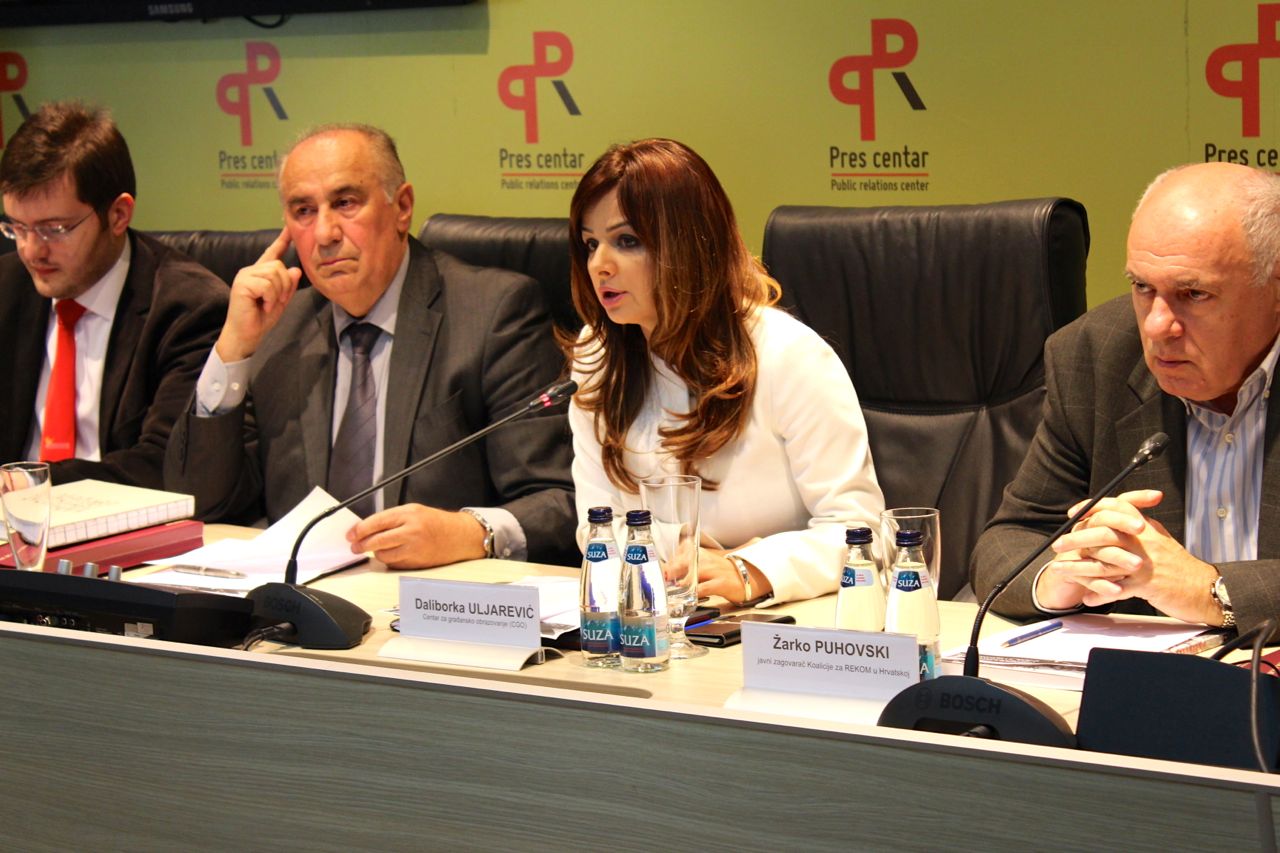 She particularly addressed the issue of oblivion: "Maybe oblivion is most suitable to politicians. However, those who barely know the history of the region, full of conflicts stressed through centuries rather then positive examples of cohabitation, know that the attempt of oblivion is the first step towards the next tragedy. Namely, politics flirts with xenophobia, thereby contributing to stagnation". She also pointed out to limitations of judiciary. "Truth about the crimes can only be proven before completely independent judicial bodies. And whether our post-conflict societies have the independent judiciaries capable of accusing and prosecuting war crimes? Does political elite allow such work of judiciary, and whether the judiciary itself lacks the professionalism and integrity to work with consistent application of law, regardless of interests of political centres of power?". Uljarević emphasised that "politicians do not see their benefit in adequate facing the past since this issue was assessed as subject which does not yield popular points in public", concluding with the significance of activities of civil society, especially by Initiative for RECOM.

Prof. Žarko Puhovski PhD, public advocate of Coalition for RECOM in Croatia, indicated on different approaches to "post-war standardisation of lives and coming to terms with what happened during the times of war", by stating that Italy is the only country in Europe where no person was sentenced of war crimes. "Even Switzerland and Sweden trialled some people based on war crimes, whereas Italy did not. Italy sanctioned only German soldiers. It was a consensus on which the post-war Italian society thrived relatively well", Puhovski said.
Contrary to that, he added, West Germany faced its past in the most radical manner, "which has the generation of '68 to thank for creating the environment that transformed this issue into some sort of decency", stated Puhovski. "Between there is an intention to establish European Union (EU). In the foundation of the EU is the attempt to forget the past, and we should not expect the serious support of the EU in that respect. That is not part of its agenda", stated Puhovski.
He reminded that war crimes left such wounds that do not heal as fast. "Our region faces a paradox situation in which the leaders of one of the two leading states would renounce themselves as far as their twenty-year younger versions were concerned, while the leaders of other state were not involved in the developments of nineties, but try to recreate that environment nonetheless", clarified Puhovski. He noted that politicians rather look upon the process of reconciliation, but that they do not participate in it. He underlined that foundations of war crimes and all processes from this area lie in "ethno-ethics – point of view which states that belonging to one environment implies certain features".
Puhovski also indicated on the notion of "moral idiotism" related to state of awareness in which the individuals fail to observe moral messages, or critics. "Process of reconciliation reminds us of the opening of Pandora's box because people from this area recently became aware that war actually took place in this region", he added. By discussing on manners of accomplishing the reconciliation in region he estimated that "This could be done in two ways. One has been present for years now, i.e. external pressure, from civil society, but this is not efficient in long run. The other one has yet to see the light of the day, the one from inside, within the political class. This is why we expect so much from politicians, to do something from the inside regarding this issue."
He also warned that, in addition to judicial outcomes for war crimes, we have to monitor those who alter the state of awareness. «For me today the key word is «disgrace». I, as a citizen, am interested whether the ones who were in the chain of command are disgraced, and whether they are ashamed of policies which enabled such acting».
Rifat Rastoder, president of the Committee for Political System, Judiciary and Public Administration of Parliament of Montenegro and Vice President of SDP, stated that role of Montenegro was specific during these developments, since it had diverse roles, primarily the one where «it was one of the first targets and victims», as well as that «there were no inter-ethnic clashes in Montenegro, except for a certain period of political and civilisation infringement when a number of refugees from B&H was deported», and that «the first indictment for war crime against civilian population was filed in Montenegro». He emphasised that Montenegrin politicians were among the first to pay a tribute for the victims of Srebrenica.
"On the other hand – Montenegro also had a fair share in the number of war crimes perpetrated in this area, and not only that those crimes did not see their epilogue, in spite of the insistence, there was even a lack of political or institutional will to do so", Rastoder underlined, by reflecting on nine cases of war crimes that were officially legally treated, and by reminding of numerous that were not processed at least on a formal level. "As far as I recall, former political oligarchies and, by the nature of things, their instrumented forces and paramilitaries – armed and propagandist ones – created and inflicted evil deeds. Then again – the same political oligarchies were the first to come to terms. As far as the citizens are concerned, they were not consulted either then or now", Rastoder underlined. He also reminded that he has been advocating for years the formation of Documentation-Research Centre for the gathering of relevant documentation on these events, as well as the investigation of causes and manners of mass suffering of people, regardless of ethnic, religious, political or any other individual or political affiliation, which is, in his opinion, the prerequisite for adequate collective remembrance and "not just an important assumption without any sort of reconciliation, but the most important element of preventive measures which would prevent similar suffering from happening again". He accused the Government of obstructing the formation of this Centre with a maxim that «past should be forgotten».
Marija Maja Ćatović, vice president of the Committee for European Integration of Parliament of Montenegro and member of Presidency of DPS, reflected on diversity and geostrategic particularity of the Balkans, as well as on the period of transition of Western Balkan states which was characterised with series of reforms, whereby the process of European integration is the most important one according to her. "Regional cooperation is one of the key elements of process of integration, and the dynamics of European integration certainly depends on mutual cooperation of Balkan states and their willingness to be a part of a united Europe. Focus on one joint objective – to become an EU member state, where they would make the decisions and negotiate at the same table with all of the other member states, but also strive for more significant position – is one of the key joint denominators of reconciliation in the states of region", clarified Ćatović. By discussing on specific cases of processed war crimes in Montenegro, she told: «The ones who are competent should comment on the performance in this area, but as an MP, I sincerely expect some results from the Prosecution in terms of the ensuring the justice and indemnifying war crimes».

Momo Koprivica, Vice President of Democratic Montenegro, believes that reconciliation is more of a "moral and human obligation, rather than political. However, as politicians we are not entitled to indifference when it comes to human suffering and undiscovered and unmarked graves. We are not entitled to indifference in terms of the need to bring down vicious human fortresses and the need to establish trust and reconciliation", Koprivica added. He clarified that «Reconciliation must not begin with finding the culprits regardless of ourselves. Reconciliation must rely on aspiration for justice, not seeking the excuses. Reconciliation can begin with words, but it must not remain solely on words. It calls for actions, actions by everyone and in continuity, starting from clarifying all irregularities, through processing all criminals based on equal standards, to achieving specific economic and political forms of cooperation among the nations and people of region».
At the end, Koprivica stressed out that "we cannot face the past until every political party of war is brought to justice. Ethnic-political entrepreneurship is the basic obstacle for reconciliation in region. Those political elites that benefit from tensions impede the state and other mechanisms to determine and pass on the truth."
Rade Bojović, Vice President of Civic Movement URA, emphasised that "Post-Yugoslav states – demolished, dehumanised and dysfunctional political communities – should strive for standardisation and improvement of mutual relations, while post-Yugoslav societies have to face their past in some way or another, with constant pressure from European Union (EU)." Bojović added that "there can be no reconciliation as long as political, historic and educational interpretations of post-Yugoslav events oppose or confront each other, or differ diametrically. Post-nineties generations today tragically resemble the demonstrators and chauvinist field workers who served as street overture for the incoming tragedy". He particularly pointed out that «there can be no reconciliation without the justice – judicial prosecution of crimes, satisfaction for victims and still present and futile issue of lustration». He reflected on current situation in region, through the reflection on key, and greatly forgotten or repressed facts, and the consequences of disintegration of Yugoslavia and post-Yugoslav wars, by reminding that the «existing political situation in every post-Yugoslav state neglects the process of facing its past».
Bojović also actualised the position of Montenegro by asking: "Is there anyone today who wants to face the consequences for the shameful attack on Dubrovnik? Perhaps, someone who educates the children on the facts from that period?", and by stressing out nearly forgotten, yet truly "primordial heroes" – Rear Admiral Vladimir Barović and admiral Krsto Đurović, "who paid with their lives due to their honourable behaviour in those times and that today no street or square in Montenegro is named after them, nor is there any bust or monument in Montenegro to honour them". He concluded by saying that few today recall the Montenegrin anti-war movement, as well as that "contemporary Montenegro basically refuses to face its recent past, real role in the disintegration of SFRY, as well as its voluntary participation in criminal Miloševićević's great Serbian policy… Reconciliation, or the path to a normal society, is still a victim of foreign calculations and interparty conflicts. Demagogic race for armchairs and unscrupulous safekeeping of armchairs cannot risk any form of facing the past, because the armchairs would then start to melt in contact with facts and unsettling truths", he assessed.
Tamara Milaš, CCE Programme Associate and Spokesperson of Coalition for RECOM in Montenegro, reminded that the objective is to "leave ample space for dialogue on reconciliation and manner in which the reconciliation is interpreted, but also to reflect on the Initiative for RECOM." She underlined that Montenegro needs to intensify its efforts in the fight against the impunity of war crimes, and efficiently investigate, prosecute and sanction war crimes in line with international standards, in order to achieve essential reconciliation and establish long-lasting peace, and as a referent organisation of Coalition for RECOM, CCE tends to improve the efficiency of that process with its activities.
Šućko Baković, Ombudsman of Montenegro, told that this process cannot be completed without the participation of politicians. "I am glad to hear such opinions from politicians, but I am deeply convinced that politicians cannot solve these problems, that this is the obligation of institutions of system. It is up to institutions of system to bring the criminals to justice. There can be no reconciliation without first determining the facts, without facing the past, without determining the truth. And are these factors present in Montenegro? I believe that there is will, at least declarative, which is definitely positive, however, the institutions have to do their job. Justice must be served. We have to clarify all of these cases and bring the perpetrators to justice", emphasised Ombudsman. He estimated that «there was no specific progress in the processing of war crimes», but that «there was progress in the process of compensations for the victims, which acknowledged the crimes thereby».

As the main obstacle he marked the oblivion and the fact that both the perpetrators and victims of crimes keep quiet on crimes. «Oblivion is a dangerous opponent of justice, and it seems that we haven't learned enough from our history», Baković told, by pointing out that there is no need to address international legislation in terms of these issues – it is enough to start from the Constitution and institutions and to implement the existing framework. «We are ought to face these issues for our own sake, then for the sake of reconciliation in region», he concluded.
Stojanka Radović, prosecutor from the Special State Prosecution, in charge of the criminal prosecution of war crimes as well, told that war crimes have no statute of limitation, stating that this institution processed four cases in its recent practice.
"Outcome of those cases is differently interpreted in the public. Hence, for the sake of the obligation to investigate all war crimes, or to review old cases, in order to see whether the outcome corresponds the truth or not, Supreme State Prosecution decided to come up with methods to review every war crime that took place on the territory of former Yugoslavia during last war", she said, but also indicated on the importance of current work of prosecution and that the case of «Morinj» has been under re-examination.
Initiative for RECOM gathers numerous civil society organisations and individuals from region in an attempt to establish Regional Commission for the Establishment of facts on war crimes and other severe violations of human rights perpetrated on the territory of former SFRY from 1991 till the end of 2001. As a referent organisation of Coalition for RECOM, the CCE tends to improve the efficiency of that process with its activities.
The event gathered 50 representatives of political parties, non-governmental organisations, Government, judiciary, media and diplomatic corps.
This debate is part of the project Strengthening the RECOM process (Phase II), financed by the European Commission, CCFD (French Catholic Committee Against Hunger and for the Development) and Rockefeller Brothers Fund.
Svetlana Pešić, programme associate