Centre for Civic Education (CCE) and Hellenic Foundation for International Relations (ELIAMEP) today organised the V National conference on fight against the corruption in education titled «Only knowledge should get you the title!». The conference was organised with the support of EU Delegation to Montenegro, Heinrich Böll Stiftung and the Commission for the allocation of part of the revenue from games of chance of the Government of Montenegro.
Daliborka Uljarević, CCE executive director, reminded of eight-year efforts of CCE to highlight the problems revolving around the system of higher education. "We began with modest ambitions, with the initial desire to address the issues that students encountered on a daily basis on different Montenegrin universities, which we identified as certain forms of corruptive practice. Meanwhile, our intention became a desire to contribute, from the angle of civic sector, to the harmonisation of system of higher education in Montenegro with systems in European Union alike, particularly by influencing the improvement of framework for adequate creation, implementation and monitoring over the key legislation and political framework in Montenegro. We also sought to evoke more active participation of student population in these processes which affect them today, and which will have an impact on the entire society in long run", Uljarević pointed out. "Progress has been made with the expansion of our goals in this area, as well as in dismantling long hidden issues in the education system. Unfortunately, Montenegro also saw the progress in the systematic erosion of already weak and on inappropriately influences non-resistant education system", she emphasised. She warned that the issue of fight against the corruption in education is not less important compared to fight against the high-level corruption and organised crime, because "current manifestations of corruption and organised crime have their roots, among other things, in corrupt education system and compromised value framework, which gained the impetus precisely from current authority, thus directly shaping the academic sphere, as well". She further reflected on the insufficient level of media and professional attention given to the fact that tens of valid indexes of Law Faculty were associated with one of the individuals accused of corruption and organised crime, and for whom there are indications of being instrumental in the acquisition of diplomas of numerous graduates of Law Faculty: "We don't know the number of those who work in the police, prosecution, judiciary and other competent authorities and who completed their studies by cheating. But, those people will not move a finger to disassemble such ill-favoured system in which the plagiarists occupy the managing positions, and which only conveys a message to young people that education is least valued". She added that "there is no information that management of University of Montenero has launched any accountability procedures due to the debts made". Uljarević assessed that members of academic community also bear the responsibility for the state of affairs in higher education. According to her words, they "complicit in the creation of such education system, either with active engagement in the marginalisation of opponents or with silence."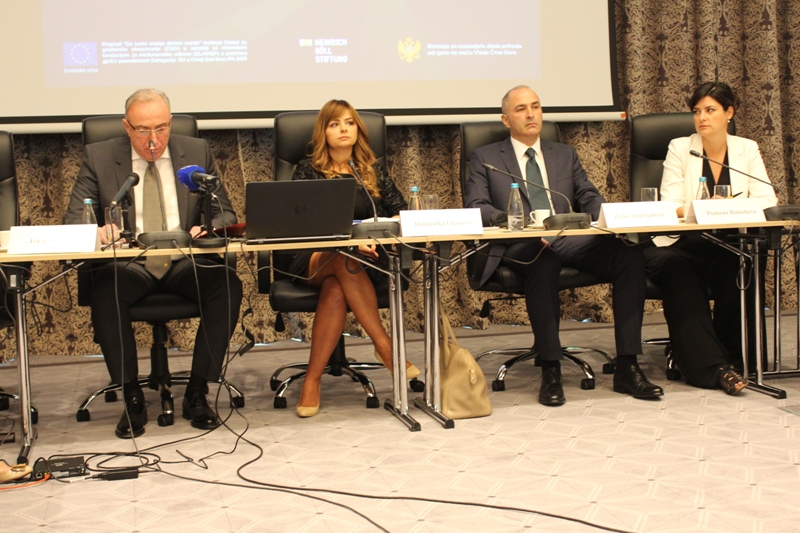 Ivica Stanković, State Supreme Prosecutor, underlined the importance of this topic by pointing out that one should not disown some of the values which "in case of knowledge are not just traditional, but universal". He expressed his concern due to the rise in the number of citizens who believe that corruption in education is widespread, and those who believe that situation cannot be improved for better and that corruption cannot be eradicated. "Hence, as a society, we are obliged to react, and because of that, the institutions have to do what is necessary to prove that one's path to diploma can only come as the result of continued work and gained knowledge", he emphasised. Stanković also stated: «State prosecution sees civil sector as a partner in fight against all forms of corruption. Just as in other areas, corruption in education requires timely reaction». In his statement, he encouraged every individual and organisation to address the Prosecution in case they notice instances of corruption in their surroundings, noting that «Prosecution requires concrete evidence in order to take specific steps, not just mere knowledge of something. And evidence can be found with the assistance of different segments of society». He also expressed his belief that «this conference will provide certain assistance in that respect».
Professor Živko Andrijašević, PhD, vice rector of University of Montenegro and president of Council for Higher Education, reminded of the role of University of Montenegro, as leading higher-education institution, "which is undoubtedly the most significant national institution in the area of science and education, which has a developed duty to the society and state, as well as to the mission and task which corresponds to it based on its character. " He emphasised that during last two years UoM has undergone some of "the largest structural, normative and management reforms since its establishment, which final and sole goal is to improve the quality of studies and of studying itself"</strong>. He also stated that "UoM maintained consistent in the implementation of reforms, in spite of the unfounded and politically-driven attacks. Simultaneously, UoM is thankful for each benevolent and useful remark, even from those who deal with higher education out of political reasons or mercantilist interests". By reflecting on the manner of improving the quality, he told: "The system of quality at UoM, through the control mechanisms, which act in direct and corrective manner, must be oriented on teaching process and all of its components, or participants, in order to result in better conditions of studying, advancement of teaching process and gaining of quality and competitive knowledge".
Plamena Halacheva, Head of Political, European Integration and Trade Section at the EU Delegation to Montenegro, indicated on the complexity of corruption problem for every society, given the extent of its permeation in vital sectors. «Montenegro is not immune to the problem of corruption. EC Report for Montenegro for 2015 noted certain cases of plagiarism that are being investigated. Plagiarism and corruption cannot be tolerated in none of their forms – they carry a wrong message that one can benefit out of breaking the rules and that money is secured through success and not through real merits. The title of this EU funded project precisely conveys the message which we intend to set forth – Only knowledge should get you the title!». She particularly reminded of CCE's findings within this project and the perception of citizens concerning endemic corruption in education. Halacheva stressed that «the role of civil sector is extremely important in these efforts and that it is very important to have an NGO which is active in this area», thereby announcing future support of EU in the fight against the corruption in education.

Professor Dimitrious Sotiropoulos, PhD, from the University in Athens, who is also an associate at ELIAMEP, presented the proposal of new evaluation system of Montenegrin higher-education institutions, which was done within this project by the ELIAMEP experts, reminding that this system takes into account the particularities of Montenegrin higher education, including the long-term goal of adjusting Montenegro's institutions and practices to European standards and preparing both Montenegrin higher education institutions and their graduates for Europe-wide competition. He added that the unit of evaluation was the study cycle instead of academic organisations, and that the function of evaluation report, which is the result of precise process of consultations, is to serve as an instrument of supervision, improvement and consolidation of beneficial reforms. Sotiropoulos pointed out that, during the process of creation of evaluation system, they came to some findings which indicated that "the insurance of quality is crucial for Montenegrin higher education in order for it to be on a par with the rest of the European higher education systems", adding that "it is important to mobilise the individuals in each of the institutions and ensure the cooperation of rectors/deans from every institution during the process of evaluation". He concluded that: "evaluation is a mechanism of democratic accountability and that it has a far greater significance in a modern democratic society".
Professor Nenad Vuković, PhD, rector of University of Mediterranean, estimated that we should ask ourselves "which knowledge is insisted nowadays and in which percentage, compared to that which was insisted 20 or 50 years ago". He added that: "We have to insist on the solution which we can produce with our education, not on encyclopedic knowledge, which, apparently, still encumbers us". Vuković believes that we are ought to consider whether everything is fine with education in general, seeing that kids in schools are encumbered with massive textbooks "while faculty students only carry smartphones".
Mubera KURPEJOVIĆ, MP in the Parliament of Montenegro and Head of the working group for the creation of Strategy for Development of Higher Education 2016 – 2020, reflected on the Strategy by pointing out that "this document focuses on three elements: structure of studies, harmonisation of Montenegrin education system with the European and the implementation of Bologna declaration." She told that it is necessary to continue the work on the improvement of quality of process of study and harmonisation of systems. She added that there is a need to work on the internationalisation of process and no-less-important sustainable system of financing the system of education. In terms of the improvement of quality of higher education, she estimated that it is necessary to follow important criteria of evaluation and self-evaluation and that we should consider the establishment of national agency for the improvement of quality, given that Montenegro is a rather small system. Additionally, she believes that "it is not an easy to harmonise labour market with the education system and rationalise the study programmes, because the same needs to be done on the level of entire Montenegro".
Mladen PERAZIĆ, PhD, Head of the Education Sector within Chamber of Commerce of Montenegro, during his intervention, focused on the assessment of higher education in Montenegro from the employer's point of view. He emphasised: "National economy and its long-term strategic development depends on the quality and education of its human resources". He reminded of findings of research of Chamber of Commerce according to which "only 7.7% of interviewed businessmen believe that system of higher education in Montenegro provides quality workforce for labour market, while 70.8% believes that Montenegrin system of higher education only partially meets the needs of the staff, and 21.5% believes that it does not". Perazić pointed out that "businessmen are too little consulted during the creation of study programmes, which further widens the gap between the education and labour market." By discussing the perspectives of further development of reform of education, Perazić recommended "provision of the possibility of attending the study programmes in the afternoon and evenings so that the employees could still continue their education, then work on the strengthening of ethic dimension of educational and scientific work, as well as greater commitment of academic staff, along with the creation of publically available database on the workload of teaching staff with the number of subjects and lessons for the purpose of promotion of transparency of work in higher education institutions."
Professor Mara Šćepanović, PhD, professor at the Faculty of Natural Sciences (FNS) and representative in the Team for the reorganisation of University of Montenegro, indicated that she has a significantly different view than most panelists and underlined: "I am not sure whether the direction in which the UoM is heading to, thereby the FNS, is the right one. Namely, UoM, and consequently the FNS, lost three key strongpoints through this process of reforms – starting from the Law on Higher Education, laws on employment and labour market itself". She clarified that "Model 3+2+2 is not applicable in Montenegro because legally you are not capable to employ staff which Law on Higher Education does not recognise". With reference to previous presentations, she stated: "Reform of UoM went without any democratic breakthrough. We received the instructions to conduct the reform, without heeding to legal norms." By concluding, she reminded that those who objected such sequence requested that "laws should first change, and then we should continue with reforms, but the attempt was not fruitful".
Miloš Pavićević, president of Students' parliament at UoM, indicated that Analysis of state of affairs and strategic orientation of UoM for the reorganisation and integration of UoM – September 2014 – April 2015 – established that 209 professors were working without the required number of hours, while 308 worked with a load of more than 28% over the norm. In tat context, he estimated that these data « indicated that there is an unsupervised production of study programmes and that the workload of professors is far greater compared to European standards». Pavićević stated that there are "14 university units without the achieved inbound mobility of students since 2012". Talking about the new image of the University of Montenegro within a reformed structure of studies and studying programmes – he pointed out that there are 270 study programmes (445 orientations) – 160 study programmes in new system (114 undergraduate and Master, 14 applied studies, 25 PhD programs, 7 interdisciplinary). He told that it is necessary to work on the possibility of financing doctoral studies from the Budget of Montenegro, improvement of quality of teaching on undergraduate, master and PhD studies. He stressed out the necessity of practical teaching in ECTS catalogues and the introduction of English language on every study year, the possibility for mobility and specialization abroad, as well as the possibility of employment with Bachelor degree.
Professor Janko Radulović, PhD, vice rector at the University of Mediterranean, reflected on the manner in which "this issue can be suppressed", adding that we primarily « require much more control », in other words there is a need to analyse whether the legislation is being applied adequately. "We should take away the licence to those who steeped in such corruptive actions because this situation affects the reputation of those who treat this occupation with respect". He reminded that private schooling is still a subject of various critiques, given that it does not have the tradition in Montenegro. During the formation of private schooling, we had to "consistently monitor the procedures for the selection of teachers and associates". "With the introduction of new manner of work, which implies the work with smaller groups of students, we compelled the students to understand that they have to work and we improved the cooperation with students' parliament", he added, thereby reflecting on the work with students.
Vukašin Zogović, president of Trade union of UoM, spoke in detail about the situation at UoM in terms of the employment and advancement, pointing out that this topic is often marginalised. "Permanent labour contracts can be obtained only after 20 years of hard work, part-time employment is gaining the momentum since it is cheap, and the systematisation of working posts still has to be done", he sketched. "We come to a situation where the University is getting old without having trained new staff, while more than 60 percent of regular professors are 65 plus years old", Zogović warned. "As the Union, we ask that the University adopts the recommendations to allocate 1 percent more of what the University is already receiving for employment", he stated and added that certain faculties have problems with staff deficit because there is no money to employ new people, and low income consequently leads to a situation where some of the professors work more than their prescribed norm, because of the great number of classes for which there are no sufficient associates. «Equal opportunities for advancement, adequate salaries and quality of teaching could result in the improvement of state of education» he concluded.
Momo Koprivica, former associate at the Law Faculty of UoM, and vice president of Democrats of Montenegro, emphasised that corruption is ubiquitous and that "none is immune to it, whether it be the institutions or private sector". He reminded of fundamental interpretation of corruption by theorist Gary Becker, that if we abolish corruption, we also abolish the state, who, as he claims, sought to indicate that public officials are most susceptible to corruption. Koprivica assesed that "there are elements of corruption during the employment in higher education, during the privileging of candidates for certain working posts and that there is a misconception that corruption exists only in relation professor – student, because it comes in two forms – as collusion and extortion". He concluded that "Poor collective situation leads to condescension which erodes the critical thought at the University".
The conference gathered more than 90 participants from academic community, state and international institutions, NGO sector, as well as other stakeholders, and panels were followed with dynamic discussions and polemics.
Project «Only knowledge should get you the title!», which aimed to contribute to adequate creation, implementation and monitoring of legislative framework and practice in the area of higher education in Montenegro through active involvement of student population, ends with this conference.
Svetlana Pešić, programme associate