During campaign for local elections in Cetinje, Mojkovac and Petnjica, the Montenegrin media reported the most about Cetinje elections, while the election campaign should be extended in order to enable citizens to get as realistic a picture as possible of the options available to them.
This was pointed out by research of the Centre for Civic Education (CCE) presented today at the 'SPINoFACT conference – Political advertising between spin and facts'.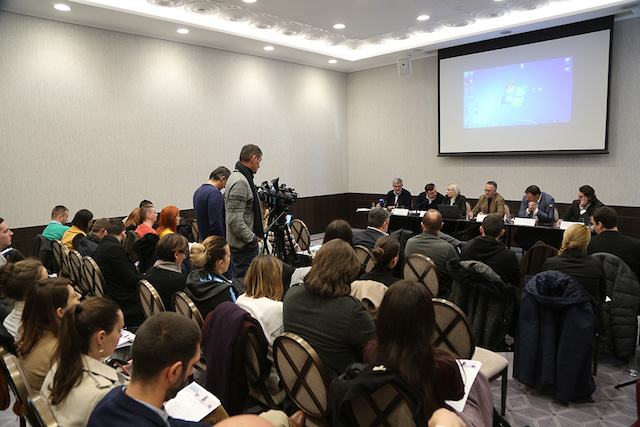 CCE Development Coordinator, Damir Nikocevic, said that company Arhimed, for the needs of this organization, conducted media monitoring from 1 to 26 November, which was related to the activities of political subjects regarding local elections in Cetinje, Mojkovac and Petnjica.
This monitoring, as he explained, encompassed informative and out-informational broadcasts of RTCG1, Vijesti, Pink M and Prva, daily newspapers Vijesti, Dan, Pobjeda and Dnevne novine and online media Cafe del Montenegro (CdM), Portal Analitika and Portal Vijesti.
'When it comes to topics, media have reported the most about local elections in Cetinje. Number of releases when it comes to Petnjica and Mojkovac was more or less even', stated Nikocevic.
He said that all televisions had the largest number of pieces about local elections in Cetinje.
'Whereby, Television Vijesti is especially featured in relation to other media, while representation is evened in others. This applies to Television Vijesti also in out-informational programmes. RTCG has organized debates for all three local self-governments, to which it was obligatory by the Law, while Television Vijesti did this only for local self-government Cetinje wherein debate in the programme 'Nacisto' was specially organized', stated Nikocevic.
Reflecting on print media, he said that daily Dan had covered campaign by far the most and dedicated particular attention to Cetinje, as a special topic.
'Pobjeda and Vijesti have also covered Cetinje the most, and when it comes to Petnjica and Mojkovac, representation is more or less evened', stated Nikocevic.
As he highlighted, portal Vijesti, Analitika, CdM covered the most the topic of local elections in Cetinje, 'only it was more pronounced on portal Vijesti, while Mojkovac was slightly more dominant in relation to Petnjica'.
'When it comes to planned releases, DPS was represented the most, followed by Democrats and URA, and unplanned releases are similar. DPS, Democrats and URA had had the most releases. The largest disproportion between planned and unplanned releases was identified with DPS, which indicated the fact that other political subjects have been mentioning this party the most in their appearances', said Nikocevic.
Nikocevic, while presenting research for Cetinje, explained that the most planned releases had DPS, followed by Democrats and CM URA, 'and it is the same for the number of unplanned releases'.
'When it comes to televisions and their reporting about local elections in Cetinje, DPS and Democrats had the same amount of releases, whereby DPS has significantly accomplished its media presence on televisions Prva and Pink, while Democrats had been the most present on Television Vijesti, and in a slightly lesser amount on RTCG', stated Nikocevic.
He said that the largest number of releases in printed media had DPS, 'followed by Democrats and URA'.
'DPS placed the most information in Pobjeda and Dnevne novine, SDP via ID Vijesti and Dan, Democrats via Dan and CM URA via Vijesti and Dan', specified Nikocevic.
Speaking about online media, he said that DPS was represented the most, which, as he clarified, evenly informed on activities at all portals, 'Democrats have been represented the most on portal Vijesti, as well as CM URA'.
While presenting data for Mojkovac, Nikocevic said that DPS is dominant in all parameters in printed, televisions and online media.
'When we speak about Petnjica, the largest number of planned releases had had Democrats, followed by DPS, SD', he said.
While presenting data of monitoring of advertising, Nikocevic said that 97 percent of political-propaganda messages appeared on Television of Montenegro, 'wherein many parties used benefits of the law on free political advertising'.
'When it comes to comercial media, only three percents of political parties advertised via advertisements. When we speak about number of political-propaganda clips, Democrats had used this legal framework the most since they had 428 propaganda clips, DF had 335 and SD had 273', stated Nikocevic.
CCE Executive Director, Daliborka Uljarevic, assessed that research of this organization indicated the previously emphasized deep polarization and politicization of Montenegrin media.
'All of this in total does not contribute to objective informing of citizens, which is of key importance for development of political culture and larger pariticipation of voters and consequently to their choices based on strength of argument', underlined Uljarevic.
According to her, through campaign for local elections citizens, diametrically opposed reporting of media on single event was witnessed which, as she said, is not in public interest.
'In this regard, our suggestion is for election campaign to be extended, so that citizens would be able to receive as realistic picture of options available as possible and have more time to form clear attitudes on their political choice', stated Uljarevic.
CCE research, as she pointed out, indicated that additional efforts in formulating and shaping of the Law on Election of Councillors and MPs in the part of legal restriction of maximum of presentation of election offer at public broadcasting service is necessary.
'Now we have minimum, but not maximum, which in practice jeopardizes regular programme scheme of RTCG', clarified Uljarevic.
Uljarevic pointed also to the need of regulation of comments on portals and more proactive role of AEM, including also an effective monitoring in the period of election campaigns.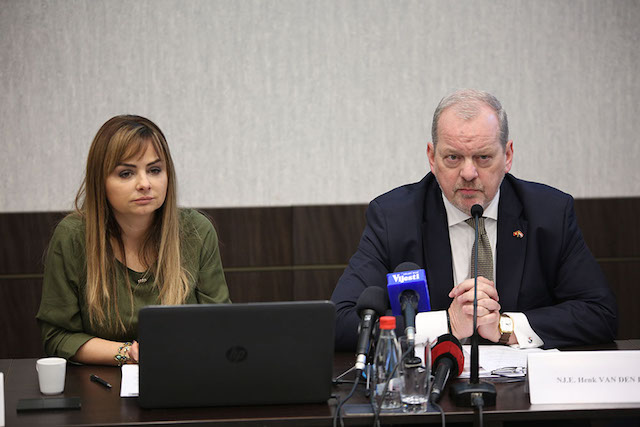 Ambassador of the Kingdom of Netherlands in Belgrade, Henk Van Den Dool, assessed that independent, responsible, pluralistic media are key for open society in Montenegro, especially in the period of accession to the European Union.
'Institutionally and legally perceived, framework of Montenegrin media is mostly in accordance with international standards and acquis communautaire of the EU. Considering this, application of these laws is of crucial importance', highlighted Van Den Dool.
Attacks on journalists, as he stated, must be carefully and thoroughly investigated.
'Thereunto, all media, including public broadcasting service must remain protected from any unwanted influences and political pressures. We deem that there is space for improvement of existing legislature. For example, there are no clear and detailed provisions that regulate political advertising', stated Van Den Dool.
Asisstant Director for monitoring in the Agency for Electronic Media, Suncica Bakic, assessed in the panel 'Political advertising in Montenegro – advantages and restrictions' within conference 'SPINoFACT – Political advertising between spin and facts' that self-regulation should arise from within, and that it is conceptually wrong to impose self-regulation by regulations.
'It does not function currently. Its role should have been more significant, but I think that it takes a process for this and that we cannot regulate it with the law', estimated Bakic.
The role of media for exercise of the right to fair and democratic elections is, as she said, immesuarable.
'We must be aware that in addition of those socially recognized roles of media, such as informing, supervision, education, platform for exchange of opinion, media are image of a society. Media sure are parameter of the extent of democracy of a society. And this image is never as clear as in the time of elections', emphasized Bakic.
According to her, politicians are aware that political battle is being won on online platforms, in, as she said, completely unregulated space of portal and social networks.
'We must tread step by step. In current circumstances on online platforms neither standards nor regulators are helping us. Everything there is reduced to the issue of politicians and their ethics', explained Bakic.
Director of Television of Montenegro (TVCG), Vladan Micunovic, assessed that Montenegrin politicians have occupied the space that they try to spread, and, as he said, it is hard to expect from them to renounce the rights that they have already seized.
'On the other hand, public service is in complete defensive state, i.e. passive position and I do not see enough of initiativity to go towards amendments to the Law on Election of Councillors and MPs in part of regulation of this matter', emphasized Micunovic.
He deems that advertising is positioned imprecisely and that existing law binding form of debates on public service is overcome.
'However, they persist and I think with tendency to gain even more conservative form, in relation to what we have now.  We did not have had some, God knows what, outbursts or objections from political parties, or public in the previous elections. But, I share the view from CCE's findings that this is the result of citizens being less and less interested for this kind of political propaganda which is occurring for years in the public broadcasting service', stated Micunovic.
Law on Election of Councillors and MPs needs to be changed, especially, as he said, in Article 52a and Article 56.
'We have suggested erasing of Article 53a to be considered, which regulates time of representation via commercial marketing, i.e. free marketing. There is also Article 56 that speaks about manner of reporting on political gatherings of representatives of election lists' applicants, as well as programmes of confrontation. We think that it is possible to regulate by internal acts of Public Service and decisions of managerial and advisory bodies', assesses Micunovic.
According to him, Agency for Electronic Media is not active enough and does not contribute to resolving of media situation.
'Media situation is not such due to Agency for Electronic Media, but, primarily due to media. However, Agency, for its part, does not do even what is in its scope to apply what it can and work in a prescribed manner. I am also completely for Agency to take over greater responsibility for these issues during pre-election campaign', stated Micunovic.
Owner of Portal Cafe Del Montenegro (CDM), Boris Darmanovic, said that Internet has largely contributed to freedom of expression and informing, precisely because, as he said, it started from something that was unregulated.
'I think that one of the main problems of media in the past was precisely this large regulation. We have advocated for years for legal deregulation, i.e. self-regulation and that there lies essence of media freedom. Going into repeated detailed regulation of Internet media is, in my opinion, absolutely negative', said Darmanovic.
How certain image will look like in the media is affected, as he said, by activity of political subjects.
'Should I open mailing list of CDM and should we look up all releases and all information that arrive from political subjects, you would see the extent of disproportion. For example, Democrats have been sending 20, 25 statements per day, while some political subjects have been contacting once or twice per week', stated Darmanovic.
He clarified that particularity of portals is that, as he said, information is being published almost every minute.
'We do not have that much time to edit our media, as printed newspapers or informative programmes can do, wherein you wait, gather information and only then place them in a certain context. We try to publish as soon as we can everything that comes to us', said Darmanovic.
Deputy Editor in Chief of daily newspapers Dan, Nikola Markovic, estimates that 'things are confused' because the Law on Election of Councillors and MPs defines acting of media.
'This is entirely unnatural. Law on Election of Councillors and MPs should define their behavior, while behavior of media should be defined by Law on Media and our guild rules, hence the Code of Journalists', stated Markovic.
It is essential, as he said, that media must determine standards, defend their editorial policy and professional dignity, and, as he said, no political subject may think that it can have a privileged position somewhere because it is being advertised there.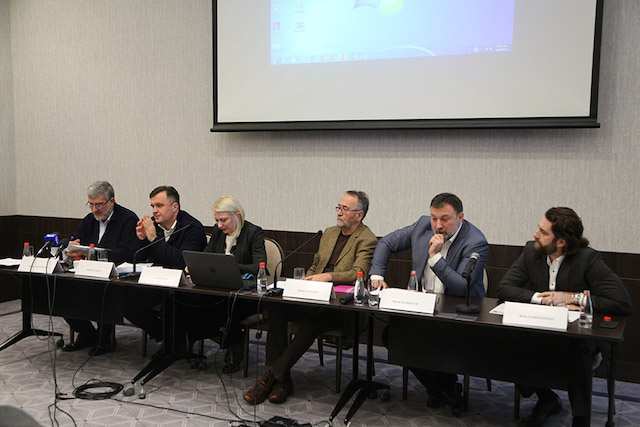 "I beleived that these issues should be regulated by the Law, of course, advocating for having wider media freedoms, as it is our interest to have these issues regulated by the Law, especially since we can not exercise influence on certain issues", assessed Markovic.
President of Management Board of Centre for Monitoring and Research (CeMI), Zlatko Vujovic, estimates that Montenegrin electronic publications in large extent serve for clash or discrediting opponents.
'One of major advantages of electronic publications is that one can comment. The objective is to enable citizens so their voice can be heard. However, this does not happen, and paid organized groups try to discredit someone', clarified Vujovic.
Editorial teams of electronic publications, as he said, have obligation to allow commenting only to registered users, in order to ensure institute of pre-moderation and remove that what has slip past.
'Electronic publications must be stipulated by the Law, not only by Rulebook. It is high time for adoption of new Law on Electronic media and full respect for legal and by-law provisions must be ensured. Electronic publications, especially when it comes to commenting, must be subject to stipulation and practice of brutal discreditation of people must be stopped', estimates Vujovic.
The event gathered over 40 participanys, and was accompanied by dynamic discussion of representatives of political parties and media.
Miloš Knezevic, Programme associate/PR