The Association of Families of Missing, Kidnapped and Murdered Persons "Crveni božur" and the Centre for Civic Education (CCE) organized a press conference on the occasion of marking 30 August – International Day of the Disappeared.
Tamara Milaš, CCE programme associate and spokesperson of the Coalition for RECOM in Montenegro, once again reminded that "in Montenegro, there are still 57 missing persons, which is a significant number for the country of this size. In the past few years, that number has slightly decreased, but it has remained the same as the last year. That indicates that we still do not have effective efforts of the authorities in direction of discovering the fate of missing persons". She presented data collected by organizations of the Coalition for RECOM in the region, in cooperation with the International Committee of the Red Cross. "Total of 10,281 persons are missing on the territories of Croatia, Bosnia and Herzegovina and Kosovo. In 1,408 cases persons are proven as dead, but their remains haven't been found, while the destiny of 8,873 persons is completely unknown. In Bosnia and Herzegovina 6,606 persons are missing, in Croatia 2,027 while in Kosovo 1,148 persons", she emphasized.
Milaš stated that the status of families of missing persons in Montenegro isn't recognized by law as in some countries in the region, like Croatia and Bosnia and Herzegovina, and that forced disappearance is not defined within the criminal jurisdiction of Montenegro as a separate criminal offense, although that was suggested by international experts. In addition, there is no a reparation programme for the families of missing persons which would include restitution, rehabilitation, satisfaction and warranty that crimes would not be repeated.
"I use this opportunity, on behalf of CCE and Coalition for RECOM, to urge Prosecutor's Office of Montenegro, but also other competent bodies to, in accordance with the relevant regulations, adopted declarations, memorandums and strategic documents, be more effective when solving cases of persons who disappeared during 1990s war actons on the territory of the former SFRY and to strengthen the fight against impunity of war crimes through more effective investigation, prosecution, trial and punishment in accordance with the international standards. They should also more proactively publish information on all undertaken actions in order for the public to know to what extent institutions work on solving these issues", concluded Milaš.
Ljubiša Filipović, president of the Association of families of the missing, kidnapped and murdered persons "Crveni božur" said that they are "taking all necessary measures in order to families of the missing in Montenegro gather in front of the Parliament of Montenegro and to once again send message to all relevant institutions about the issues that have been bothering us for the past 19 years".
He assesses that "families of the missing persons are the most vulnerable persons in Montenegro because they lost everything they had, even the most important – their family members. We have appealed for years to help these families, at least to be provided with homes, which was promised by the former president Filip Vujanović, but that still hasn't occurred." Filipović concluded that relevant institutions must do everything to find out about destinies of missing persons from Montenegro, because many families haven't lived long enough to know the right information, which includes more intense cooperation of Montenegrin and Kosovar bodies.
This conference was a part of CCE's activities within the sub-program Transitional justice, and the CCE has been marking  International day of the Disappeared along with the organization Crveni božur for years.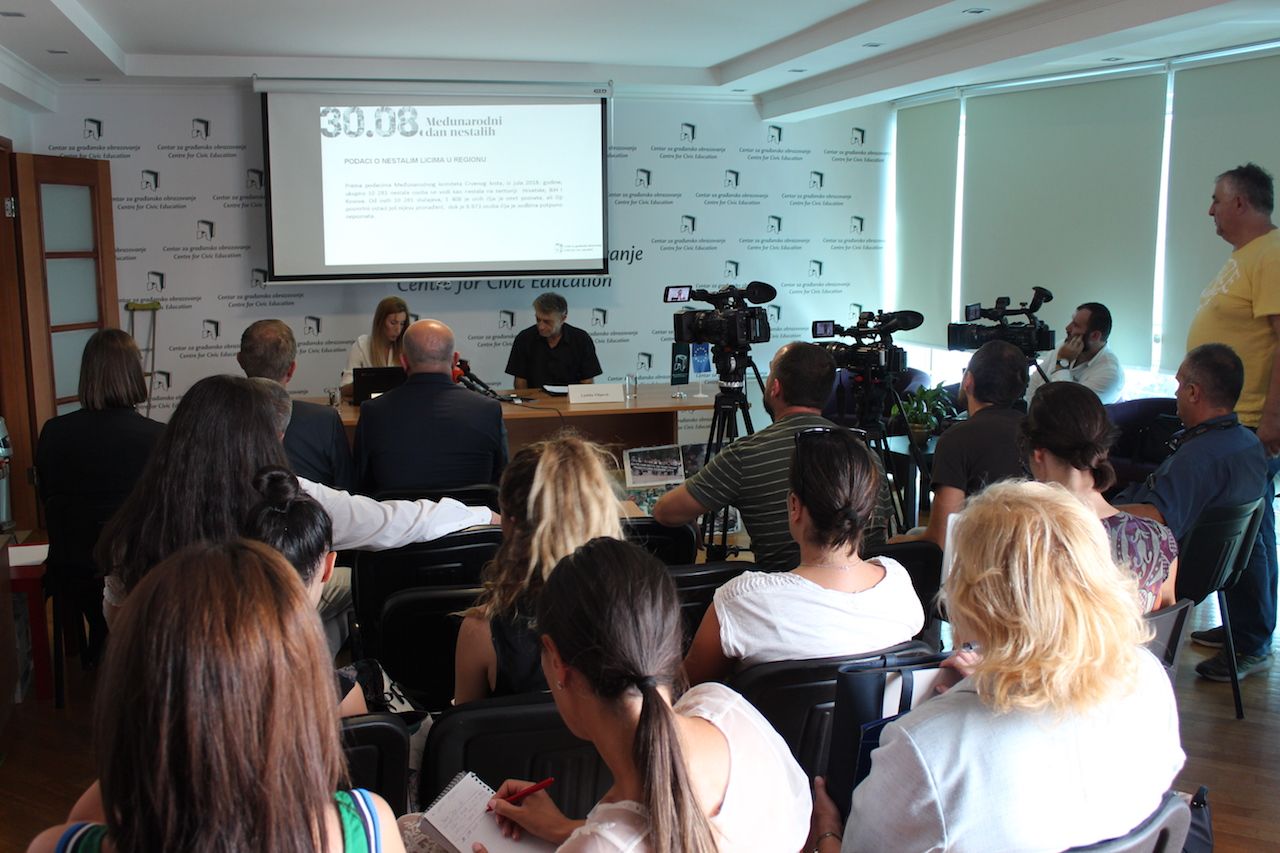 International Day of the Disappeared was established in 1981 as a reminder for  families' right to know the destiny of their closest family members that are missing. It refers to persons missing in war conflicts, natural disasters, migrations, persons who have been unable to contact the family, by calling for greater professionalism and establishing standards in order to respect the unity of the family, identify missing persons and provide information on their destiny.
Miloš Knežević, PR/programme associate