Media have important role in affirmation of human rights, in investigation and reporting on cases of violation of human rights, in giving voice to victims of discrimination and other forms of violation of human rights, in seeking answers and encouraging the authorised institutions to work more efficiently on promotion and protection of human rights. Such media are strong generator of achievement of principle of equality before the law and equal opportunities in society. 
 This was thus assessed by Human RightsProgramme Coordinator in Centre for Civic Education (CCE) Petar Djukanovic, on the occasion of awarding the best investigative article in the area of human rights organised within the framework of the project 360° Full Circle for Human Rights.'We in the CCE believe that journalists have moral and professional obligation to guard values and principles of human rights. We believe that the role of media is to warn about threats to freedom, human rights and culture of human rights. In this manner, journalists are defending both their own profession and anyone whose right may be jeopardised  but they are also keeping awake the institutions which should take care that the rights guaranteed by law are indeed guaranteed in the practice. Therefore, human rights are compass for credible journalism. We aspire to support such journalism which contributes to building of human rights culture. The human rights culture in which the media themselves have freedom to do their job without censorship of any kind or limitations, which also include research and revelation of discrimination cases and encouragement for these to be solved', stated Djukanovic.
Mladenka Tesic, Programme Manager at the European Union Delegation, reminded that 'the European Union strives to contribute to practical completeness of human rights, as it symbolically points out the title of the Centre for Civic Education project – '360° Full Circle for Human Rights', which we have supported via European Instrument for Democracy and Human Rights'. She also pointed out the fact that 'Montenegro has achieved certain level of progress in the area of protection of human rights, but certain challenges still remain. Reforms were continued in harmonisation with the best standards in the area of human rights, and the progress was particularly achieved when it comes to legislation for prohibition of discrimination. Now, Montenegro needs to ensure proper mechanisms for protection of more vulnerable groups against discrimination, which was noted also in the last report of European Commission for Montenegro'.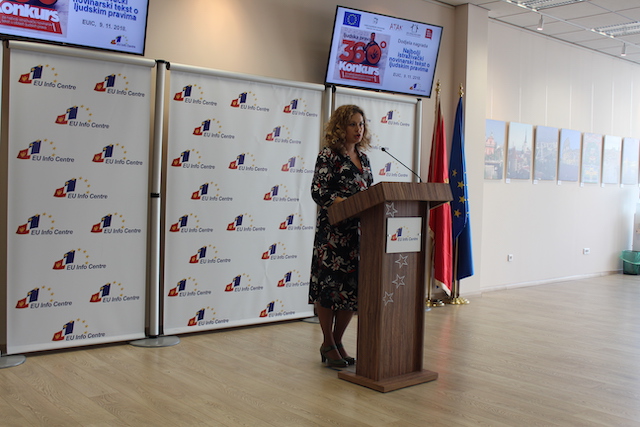 'Media have special role in promotion of human rights and shapping tolerant society. By investigating about human rights, by raising public awareness and by increasing empathy, and civic activism, media do not only contribute to the improvement of position of those in focus of their reporting but to the overall widening of space for human rights and freedoms, and that includes also media freedoms', she concluded.
On the Competition for the best investigative article in the field of human rights, which lasted from 3 until 31 October 2018, in total 31 texts were submitted from various redactions of Montenegrin media which directly or indirectly dealt with investigation of violation of human rights and discrimination.
Dragoljub Dusko Vukovic, freelance journalist and member of the Jury, while elaborating the decision, clarified that the Jury has read and assessed each of the received texts valuing the relevance of the problem for society and citizens, to which extent the problem was being hidden from the eyes of the public and whether the revealed facts are of public interest, the understanding of topic and quality of explanation of the key problem, exhaustiveness of research and extent of verification of information, as well as the influence of the story.'The Jury opted for giving three awards, with a remark that it is thus envisaged by propositions of the contest, but that there are still many stories among those received which were assessed as quality ones', emphasised Vukovic.
The first award was allocated to journalists of ND Vijesti Tina Popovic and Mila Radulovic for serial of articles in which the two of them were investigating the problem of specialisation of doctors and which is related to texts: 'Minister does not allow specialisation to the best doctors', 'Specialisation over the line received also by a son of head nurse' and 'They withdrew permission for three specialisation, they are checking two more doctors'.
'As per assessment of the Jury, the awarded serial processed a problem which is relevant for society and citizens and revealed facts of public interest. The journalists have successfully identified and elaborated key aspects of the problem and in responsible and ethical manner told the story. The additional quality of the awarded texts is that they induced also the authorised ones to reaction. Ministry of Health has, namely, after publishing of first two texts, abolished three of 32 previously given permissions for specialisation and put under microscope two more', stated Vukovic.
He also emphasized also that 'special commendation deserves the journalist Tina Popovic who has in yet another excellently assessed text, in a research based manner, pointed out the discrimination during awarding specialisations which was not a part of the firstly awarded serial' ('Doctor from Rozaje discriminated because she is a woman')
The Jury allocated second award to the journalist of portal FOS Danilo Ajkovic for article 'The court of Kotor publishes names of persons who are forcibly placed in psychiatry in Dobrota on Internet'.
'The journalist has been dealing with extremely relevant topic and stood into protection of persons belonging to one frequently forgotten vulnerable group. He has, as per assessment of the Jury, strongly illuminated the problem which even the expert public, or authorised state organs have not paid attention to. After the journalist opened this issue, the Protector of Human Rights and Freedoms has initiated a proceeding ex officio, and Director of Agency for Protection of Personal Data and Free Access to Information announced that he will check the factual situation', stated Vukovic.
The Jury allocated third award to journalist of ND Vijesti Jelena Jovanovic for serial of texts in which the contravesory admission to Police Academy is being investigated. These articles are: 'Minorities can enter Police Academy even without tests', 'Saranovic the one who requested for overabundant ones to be accepted, not the MoI', 'Equality even if the law is being violated?' and 'The Yes of the Ministry above Police Academy Call'.
Vukovic explaned that 'awarded asrticles reveal abuses and rendering meaningless of the institute of affirmative action or positive discrimination, as well as pointing out the potential corruptiveness of the system and enormous omissions in the education system, especially education of future police officers who should be guards and promoters of human rights. The journalist has, as per assessment of the Jury, put this issue into the focus of the public in clear and professionally effective manner".
After clarifications of decisions, the winners addressed as well.
Tina Popovic stated that 'it is a pleasure when someone recognises our work and efforts, and the award itself represents bitter reminder that we, as a society, have not achieved the level of respect of human rights that standards of the European Union require. Unfortunately, Montenegro is not a country in which rule of law resides. It is a country in which targets are being drawn even on us journalists, and it cannot pride itself with respect of civic rights either. I expect this to start changing soon, precisely because of us who are not used to stay silence to violation of human rights'.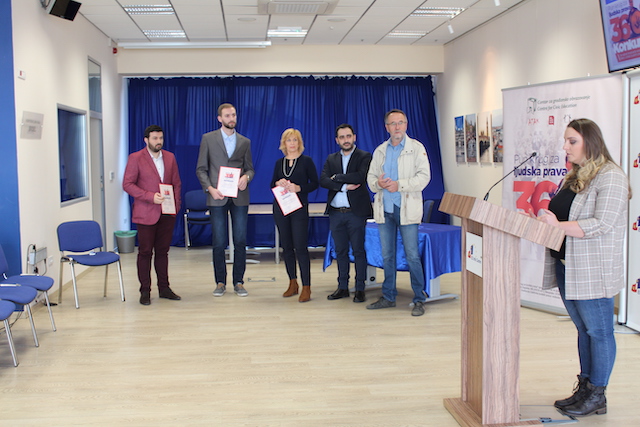 Danilo Ajkovic stated that 'the task of journalists is precisely to present to the public the problems of those who cannot speak for themselves, and whom the institutions take care of further faraway from our eyes. It is especially concerning when one court violates their right to protection of personal data and publicly reveals their names and thus practically put them on a pillar of shame. I am happy that civil society stimulates development of investigative journalism as in cooperation with them many articles come to public focus.'
On behalf of Jelena Jovanovic who is currently in the USA, the award was received by Editor-in-Chief of ND Vijesti Srdan Kosovic who, on that occasion, assessed that 'this award is rare incentive to write about these topics which are crucial for health of one society and defence of interests. This is also one of the manners to encourage all journalists to write about problems which are challenging for Montenegrin society and which, unfortunately, often are not a popular topic in the public sphere, and thus there is an additional effort for them to be properly illuminated'.
The allocation of awards for the best investigative article in the area of human rights was organised on the International Day of Fight against Fascism, Antisemitism and Xenophobia, by which CCE is giving symbolic contribution to marking of this date.
The awarding is part of the project 360° Full Circle for Human Rights which CCE implements in the partnership with the Human Rights House from Zagreb, BELDOCS from Belgrade and NGO ATAK from Podgorica. Project associates are NGO Juventas, Ministry of Education and the Institution of Protector of Human Rights and Freedoms. Project is financially supported by the European Union.
Milos Knezevic, PR/Programme Associate