In Montenegro, we have documented continuity of regression within media sphere, which is visible through hard censorship, self-censorship and soft censorship. Moreover, there are also strong political pressures which had its culmination in the party overtaking of the public broadcaster Radio Television of Montenegro (RTCG).
That was assessed by the Executive Director of the Centre for Civic Education (CCE), Daliborka Uljarevic, at the conference "Facts Do Matter", organized by that organisation, within the framework of the same title project, supported by the Embassy of the Kingdom of Netherlands.
"That regression is visible in hard censorship, which includes attacks on journalists and media and these are mushrooming without an adequate outcome. Consequently, self-censorship occurs, because in a country where it is easy to go unpunished when physically intimidating journalists, there are less and less of those who want to put themselves at risk of being targeted by investigating issues that jeopardize the bearers of power. Also, through the so-called soft-censorship, by application of discretionary authority for allocation of public funds, unfair competition on the media market is boosted and sustainability of media endangered, " she elaborated.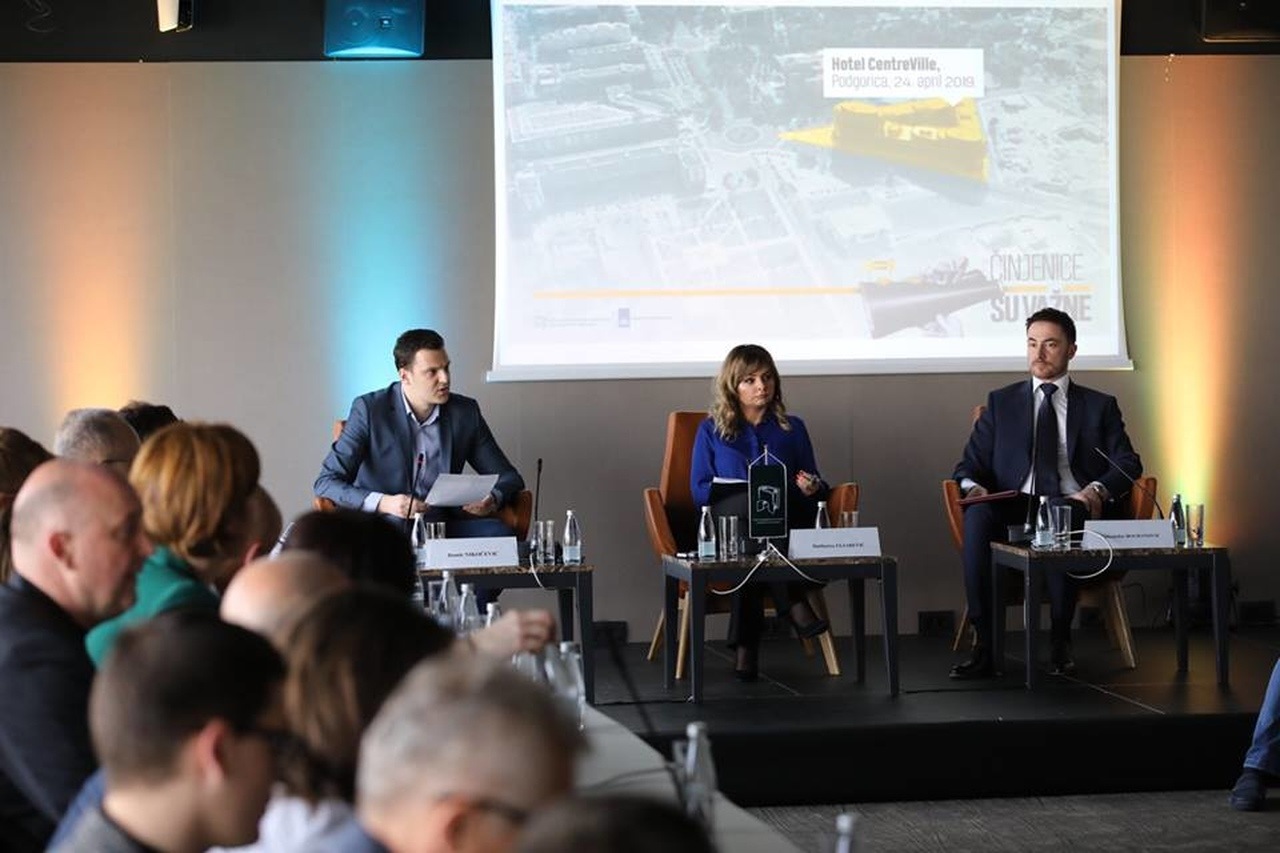 "Finally, and very important, stands out open political pressures which had its culmination in the party overtaking of the public broadcaster Radio Television of Montenegro (RTCG) and illegal dismissal of the Director General of the Radio Television of Montenegro (RTCG) and Director of the Television of Montenegro," stated Uljarevic.
She stated that all this had reflection on the disrespect of ethical and professional standards.
"That has been contributed by nowadays formally dysfunctional Media Council for Self-Regulation, which has long time ago lost its representativity and integrity, as well as Agency for Electronic Media, which by abusing its authorization created controlled chaos in the regulation of electronic media, dominantly protecting those media of special importance for the authorities, " emphasized Uljarevic.
Uljarevic concluded that "the situation in the media has its multiplier effects also on overall quality of internal social and political debate based on arguments that are almost gone, which is why we should all be concerned about the erosion of media freedoms."
Minister of Culture, Aleksandar Bogdanovic, assessed that, by adopting of European values system, Montenegro continuously normatively and institutionally improves freedom of expression as fundamental human right and basis of democratic society.
"Creation of an environment for free, professional and ethical media reporting is part of roadmap within European reforms that Montenegro is honestly committed to", emphasized Bogdanovic.
He recalled that the legislative environment on several occasions was assessed by the European Commission as "a good level of legal compliance".
Bogdanovic stated that the European Commission's reference guidelines are content framework for public policy shaping by the Government within this area, "which can not question any indices on the scale of media freedom, their methodology, and their daily political interpretation."
He particularly pointed out that "freedom also implies the responsibility of all participants in public life", therefore a lot needs to be done to establish instruments of effective self-regulation.
"The ambition and the aim, at this already reached level of media guarantees, is to legally prescribe new spaces of freedom and conditions for the safe work of journalists, with solutions that guarantee free and independent media, protection of journalists reputation, protection of pluralism and diversity of media, through establishment of the Fund for the Protection of Pluralism and Diversity of Media, protection of transparency of advertising, transparency of media ownership, legal definition of self-regulation and its financial support, protection of special rights, banning hate speech, protection of journalists' sources, strengthening political, institutional and financial independence of electronic media regulator, and overall independence of the national public broadcaster," explained Bogdanovic.
Coordinator of expertise in the Council of Europe (CoE), Lejla Dervisagic, reminded that this organization made the expertise of the Media Law, at the request of the Ministry of Culture.
"Public debate was held in February. After inclusion of comments, this Law will come once more on the CoE's expertise. The second is the Law on Public Broadcasting Services of RTCG, which was also assessed by the CoE experts, and public debate was held in March in Montenegro. Also, we are working on the expertise of the Law on Electronic Media, whose draft is in the process," said Dervisagic.
Chairman of the Commission for monitoring of investigations of attacks on journalists and deputy editor-in-chief of the daily Dan, Nikola Markovic, opening the panel "Montenegrin media scene – anamnesis and therapy", stated that the ambience where journalists work is marked by numerous attacks that dominantly determines the state of freedom in Montenegro.
"According to official data, in our report, from 2004 until today, there have been 85 attacks on journalists and media assets, from the most brutal ones, such as the murder of Dusko Jovanovic, to the attempted murder of Olivera Lakic, also the case of Tufik Softic, to minor ones, some of which are qualified as misdemeanors," noted Markovic.
He said that, according to the Prosecution, currently established cases are against unknown perpetrators in case of murder of Dusko Jovanovic, attempted murder of Tufik Softic from 2007, attack on Mladen Stojovic in 2008, four burning of vehicles of daily newspaper Vijesti from 2011 and 2014, planting an explosive device under the car of Tufik Softic from 2013, stoning television Pink M, wounding Olivera Lakic.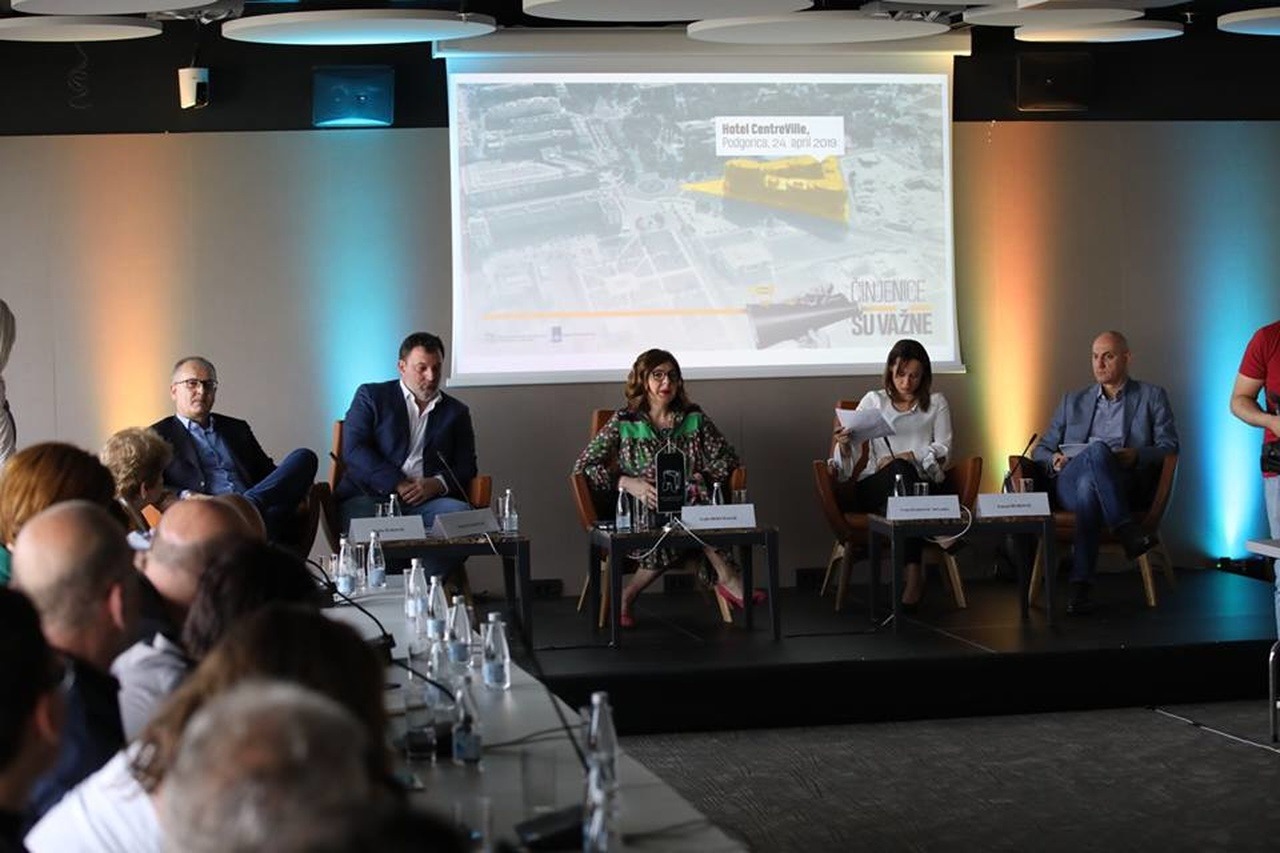 "In four cases in which reporters appear as injured party the Prosecution made decisions on dismissal of criminal charges. In one case, decision on dismissal of criminal charges was made as the suspect died, while in two cases the injured parties did not feel threatened," Markovic said.
He stated that in 19 cases criminal procedure was initiatied, in 13 cases were convictions, three cases were acquittal, while in one case the indictment proposal was rejected, in two cases criminal proceedings are in progress, in six cases were initiated misdemeanor proceedings that finished by conviction, and in seven cases, the Prosecutor found that it were the felonies for which the proceedings must be initiated by private charges.
"In police and prosecution, there has been no procedure for establishing disciplinary responsibility, or any kind of responsibility of people in charge for the investigators. No one was dismissed because of 15 years of unsuccessful conduct of investigations, no one was punished even on salary. This clearly supports two issues – lack of political will to solve this problem fundamentally and other about the lack of capacity of police and Prosecution to seriously face these cases", Markovic emphasized.
Editor in chief of Radio Antena M, Darko Sukovic, said that it is important to point out two aspects – poor quality of journalism in Montenegro and irresponsibility for public speech.
"In that I see a large part of the problems within Montenegrin media scene and Montenegrin society," told Sukovic.
According to him, regarding the real state of affairs, an adequate formulation could be "facts should matter", and how important they are to us, we see every day carefully following Montenegrin media."
"Facts do not matter to us as it should. Positions are much more important to us. What we have at Montenegrin media scene are not those types of attitudes that are ideally from the journalism textbooks, these are not analyzes, conclusions, reflections. These are mostly labels. In our dominant practice, attitude is disqualification, insult, label, mockery. In such a way we express our relation toward someone more often, than toward something," said Sukovic.
He considers that the majority of Montenegrin journalists lack professional training.
"Not only at the level of maxim "facts are sanctum, comments are free", but also on the basis of the elementary misunderstanding of what is behind it. In our country presentation of attitudes, in an unbearably large percentage of cases is just mockery, labeling, slendering", stated Sukovic.
He assessed that there is a problem with those who create editorial policies in Montenegrin media.
"We are under delusion that our basic job is to collapse power or bring to power, not primarily to give people facts, based on which, when they go to the polling station, they will decide whether to vote for Marko or Janko," emphasized Sukovic.
Deputy editor-in-chief of portal Analitika, Vesna Rajkovic Nenadic, believes that the problem with facts is not only present in Montenegro.
"The challenge for readers nowadays to get true, verified information, in my opinion, has never been bigger, especially in the era of portals and social media, when chasing click, information, like – information is the loser. Journalists do not have more time, because they are lead by the market which defines their salaries. They no longer have time to check the information, since speed has taken over the primacy", said Rajkovic Nenadic.
According to her, journalists have come into the situation, that information is not checked from two sources.
"A particular problem represents social media, which are absolutely unregulated. Lately, and very often, they are becoming an important source of information for traditional media. Therefore, they are very dangerous as often information coming from social media are not checked at all", considers Rajkovic Nenadic.
She pointed out that there is no longer present division of media into opposition and pro-governmental ones, but that media are divided into professional and non-professional.
"What is problematic are the circles from which it comes, certain corpus of media scene in Montenegro which are trying to create the impression that everything that comes from one media discourse is professionalal, and on the other hand, what comes from another media discourse that is unprofessional. That is dangerous position, I believe and for me – as someone who have been working in various media for 20 years – very humiliating", concluded Rajkovic Nenadic.
Director of the NGO Media Centre, Goran Djurovic, assessed that inaction of the Agency for Electronic Media since 2012 dominantly resulted in an unequal position of the media at the market.
"According to the law, all broadcasters are obliged to pay annual broadcasting fees which have to be paid in four equal installments. AEM has until recently considered that media pluralism is equal to a large number of registered media. That is pointless. Apparently it was a motive why Law on Electronic Media has not been applied for years, and it is still does not apply, because AEM did not charge what was legal obligation for all broadcasters," pointed out Djurovic.
Djurovic assessed that AEM also contributed to the collapse of professional standards by tolerating reporting of Pink M television, without taking any sanctions against that media, and despite the record number of warnings imposed concerning violation of media standards.
According to him, as a consequence of this, there is significant number of electronic media in Montenegro nowadays that take certain part of the market cake, which leads to deterioration in the position of media who regularly all these years settled their obligations.
"We have large number of media that do not produce in public interest. On the other hand, those who do produce content in public interest are brought to rather bad position, because they can not afford their sustainability and contribute to the achievement of their mission for which they are founded", said Djurovic.
Djurovic particularly reflected on public broadcaster service RTCG comparing data about trust over the past few years and stating that trust into RTCG in November 2018 came to the level of 2012.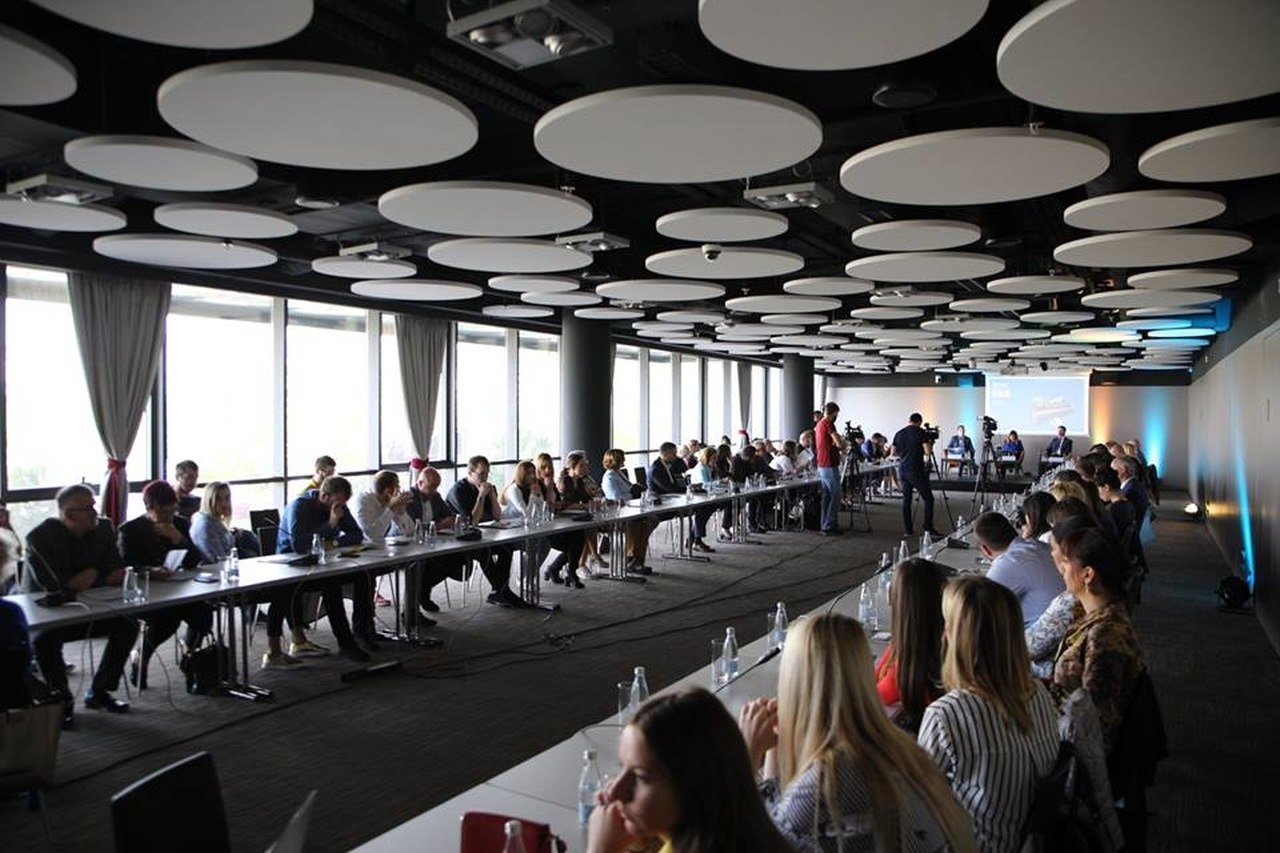 The panel was followed by dynamic discussion.
During the discussion, vice President of Democrats of Montenegro, Vladimir Martinovic, asked Sukovic whether he consider that the European standards are comparison of the Independent daily Vijesti with fascists by the President of Montenegro, as well as what he thinks about the quality of journalism today in RTCG – is it good or bad.
Sukovic responded that it was not true that the president of Montenegro called the the Independent daily Vijesti fascists, but "that the manner of dealing with the topic was such." Commenting on the quality of the public service, he assessed that it is "diverse", that it has good, but also contents that could be better.
Representative of the Movement "Resist", Omer Sarkic, pointed out that civic protests in Montenegro are lasting for three months, noting that it took a month and half for the public service to make a report on these protests.
"For month and half, all world's radio and television stations reported on these protests. But, the service that I pay for only after month and half has found it appropriate to invite us, with other quests, to Television of Montenegro, and meanhwhile during that month and half breaking news began with some analysts from the region who talked about how Russians, Chinese, Martians, aliens are paying us…", said Sarkic.
Representative of the Media Union of Montenegro, Marijana Camovic, said that she would not like all to leave the event with the conclusion that there are no good journalists in Montenegro. "Journalists are shaped with the editorial policy of the media in which they work. The responsibility for what the media looks like today is on owners and on editorial policy advocated by them," pointed out Camovic.
Representative of the Atlantic Council of Montenegro, Drazen Stojanovic, assessed that the project of media literacy is important for Montenegrin journalism.
CCE Developement Coordinator, Damir Nikocevic, said that the basis of the project "Facts do matter" is contribution to the establishment of more favorable environment for free, professional and ethical media reporting without external pressures, so that journalists can report about complex process of democratization and Europeanisation of Montenegro in quality manner.
He said that numerous project activities were implemented, including research stories and debates, but also proposals for improvement of the Draft Media Law, amendments to the Law on Electronic Media and the Law on Public Broadcasting Services of RTCG, and the project, as he stated, included work on four studies – on self-regulation, regulation, financing of media from public funds and work of the public service RTCG.
PR service