Radicalism exists in all societies and at various levels, but it is important to prevent its transformation into violent extremism, as it was concluded at today's public lecture 'Dialogue in the community – prevention of radicalization and violent extremism' organized by the Centre for Civic Education (CCE) in gymnasium 'Slobodan Skerovic' in Podgorica.
Milos Vukanovic, historian and CCE programme associate, assessed that radicalism and violent extremism are phenomena that represent a threat on a global level, but that they are not novelty, just a part of the historical heritage in which they have appeared in various forms and proportions. He emphasized the role of education in solving this problem. 'Everything evolves through ignorance. Ignorance is a catalyst for extreme action and a threat to the stability of multicultural societies.' As one of the responses to the threat of radicalism and violent extremism, he also recognised 'networking of educational staff with the continuous promotion of values ​​that will confront elements that lead to extremist ideas.' Vukanovic emphasized that 'improvement of equality and respect for minority rights, improvement of knowledge and understanding of multicultural and intercultural diversity, contributes to confronting controversial attitudes.'
Gojko Perovic, rector of the Cetinje seminary, explained that both in numerous and various life situations and in every religion, exist radicalism, giving specific examples such as also recent sport event that, instead of fair sports competition, has turned into something that some people have labelled as identity rivalry. Perovic pointed out that 'at the heart of every religion exists extreme radicalism, on a personal level. Namely, man is ready to leave everything and dedicate to God. It's about emotions, not just about intellectual cognition of God.' He also said that 'without a radical attitude towards God who is invisible, and which soul and heart could feel, none religious proclamation would be conceivable. When it comes to the New Testament and Christianity, we have one counter-radicalism, also incomprehensible, especially for us in Montenegro. We have that present in Bible's statements – if someone strikes you on one cheek, turn to him the other also, love your enemies, bless them that course you. But who is that Montenegrin who will turn the other cheek?'
Savo Kentera, President of the Atlantic Council and founder of the Institute for Security, focused on the influence of social networks on radicalization of young people. Speaking about modalities of manipulation, he explained that a young person does not have to be a member of an organization or association to be targeted, but it's enough to show weakness, which can be product of personal, cultural, ideological, political or other form of dissatisfaction, i.e. to be vulnerable and susceptible to influence. 'It's more likely that you will be the target of a clear strategy for someone who will do everything to persuade you to take a dangerous path from which there is often no return,' he warned. Kentera emphasized that social networks can be useful, but that young people must know how to properly dispose with information. 'There is no universal formula to protect yourself from that, there is no pattern that will teach you how to recognize those people, it is about your mind, your education, to understand certain processes, to know when you become dissatisfied and when you are looking for a solution – you do not need to looking for it in some friends that you do not even know who they are,' he explained. Kentera emphasized the role of religious communities, families and the local community in the fight against these phenomena.
Dusica Tomovic, editor-in-chief of Balkan Insight, reflecting on the importance of media, shared some experiences of the regional media in which she works. 'The results of our survey point to the fact that Facebook is responsible for the first contact of people with radical ideas. Amongst the causes, bad economic and social context is highly positioned, since young people in their early twenties do not see the solution, they do not see that something better can happen to them, and they are not brave enough to leave.' Tomovic also pointed to the importance of understanding the term of extremism and radicalism, with the note that they are often incorrectly used by the media themselves. She also reflected on lack of information about these phenomena in school, family, community, but also on the reasons for going to battlefields,' among which, according to BIRN's research, dominates financial aspect, followed by (non) acceptance of the family, search for security, better health care etc, while religious reasons are ranked in the fifth or tenth place.'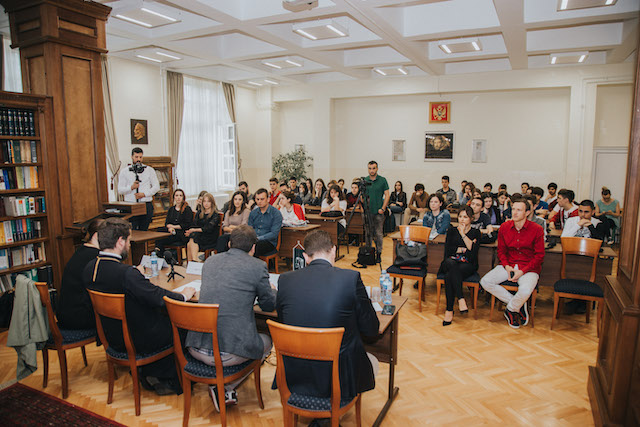 The public debate gathered around 60 participants, students and professors of the gymnasium 'Slobodan Sekerovic' in Podgorica. During dynamic discussion, the panellists touched upon various aspects of radicalization and violent extremism, indicators that point to the existence of these phenomena, threats at the national and local levels, as well as the role of the educational system, the local community and the media with the aim of deradicalization and delegitimization of violent extremism.
Public lectures 'Dialogue in the community – prevention of radicalization and violent extremism' will be held after Podgorica in five other Montenegrin cities – Bar, Tuzi, Plav, Rozaje and Bijelo Polje. These lectures are organized within the framework of two projects Safe Net and Education for Multiculturalism and Interculturalism, supported by the US Embassy through the Fund for Active Citizenship (fAKT) and the Ministry of Human and Minority Rights of the Government of Montenegro.
Milica Zindovic, Programme Assistant