On the eve of World Humanitarian Day (19 August), the Centre for Civic Education (CCE) wants to emphasize the importance of the principles of humanitarian aid, respect for human dignity and commitment to an equal opportunity society. Humanitarian workers cherish these values, and they should be established in all dimensions of the development of society, not only in times of crisis.
This year's World Humanitarian Day is marked by humanitarian women – women in the humanitarian work. For the United Nations, but also for non-governmental activists in Montenegro, woman is a symbol of compassion, but also of strength and persistence. Humanitarians around the world assist people in conflict or natural disaster zones, and work in areas with problems such as hunger, gender-based violence, and then assist refugees and displaced persons, children, etc.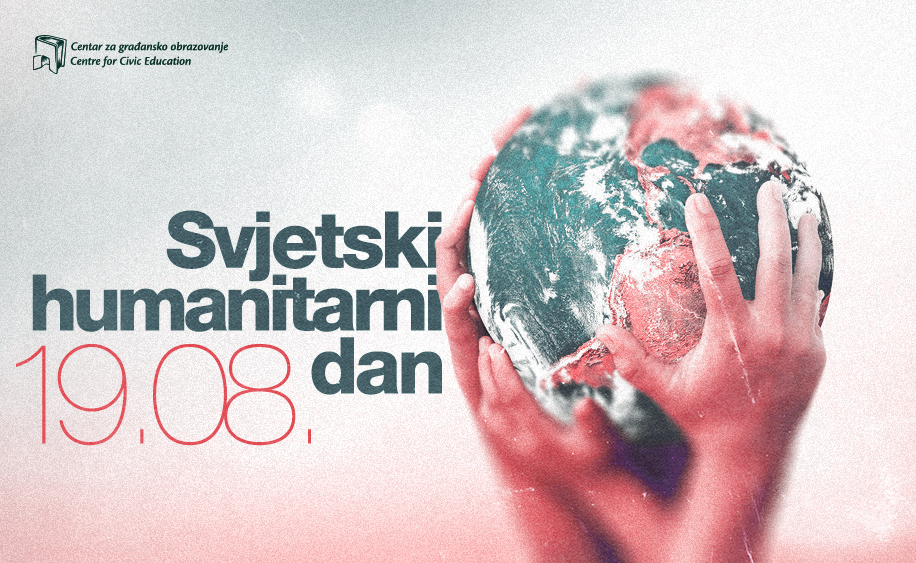 Women are amongst the first to provide assistance, and yet equality between women and men in Montenegro has not come to life. NGOs in Montenegro and the European Commission are reminding of this, since Montenegro has not adopted measures to effectively prevent stereotypical and discriminatory practices against women. Women are not even among the half within the highest positions in the country. The Parliament of Montenegro still does not respect the minimum quota of 30% of women MPs. Even political parties, as bearers of the political and electoral process, do not have many women among their leadership, and just one parliamentary political party is led by a woman. Women in Montenegro are usually the first to help those who are in unfavorable position, but do not have equal chances in employment, promotion, career choice, high-level positions, education, etc. Therefore, this year's World Humanitarian Day is reminder that more work needs to be done to establish gender equality.
In addition, World Humanitarian Day also reminds us of the unexplained fate of missing persons in the '90s conflict, which the European Union sees as a humanitarian issue of concern. When it comes to international humanitarian law, the EU warns of inadequate enforcement through case law, i.e., court decisions burdened with legal errors and shortcomings. The past needs to be learned, and the tragic events of the past should not be repeated. Hence, it is important to identify all the missing persons, to establish all the facts that led to their disappearance, in order for justice to be served, the truth enlightened and Montenegro to be included in the club of states of functional rule of law and democracy.
Although armed conflict is virtually/practically outlawed among states, one never knows when humanitarian assistance may be needed to any country in the world. And natural disasters are within the factors leading to major humanitarian crises. Montenegro has so far been a major recipient of humanitarian aid and is only making small steps towards establishing rules in its delivery. Therefore, the field of humanitarian aid and humanitarian work should be regulated, together with the area of ​​development policy, in accordance with EU regulations, and in accordance with the acquis. Montenegro, according to EC reports, still needs to harmonize its legislation in this area.
World Humanitarian Day is celebrated on 19 August each year and it aims at honoring humanitarian efforts around the world and promoting the idea of ​​crisis assistance. Established by the United Nations General Assembly in 2008, it has been commemorated since 2009.
Željka Ćetković, Programme Associate