On the occassion of the European Media Literacy Week, the Centre for Civic Education (CCE) underlines the significance of adequate reading of media content, prevention of fake news and professional reporting in accordance with ethical standards. Fact-based reporting is especially important in crisis times like the current global pandemic COVID-19 and Montenegrin media have demonstrated high degree of responsibility. However, despite certain progress, wider and more systematic efforts are necessary in order to develop have Montenegro as the media literate society.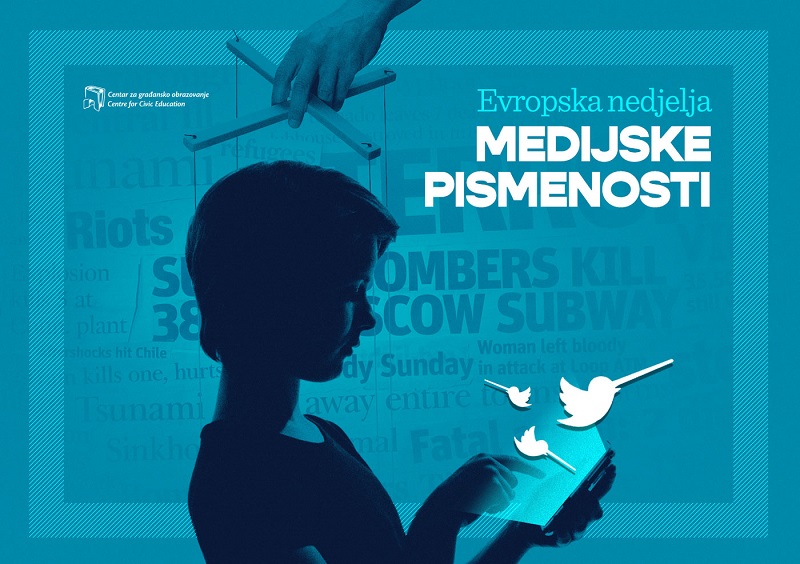 Despite the fact that during the current COVID 19 pandemic, there is almost no disinformation in Montenegrin media, the first quarter of 2020 was marked with series of examples of media manipulation and abuse, including fake news. The Media Literacy Indeks 2019, by the Open Society Foundation, positions Montenegro on the bottom of the list of countries in which the measurement have been conducted, i.e. as 31st out of 35 countries. This study classifies both region and Montenegro as being especially vulnerable to fake news.
In Montenegro, number of ad-hoc portals are operating being predominantly created for spreading fake news and smearing opponents. This also refers to internet publications registered outside of Montenegro which remain outside of Montenegrin legal framework. Those intentional or unintentional attempts by media to manipulate public opinion must not be used as an excuse for generalizations and discreditation of those journalists who do their job in ethical and professional manner, nor should those bad examples be used to limit freedom of expression.
Hence, in order to strengthen the media literacy of all Montenegro citizens a stronger institutional approach is required. The CCE believes that public should familiarize itself with the role of media, values promoted by media, influence of news programmes, importance of proper check of sources and fact based reporting, analysis of media content, mechanisms of media regulation and self-regulation, Code of conduct, sensationalism in media but also with role of social media that are becoming one of the key channels for spreading fake news and disinformation.
The consciousness about media literacy, manners of media manipulation, media abuse and protection from unverified information is still not adequately developed. Despite the fact that Montenegro is amongst the first countries in the region that introduced media literacy as a subject within its educational system, research conducted by the Montenegro Media Institute has indicated significant decline in students' interest for that subject. In order to change that, it is necessary to invest additional efforts through the educational system, but also through engagement of Monetengrin and international non-governmental organizations working on affirmation of media literacy. This is also recommended by the JUFREX study of the media sector in Montenegro conducted by experts from the Council of Europe and the European Commission.
Only the citizen that reads traditional and new digital media with critical stance can make independent decisions, which represent basis for strenghtening of democratic society. The CCE will continue with informal educational programmes and advocacy for positioning media literacy as an important subject for all citizens of Montenegro.
Damir NIKOČEVIĆ, Development Coordinator