Centre for Civic Education (CCE) has been pointing to the controversial practice of awarding the so-called honorary citizenships for years, but instead of addressing this issue systematically, in 2020, a record was broken with as many as 115 honorary citizenships awarded, of which over one-third are from the end of the parliamentary elections until the new Government assumed the function.
According to CCE's data, the Montenegrin Government issued 390 honorary citizenships between 2008 and 2020. The CCE's analysis 'Honorary citizenships – awarded to whom and how?' lists, among other things, 203 persons who were awarded the honorary citizenship until July 2015. It has been  supplemented by 223 persons who were awarded in later years: additional 10 persons in 2015, 18 persons in 2016, 12 persons in 2017, 10 persons in 2018, 22 persons in 2019 and 115 persons in 2020.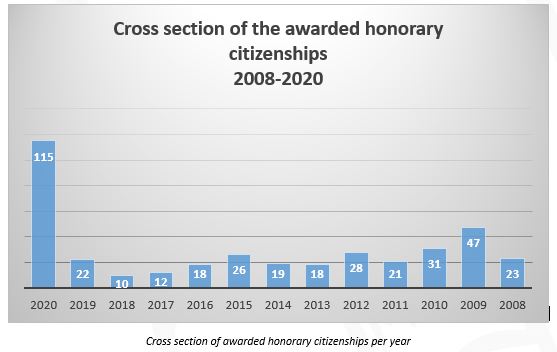 In 2020, almost one-third of the total number of honorary citizenships for the past 12 years was awarded, while 37 persons have been awarded the honorary citizenships from 30/09/2020 until 4/12/2020.
It should be noted that this is an extremely non-transparent process, decisions on awarding of honorary citizenships are crude and formalistic, that is, there is no explanation for most of these persons about their real contribution due to which they would be treated as persons of special significance for the state, scientific, economic, cultural, commercial, sport and other interest of Montenegro, as defined in Article 12 of the Law on Montenegrin Citizenship.
Apart from decisions that lack essence, primarily the grounds for acquiring Montenegrin citizenship, the proponents of these persons and other formal legal elements, their legality because of the proponents remains open. Namely, Article 12 of the Law on Montenegrin Citizenship prescribes that the legal proponents can only be the President of Montenegro, President of Parliament of Montenegro, or President of Government of Montenegro, while in practice we have numerous decisions that are contrary to this legal regulation, i.e. they are most often proposed by ministers.
Also, the CCE points out that the practice indicating possible additional abuses is noted through the fact that some family members of those who acquired Montenegrin citizenship according to Article 12, quickly and within questionable procedure acquired Montenegrin citizenship under Article 16 of the mentioned Law, and therefore they are not counted in 390 honorary citizenships.
CCE publishes the list of all honorary citizenships from 2008 to 2020 and calls upon the new Government and the competent Ministry of the Interior to do the same on their official website because the public has the right to know who the honorary citizens are and on what basis they were awarded honorary citizenships within this procedure. Also, we urge competent authorities to address this process consciously in the future and render this process within the legal frameworks, as well as that those decisions on honorary citizenships are accompanied by detailed clarifications so as not to do more harm than good by applying this institute.
Mira Popović, Democratisation and Europeanisation Programme Coordinator