Centre for Civic Education (CCE) has published the publication "Protection of Journalistic Sources", intended primarily for journalists working in newsrooms for investigative journalism, but also for all journalists in Montenegro who are interested in this topic. The publication can also be valuable to experts for media and media law, as a contribution to the public debate that lasted for some time on the issue of protection of journalistic sources.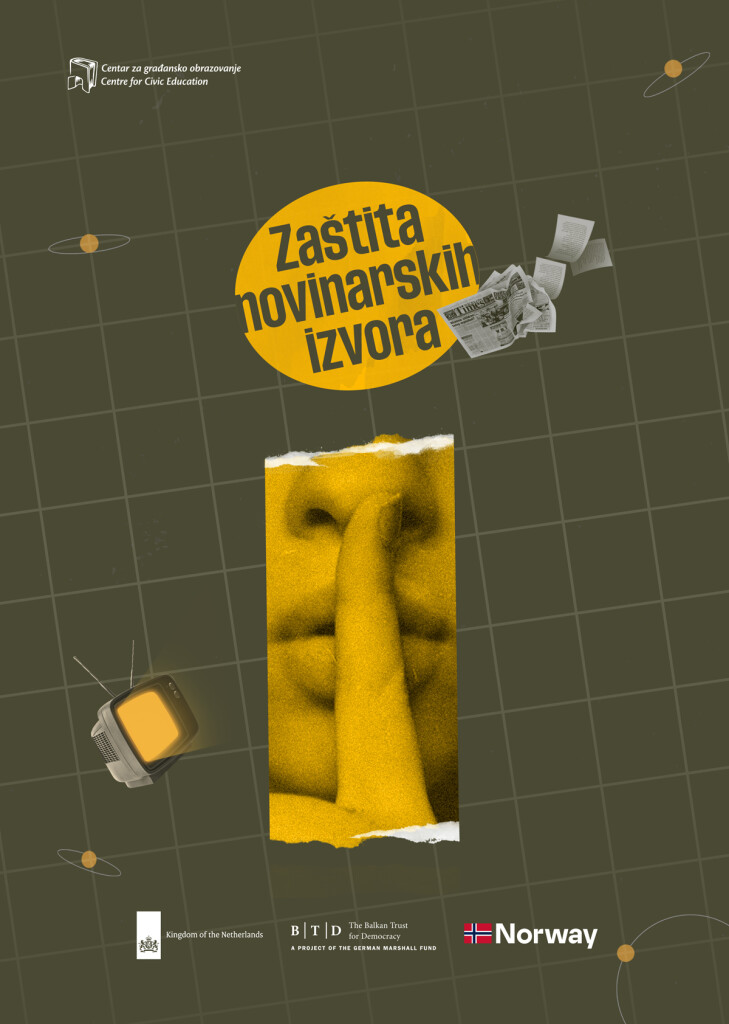 Independent and competent sources are one of the preconditions for the media to deal with topics that promote the functioning of democracy. That is why it is important to provide for journalists a suitable media environment, where they will not be forced to reveal their sources and thus lose credibility and potential sources. It is important that journalistic sources are genuinly protected, because otherwise they can be deterred from cooperating with the media, which can seriously reflect on the vital role of the press as one of the "guardians" of democracy.
The right to protection of journalistic sources should be considered as a precondition for professional and ethical journalism in order to independently and objectively inform the public. In that manner, the right of journalists to protect journalistic sources should not be perceived as a privilege or journalistic preference, but as one of the media achievements that should further strengthen investigative journalism to correct social anomalies.
Authors Siniša Gazivoda, lawyer and expert on freedom of expression, and Nikola Mugoša, Doctor of European Law, give an overview of the Montenegrin legislative framework, the Code of Journalists of Montenegro, but also relevant international convention standards and the case-law of the European Court of Human Rights.
Article 30 of the Media Law was the subject of a lively public debate between the previous Government and representatives of the media community in Montenegro. Relevant media experts from Europe have previously emphasized that the Law is in line with EU regulations, while part of the journalist guild protested the fact that at some point media consequences would have at the request of the state prosecutor to reveal a source of information "when necessary to protect the interests of national security, territorial integrity and health." This publication provides answers to some of the open dilemmas to minimize speculative interpretation of the Law.
CCE continues to contribute to the improvement of the media environment in Montenegro through the publication of this publication, which was preceded by the guide "Comments on portals – where are borders?", with a focus on the regulation of comments on Internet portals.
The publication is part of the project "Media for Me!", implemented by the Centre for Civic Education (CCE), with the support of the Embassy of the Kingdom of the Netherlands, the Ministry of Foreign Affairs of the Kingdom of Norway and the Balkan Democracy Fund of the German Marshall Fund (BTD).
Damir NIKOČEVIĆ, Development Coordinator