In 2021, 192 public bodies spent 3,426,183.33 euros on media, media services and production services. When it comes to print media, Pobjeda, Vijesti and Dan received the most from public funds, out of televisions – RTV Nikšić, TV Vijesti and RTCG, and among radio stations – Radio Tivat, Radio Kotor and Radio Antena M. Within portals and agencies, the most funds, on different grounds, were granted to Portal Analitika, portal Vijesti and News Agency MINA, as indicated by the data collected by the Centre for Civic Education (CGO) concerning financial transactions from the public sector to media and media-production services 'Equal chances for all media in Montenegro – 2021'.
The research of various forms of financial transactions from public funds to the media, media agencies and production companies and related entities for the provision of various media services was conducted from 23 February to 8 June 2022 and included 621 public bodies. The data was collected from responses to requests for free access to information, as well as from available documents of the competent authorities, and covers the period from 1 January to 31 December 2021. Financing of the media from public funds is solidly regulated through the Media Law, to which the multi-year efforts of CCE contributed through monitoring these financial transactions since 2012 and indicating the consequences of the collapse of the media market, which is directly related to how favourably or critically media outlets report on the government's activities.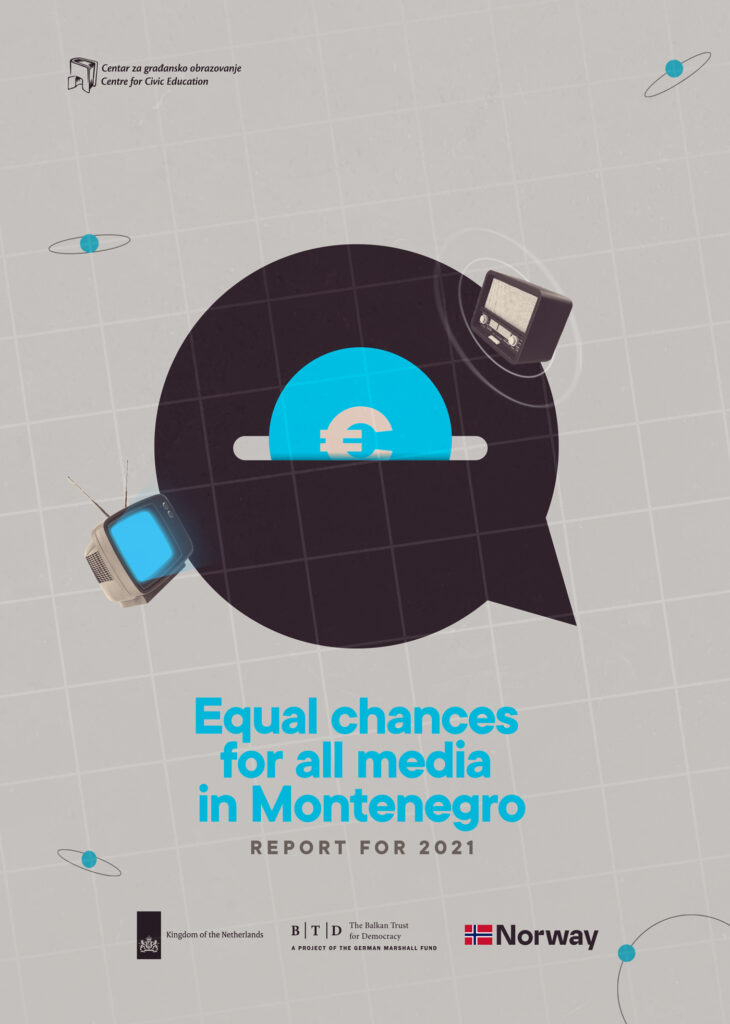 The most funds for media and related services in 2021 were allocated by local self-governments – 1,387,518.40 euros, followed by public companies – 1,139,791.92 euros, while the least for these purposes was spent by the judiciary, i.e. 3,646.94 euros.
Of the ministries, the Ministry of Public Administration, Digital Society and Media allocated the most money in 2021 – 374,823.29 euros (dominantly through two public calls intended for the media), while the Ministry of the Interior allocated the least – EUR 499.12.
It is interesting that the Ministry of Finance and Social Welfare, while it was headed by Milojko Spajić, advertised on RTS, from 1 to 11 November 2021, allocating 4,950.70 euros for it. From the submitted invoices and contracts, the reason for advertising the Ministry on the public service of another country is not clear. In 2021, certain public bodies paid money to unregistered newspapers. Thus, on 5 October 2021, the public company Coal Mine transferred 500 euros of one-time payment assistance to the unregistered newspaper IN4S, and the Electrical Power Company of Montenegro (EPCG) paid 600 euros per month without VAT to the aforementioned portal for the publication of banners since 1 November 2021.
RTCG's planned total revenues amounted to 17,786,900 euros for 2021, of which 13,821,900 euros came from the budget of Montenegro. Total expenditures were projected at 17,781,900 euros, of which 9,197,000 euros or 51.72% were allocated to personal income, followed by the costs of production and broadcasting of programmes in more than twice the smaller amount of 4,014,045 euros or 24.29%. In 2021, RTCG also planned income from advertising of 1,320,000 euros, which is less by almost 100,000 euros than in 2020, i.e. less by about 130,000 euros than in 2019. RTCG records a noticeable increase in expenses in relation to personal income, and a decrease in investment in the production and broadcasting costs. This fuels public criticism about the excessive number of employees in RTCG, but also a part of employees who do not come to work and use sick leave for a long period. RTCG's financial report for 2021 is not yet publicly available, i.e. it is not on RTCG's official website, which indicates a worrying non-transparency of the public broadcaster in which the state directly invests approximately 14 million euros per year.
When it comes to print media in 2021, the following received the most funds from public bodies on various grounds – Pobjeda – 317,328.01 euros, Vijesti – 157,689.81 euros, Dan – 121,852.81, Daily newspapers – 63,599.31 and Monitor – 25,389.97 euros.
In terms of television, the largest beneficiary of the funds is RTV Nikšić – 688,271.75 euros. In second place in terms of income is Vijesti television, which received 75,281.76 euros on various grounds from public funds, followed by RTCG with 44,653.93 euros, then TV Boin 41,817.60 euros, and RTV Pljevlja with 19,666.04 euros. Among the radio broadcasters, the largest beneficiaries of public funds were Radio Tivat with 210,060.50 euros, Radio Kotor with 180,959.99 euros, then Radio Antena M with 27,199.50 euros, Radio Bar with 3,645.25 euros, and Radio Petnjica – Talas Bihora with 3,440 euros of revenue.
The unequal attitude of local self-governments when it comes to the transparency of payments towards local public broadcasters is noticeable. Part of local self-governments (Nikšić, Kotor and Tivat) that submitted information about the allocated funds to local public broadcasters for regular functioning took the lead in the review of spending for these purposes only because there are no available data for certain municipalities that also have large costs on this basis (e.g. Podgorica, Herceg Novi, Budva, etc.). For the same reason, RTV Nikšić, as well as Radio Tivat and Radio Kotor, are high on the list.
Portals have a growing share in the financial transactions of public bodies, and the most funds in 2021, on different grounds received Portal Analitika – 38,758.26 euros, then Portal Vijesti – 27,810.42 euros, the News Agency MINA – 23,378, 67 euros, followed by the MNE rukomet portal – 21,415 euros, and the CdM portal – 19,782 euros.
Advertising agencies, media agencies and production companies that generated the most funding from public funds are Direct Media LLC – 491.790,80 euros, Arhimed – 69.779,20 euros, Ninamedia Clipping – 47.242,55 euros, Media biro – 37.965,35 euros, Rabbit Records – 30.734,00 euros and Represent Communications – 30,119.04 euros.
The two largest beneficiaries of funds allocated for media and advertising services to legal and natural persons who received funds for the provision of other services that do not fit into any of the above-mentioned categories were DMS Development – 46,738.02 euros and agency specialized in public opinion research DeFacto Consultancy.
Data of the competent Ministry, which published its report for the first time at the end of July, in accordance with the new legal obligation, provide approximate figures. A significant part of the data of the Ministry and the CCE match, and the variations can be attributed to the percentage of responses submitted by public bodies. Given that there is a clear legal norm that prescribes the obligation of public bodies to publish on their website, by March 31 of the current year for the previous year, records of payments to the media based on advertising and other contracted services, the CCE expects the Ministry of Culture and Media to take a more decisive position in this area. It is necessary to establish a greater degree of discipline when it comes to reporting on financial transactions by public bodies for the needs of the media and related media services.
On several occasions, granting of state aid to the media has opened up numerous issues, therefore, it is necessary to establish a systematized and publicly available review of state aid to the media, and the Ministry of Culture and Media, as well as the Agency for Protection of Competition, can do the most in that direction.
CCE supports the initiative of the Directorate for Media which states that public bodies should not advertise on unregistered media that do not respect the laws of Montenegro. Accordingly, the CCE expects rapid legal changes in that area.
It is important to emphasize the significant progress when it comes to compliance with the Free Access to Information Law by public administration bodies, with the note that this included a great effort by the CCE research team through additional calls, urgent requests and complaints. Out of 621 bodies, to which a request for free access to information was sent, 613 bodies, or 98.71%, submitted answers to CCE researchers.
On the «blacklist» of non-transparent ones are eight bodies that, despite numerous urgent requests and complaints, violated the provisions of the Free Access to Information Law and never responded – Ministry of Education, Science, Culture and Sports, Ministry of Health, Ministry of Agriculture, Forestry and Water Management, Revenue and Customs Administration, Airports of Montenegro, Plantaže, Montenegro Aeronautical Sports Association, Montenegro Judo Federation.
Report 'Equal chances for all media in Montenegro – 2021' is part of the project 'Media for Me' implemented by the CCE with the support of the Embassy of the Kingdom of the Netherlands, the Ministry of Foreign Affairs of the Kingdom of Norway and the Balkan Democracy Fund of the German Marshall Fund (BTD).
Damir NIKOČEVIĆ, Development Coordinator