Centre for Civic Education (CCE) organized, from 30 September to 2 October 2022, the XXVI generation of Human Rights School with a focus on hate speech, supported by the Council of Europe and the European Union within the project "Hate is not an option!", which 21 high school students from the Capital City of Podgorica, and the municipalities of Tuzi and Zeta successfully finished.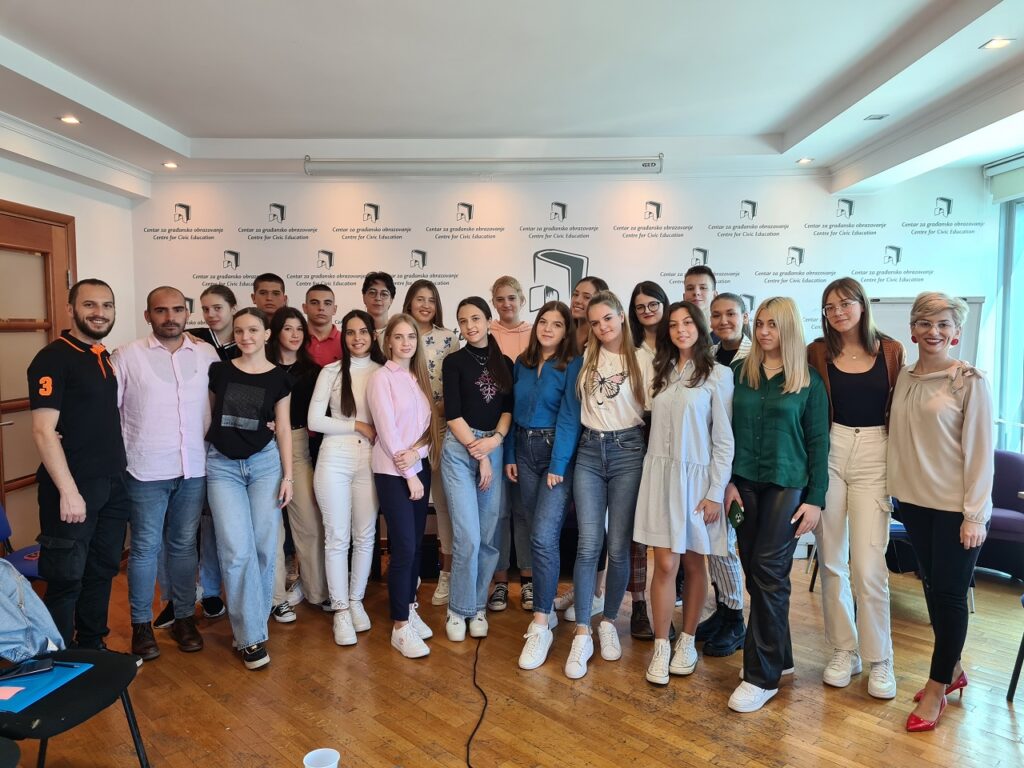 The three-day interactive learning about human rights aimed to familiarize the concept of human rights, mechanisms for protection against discrimination and other human rights violations closer to high school students, with a focus on the human rights of the most marginalized groups in Montenegro. The focus was on the fight against hate speech, stigmatization, discrimination and violence against marginalized groups, as well as the empowerment of young people to take an active stance in the fight for human rights. An important emphasis of the programme is placed on peer education and the consequences of peer violence on the psychological development of young people. The work took place through a combination of lectures, workshops, film screenings, "living library", group exercises, debates and plenary discussions.
"From the point of view of people with disabilities, hate speech is most prevalent in the application of incorrect terminology. It is not only the insulting of persons with disabilities that is problematic, but also their degradation and discouraging them from active advocacy for their human rights and position", emphasized Anđela Miličić, lecturer at the Human Rights School and coordinator of the Student Advisory Office at the Association of Disabled Youth of Montenegro, in reference to hate speech against persons with disabilities, as one of the marginalized groups. "Young people must be informed about their rights, as well as the rights of other marginalized groups, so that they can later protect their rights . "
Lecturer at the Human Rights School and coordinator in the Montenegro Media Institute, Vesna Rajković Nenadić, warned that "hate speech is increasing in public discourse, especially on social networks, which are recognized as the channels most used by young people and through which they get information. That is why it is important that young people know where freedom of speech ends and where hate speech begins."
"When we talk about young people, we are talking about people who create the future. With that, we maintain the Human Rights School and talk about counter-narratives, so that these same young people weave a future based on values such as love, understanding, collegiality and never hatred", said Iva Korović, a member of the network of Young European Ambassadors from Montenegro, who talked with the participants of the School about recognizing and building mechanisms against hate speech.
Participant of the Human Rights School  from Podgorica, Mihailo Čogurić, a student of the Gymnasium "Slobodan Škerović", believes that many people are not aware that they have certain rights. "That's why, when those rights are violated, they surrender without a fight. Also, I think that the degree of trust in the institutions that should protect human rights is very low so that people give up to seek the protection of their rights," he stated.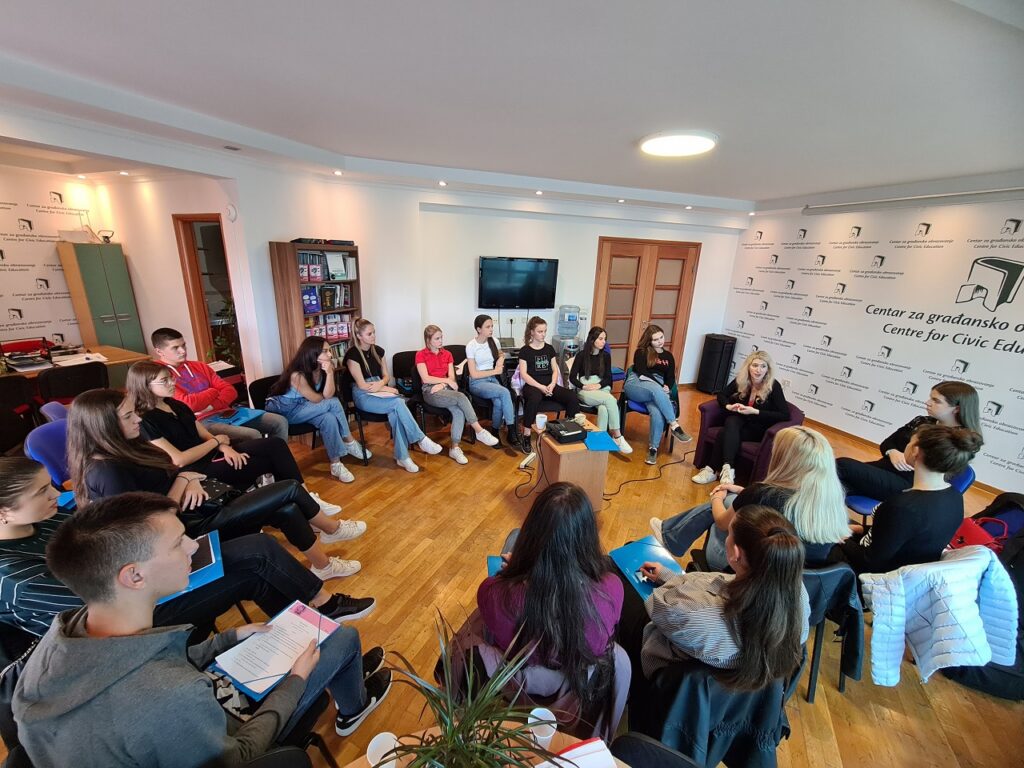 A participant from Tuzi, Abida Lulanaj, a student of the "Mehmed Fatih" Secondary Madrasa, considers that hate speech is very present in society. "It is especially present on social networks, where people abuse the freedom they get on the Internet.  In most cases, these people usually do not face the consequences of their actions, which only gives them an additional incentive to continue using hate speech ," she assessed. "It is very important that every individual uses his/her voice to fight for his/her human rights, so I want to become a person who will be able to use his voice to help those who need help," Lulanaj concluded.
The lecturers and workshop leaders of the Human Rights School were activists and experts for human rights, but also members of marginalized groups in Montenegro. The XXVI generation of the Human Rights School was completed by high school pupils from the Capital City of Podgorica, and the municipalities of Tuzi and Zeta: Abida Lulanaj, Aleksa Obradović, Anđela Dukaj, Valerija Cavnić, Darija Šćekić, Elisa Micović, Ivona Đokmarković, Jelena Boljević, Marija Boljević, Marija Keković, Mia Martina Praščević, Milena Vuletić, Milica Radinović, Mihailo Čogurić, Sara Popović, Elvir Suljević, Amar Redžepagić, Anja Bubanja, Sofija Krcalović, Hana Popović and Damjana Brajović.
Željka Ćetković, Active Citizenship Programme Coordinator