The consequences of the marginalization of care for young people in society are visible, as reflected in their expressed dissatisfaction with the direction in which the state is moving, institutions, and political actors, followed by apathy and lack of activism, as well as the fact that elements of re-traditionalization are recognized, both through a high level of trust into religious communities and other parameters through which it widely spreads, indicate the findings of research on the attitudes of young people in Montenegro, which as part of the project "I act – I change!" the Centre for Civic Education (CCE) conducted with the financial support of the US Embassy, through the Democracy Commission Small Grants Program.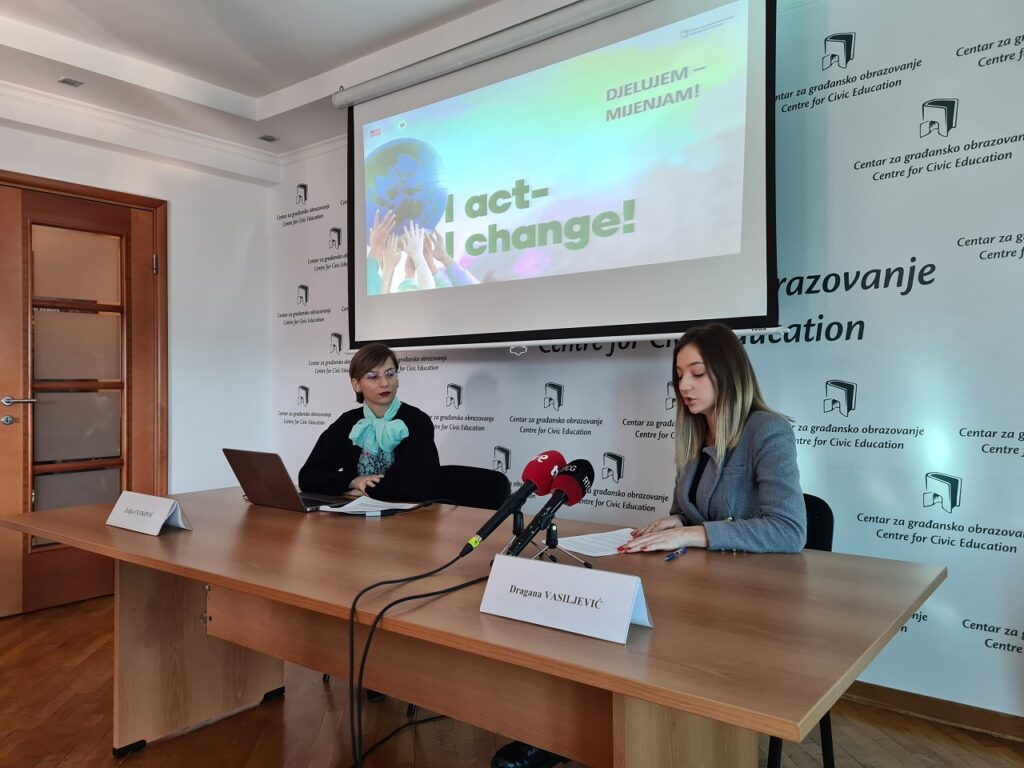 Dragana Vasiljević, a project assistant at the CCE, pointed out that the goal of this research is to identify the attitudes of young people in Montenegro when it comes to the areas of education, employment, transition to adulthood, free time, values, social and political activism, but also future, in order to influence youth policies to be more effective and comprehensive.
Presenting part of the research findings, Vasiljević stated that young people in Montenegro spend their free time using social networks, listening to music, spending time with family or going out with friends, while the least popular among them is volunteering in various initiatives, organizations or activities within youth groups, with the note that the vast majority of them have not participated in any kind of volunteer work in the past year.
"The dominant majority of young people in Montenegro, 73% of them, have access to the Internet practically all the time, and on average they spend about five hours a day on the Internet, from the minimum one hour to almost 15 hours a day. They most often use the Internet to communicate with friends and relatives through social networks and applications and to access social networks. Social networks are also the primary source of information for young people," said Vasiljević.
"We dedicated a special segment to certain habits that carry health risks and create addiction. The findings indicate that slightly over 43% have never consumed tobacco products, but also that cumulatively 48.3% of young people in Montenegro smoke cigarettes daily or occasionally. Additionally, alcohol consumption among young people is more present, so only every third young person does not drink, while over two-thirds (66.8%) consume alcohol within some frequency", stated Dragana Vasiljević.
When it comes to sexual habits, as well as a level of information and the use of contraceptives, almost a third of young people in Montenegro always use contraceptives during sexual intercourse, while every fifth young person does it sometimes, and it is worrying that almost 20% of young people never use the protection during sexual intercourse. The research also indicates that a fifth of people under the age of 30 in Montenegro is sexually inactive, but also that over 7% do not know what contraceptives are.
"Concerning the abortion, the majority of young people (42%) believe that it is a woman's right to decide about it, while 29.2% of them do not support abortion in any case, and similar is the number (28.9%) of those who do not position on this topic," concluded Vasiljević.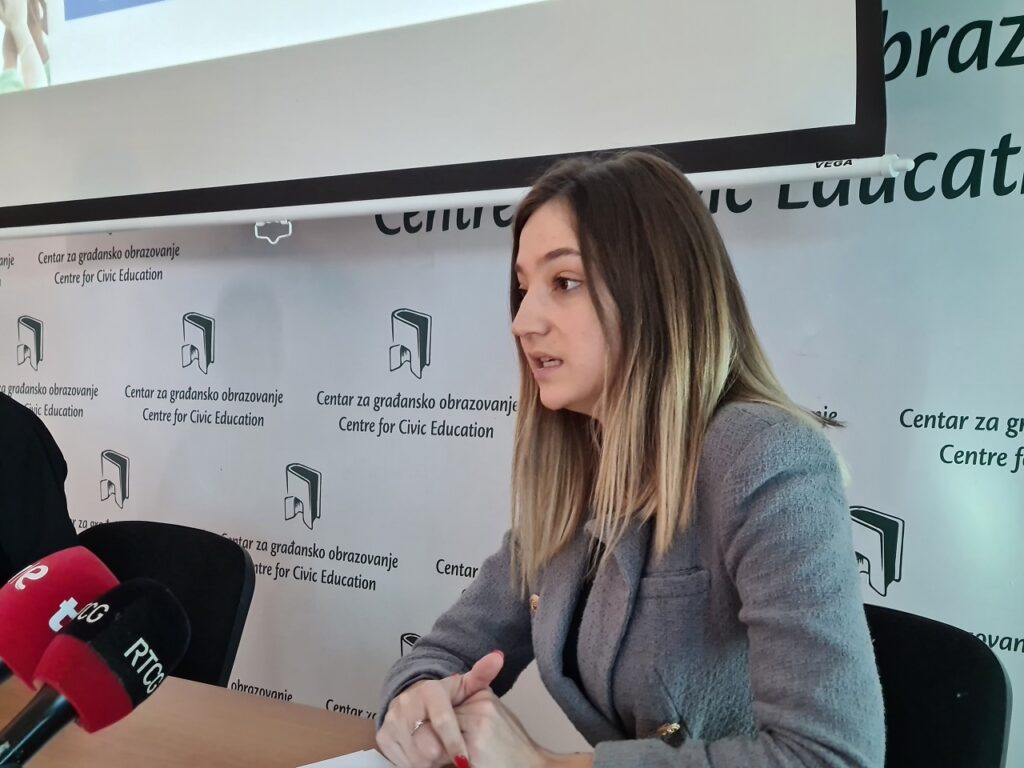 Active Citizenship Programme Coordinator in CCE, Željka Ćetković, presented the other parts of the research, starting with education and employment.
"In overall, young people in Montenegro are moderately satisfied with the quality of education, and on a scale of 1 to 10, they mark it with an average score of – 6.42. However, the perception of the everyday life of young people at school, i.e. at the university, in Montenegro is different. About 72% of young people believe that daily life in Montenegrin education is somewhat or very difficult and stressful, while 24% consider this segment of life tolerable and not particularly stressful, and only 4% find schooling very easy and stress-free. Given that this is an period after which the more difficult stages of life, such as finding a job and becoming independent, are yet to come, it remains to be seen how they will deal with them," Ćetković assessed.
Almost 60% of young people (between 15 and 30 years old) are not employed, and close to two-thirds are those who would prefer to find a job in the state (public) or in the private/business sector. "A mirror of the Montenegrin reality is that only every third young person believes that expertise and level of education are the key factors for finding a job in Montenegro, while almost 55% believe that these are personal acquaintances and connections and party membership and connections, and every tenth that luck also plays a part in that," emphasized Ćetković.
The fact that around 62% of them still live in their parent's home, and that there are only 14% of those under the age of 30 who pay rent or have managed to buy real estate on their own or with a partner, also indicates the slow process of young people becoming independent. Other young people live in inherited houses, in properties bought for them by their parents, or their rent is paid by a third party.
"In a series of offered factors that can affect their life, young people in Montenegro believe that having a good job is the most important condition for a happy personal life. Next comes the desire to live in a country governed by the rule of law, and in third place is the realization of an individual in the role of a parent," Ćetković added.
What kind of personality someone has, as well as the sharing of common interests, are the most important factors for choosing a spouse among young people in Montenegro, while material status is considered significantly less. Religious affiliation crystallizes as one of the key determinants, and interestingly, that it is above some other identity characteristics, such as national/ethnic affiliation.
"In the part about the social distance of young people towards vulnerable and marginalized groups, young people demonstrate the greatest intolerance towards drug and alcohol addicts, as well as homosexual couples and HIV-positive people. On the other hand, they show the greatest degree of tolerance towards pensioners, people with visual or hearing impairment or people with physical disabilities", stated Željka Ćetković.
Almost 38% of those under the age of 30 have a clearly defined position that they want to leave Montenegro, while 40% do not want to, and 22% do not yet have a defined position. The dominant reasons for leaving the country are the desire for a better living standard, the lack of prospects in Montenegro and the possibility of easier employment abroad. At the same time, 46% of young people believe that in 10 years they will be in a better situation than now, while 27.7% believe that their situation will remain the same as now, and about 8% are pessimists who see a much more negative future.
"It seems that young people are not interested in political issues and political topics, and this interest decreases as the scope of these policies expand, so young people are the least interested in global policies, policies in the Balkans, EU policies and policies in Montenegro. This is accompanied by apathy about the possibilities of influencing political decision-making. Thus, among 2/3 of young people, the prevailing opinion is that their voice either has no or very little influence on the functioning of institutions", emphasized Ćetković.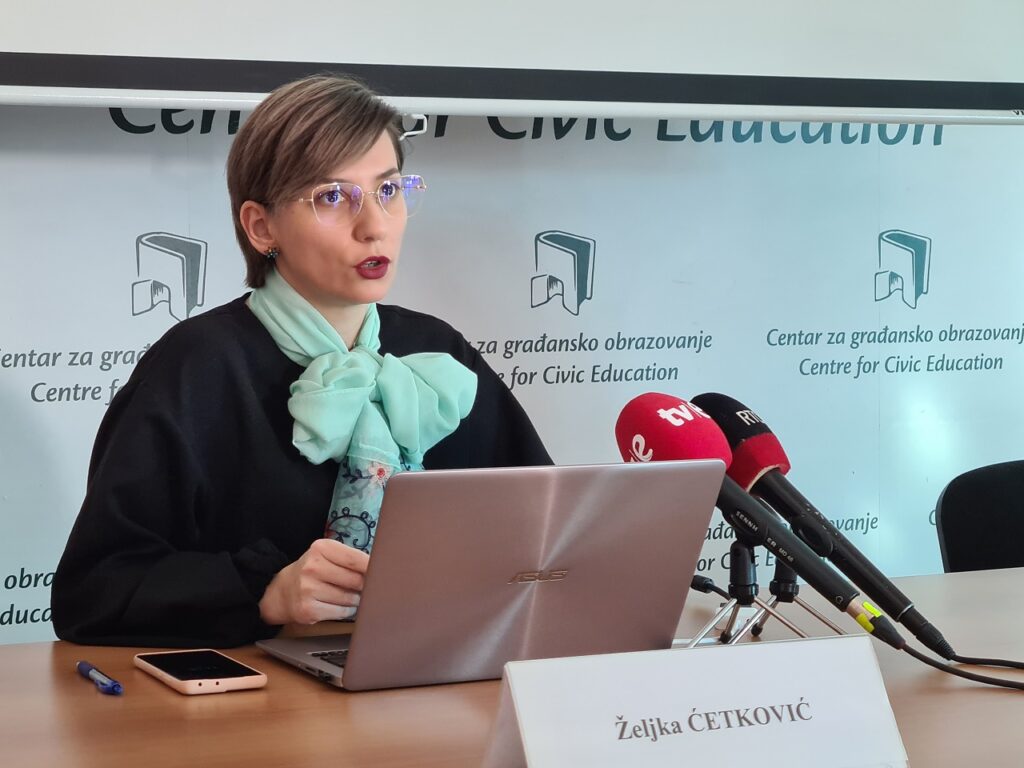 "Distance to political actors can also be seen as an expression of dissatisfaction with the ongoing crisis, pessimism when it comes to the direction in which the state is moving, but also concerns about the issue of corruption, problems from the economic sphere and those linked to social inequality, which they see as the biggest challenges. This is also reflected in the attitude towards institutions, where young people have the least trust in political parties and key state institutions, i.e. the Government and the Parliament of Montenegro, and they express the greatest trust to religious communities, followed by banks and non-governmental organizations", Željka Ćetković assessed.
Young people's support for the process of Montenegro's accession to the EU remains high (66%), and less than a fifth (18%) are those who are against that path, while 16% do not currently have an opinion on the European integration of Montenegro.
According to young people, the priority goal of the Government of Montenegro should be enabling the exercise of human rights and freedoms, reduction of unemployment, economic growth and development, as well as improving the position of youth.
"The findings warn of the visible consequences of the marginalization of care for young people in society, as well as the fact that young people have many faces, that they are not on one side, and that one of those faces is a traditionalist in a significant part, and we identify the absence of activism. In this context, these findings should be seen as a call for decision-makers to effectively address socio-economic issues that cause apathy among youth, as well as the desire to leave the country", concluded Ćetković.
The research was conducted from 10 to 17 December 2022, with the application of the CAPI method, on a stratified random sample of 833 respondents aged 15 to 30. Professional support in conducting this research was provided by the DAMAR agency.
Nikola Banović, project assistant