Centre for Civic Education (CCE) has organized a presentation of the analysis "Montenegrin education policy and sexual orientation: representation of LGBT topics in school curricula and textbooks" by Aleksandar Saša Zeković, MA, today. The analysis was produced through the project "Campaign for raising awareness in schools", implemented by the CCE within the framework of the LGBT Project of the Council of Europe, and with the financial assistance of the Federal government of Belgium, whereas the co-publishers of the publication are the CCE and the LGBT Forum Progress.
Ms Tamara Milaš, Programme Associate in the CCE, Ms Marijana Laković, Deputy Ombudsman, PhD Jovan Kojičić, Adviser to the Prime Minister of Montenegro, Ms Tamara Milić, Adviser at the Ministry of Education and the author himself – Mr Aleksandar Saša Zeković, MA, spoke at the promotion.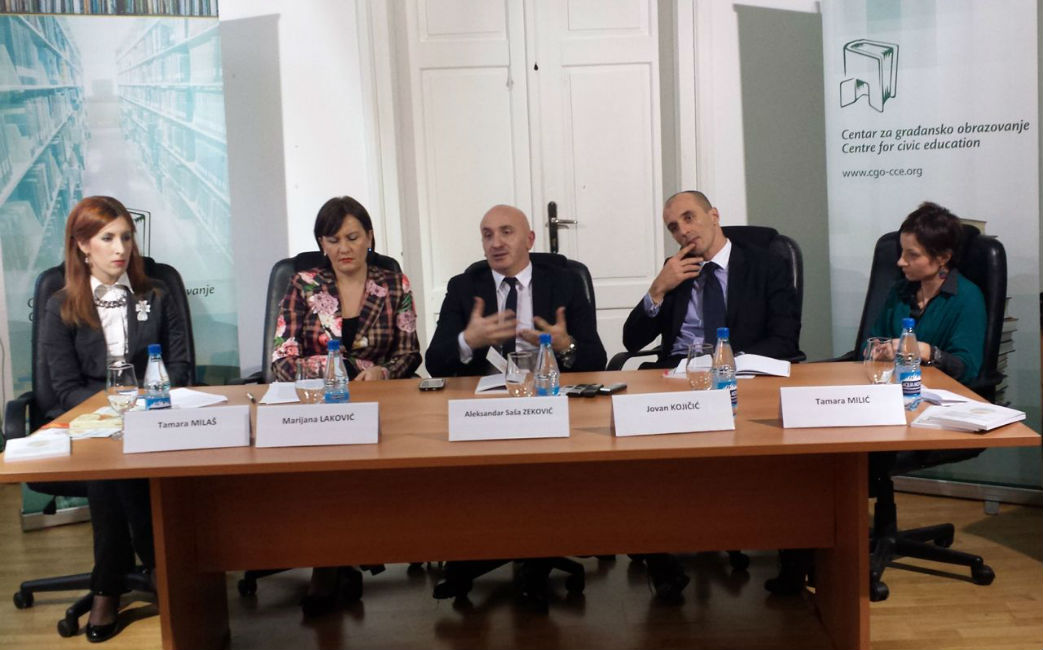 Ms Tamara Milaš assessed that there is a long road that Montenegrin society must take in order to reduce existing discrimination against different groups or individuals, and that an integral part of that road should be intervention in the educational system itself. She added that the greatest responsibility always lies within the Government and its institutions, but that independent institutions and civil society can contribute to the improvement of the current situation. "We need to develop a dialogue and find optimal opportunities for LGBT community to openly express itself, and to be an integral part of our society without fear of discrimination. For as long as there is someone in our society who feels as a second-class citizen due to certain differences, we can not be named as a society of human rights culture, "concluded Milaš.
Ms Marijana Laković reflected on the fact that societies in transition, with a strong traditionalistic heritage, including the Montenegrin one, are faced with a serious marginalization of people of different sexual orientation and gender identity. According to her words, many prejudices are being created in childhood by adopting the mindset of parents, and she emphasized that "the creation and acceptance of prejudice occurs also in the process of education." Ms Laković asserted that the "fight against prejudice and its consequences will become most successful when we confront it with the scientifically verified arguments".
Mr Jovan Kojičić emphasized that within the presented analysis it is very important the fact that it also introduces experiences of developed countries and their curriculums in relation to LGBT rights. He underlined that Montenegro is facing a sociological process and that results cannot be achieved ad hoc in this area. "We need a joint action, a consensus – from a state which is promoting elimination of traditionalisms, and from a civil society which has set this topic on the top of the political agenda," stated Kojičić.
Ms Tamara Milić agreed that there is a space for altering certain things in the educational system. "Precisely this publication has crystallized certain ideas and gave different points of view and indicated to which places we can intervene so it will result in acceptance of diversity through education," as she said.
The author of publication, Mr Aleksandar Saša Zeković, assessed as positive that and commendable for Montenegro that in textbooks for elementary and high school, there are no negative examples, which would indicate an open discrimination. However, he said that it is a concerning fact that a principle of silence exists. "It is impossible to treat human rights exclusively through election contents… LGBT rights need to become a part of the obligatory courses in order to efficiently and effectively contribute to reducing resistance to LGBT persons and homophobia that are currently present in our society," said Zeković.
The publication "Montenegrin educational policy and sexual orientation: representation of LGBT topics in school curricula and textbooks" is one of the most detailed and the most comprehensive analysis of curricula and textbooks in the region and provides guidance on how to better integrate human rights into the educational process, with a particular focus on LGBT rights. The publication is published in Montenegrin and English language, and it is already distributed to decision-makers, civil society organizations, members of academic community, and today begins its distribution to media and international organizations. The electronic version is available on publishers' websites.
Svetlana Pešić, Programme Associate