The Centre for Civic Education (CCE) has organized today a panel discussion on How can we promote the rights of marginalized groups? – Echo of the Fast Forward Human Rights Film Festival 2013.
The panel discussion was opened by Daliborka Uljarević, the CCE executive director, who has also moderated the conversation, referring to the Fast Forward Human Rights Film Festival 2013, which was held for the fourth time in the period of 17-20 December 2013 at the Montenegrin National Theatre. She spoke about pluralism of civil society's efforts to place the human rights of marginalized groups on the social agenda. "It is precisely through the Fast Forward Human Rights Film Festival that we promote the universality and causality of the condition of human rights at the national, regional and local level. Films are bringing closer together experiences of a variety of government and social organizations, alerting, educating and promoting the need to fight for human rights. Art is a universal language, a universal value, such as human rights are, so I would be inclined to say that fight for human rights is as old as art – namely, that they are impossible to separate, and thus this Festival has a special significance for the promotion of human rights in Montenegro", emphasized Uljarević.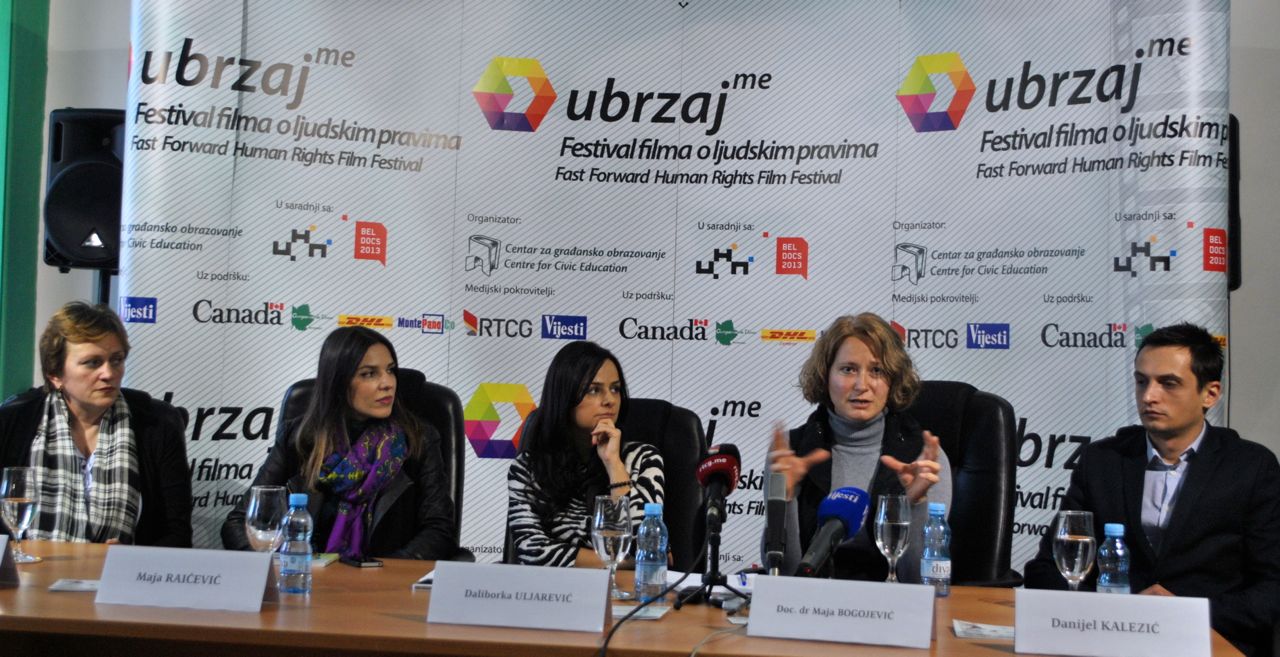 Danijel Kalezić, the chairman of the Managing Board of Queer Montenegro, spoke about challenges of fight against homophobia. He said that homophobia is, to a great extent, present in the Montenegrin society, but he also expressed optimism that there is a cure for its reduction through increased visibility of the LGBT community. In this context, he emphasized the importance of two successful pride parades in 2013, which showed that prejudices and stereotypes about LGBT persons can be broken. He also commented on problems of mobility of Queer Montenegro's initiatives towards relevant institutions, emphasizing the containment of the Council for Protection against Discrimination towards this organization emphasizing that the state is the one that must show the full political support of the efforts of all LGBT organizations. Kalezić concluded that in addition to all the activities carried out by civil society to promote the rights of LGBT persons, artistic expression oferred by the Fast Forward Human Rights Film Festival represents a significant support, especially in the fight during the process of raising public awareness and improving the visibility of LGBT persons.
Maja Raičević, the director of the Centre for Women's Rights, ilustrated the present discrimination against women in Montenegrin society which still inherits a patriarchal culture and which political space is dominated by men, through presentation of a life of one woman in Montenegro today, since her birth, since her right to be born if she is allowed so, since growing up, through education to her professional expression. "A woman will always be paid less than her male colleague, and if she decides to start a family she is likely going to be fired," said Raičević, who recognized precisely the economic dependence as one of the factors why women suffer violence, with the additional difficulty that in Montenegro property is being passed almost always to men.
Nada Drobnjak, the president of the Committee for Gender Equality in the Parliament of Montenegro, agreed with the assessment that Montenegrin society is structured in such a way that still keeps women on the political margins. She estimated that a few years ago she was more optimistic in projections of creating a gender-balanced society but that reality has convinced her that the process is going on much slower. In order to be more women in decision-making places, primarily the life in political parties has to be changed, since these are places where men still dominantly make decisions", concluded Drobnjak, citing several examples of the negative party tendencies.
Maja Bogojević, the dean of the Faculty of Dramatic Arts at the UDG and a film theorist, spoke about the film as a mean of affirmation of the marginalized groups' rights. She underlined that film industry is certainly an area where women are underrepresented, with only 7% of the female authors, and that they remain a minority that is subject to stereotypes, and that they often are not treated as a human. She especially analyzed certain contents that audience can see in Montenegro, but also two films from the recently concluded Human Rights Film Festival 2013 – Pussy Riot: A Punk Prayer and Blue is the Warmest Color. She also gave an overview of the representation of women in Montenegro's cinematography, which, she assessed, is in the level of the regional one, namely that it has a similar level of misogyny that exists. "In the misogynistic traditional society there is no activity that would mark a woman as a human being, which would not gender-mark her, which would not characterize her as a woman, whether it is about traditional negative stereotypes, or some other positive qualifications", emphasized Bogojević.
The panel discussion brought together representatives of NGOs, institutions and individuals working in the field of human rights of LGBT persons and women.
Petar Đukanović, Programme Coordinator