National seminar Intergenerational Learning for European Citizenship was held today in Podgorica, in the organization of the Centre for Civic Education (CCE), bringing together over 50 high school pupils, students, members of retirees' associations and military retirees.
The seminar was opened by Mirela Rebronja, Program Coordinator in the CCE, by presenting the project "Intergenerational learning for active European citizenship", which aims to provide an opportunity for the youngest and oldest citizens (aged up to 30 and over 65) to jointly, through seminars, debates and workshops, analyze reasons for European integration, stimulate discussion on impact of the EU policies on everyday life of citizens and open an intergenerational dialogue about the importance of European values thus obtaining skills necessary for active participation in democratic processes within the EU. She has assessed that they would "thus be motivated and informed on how to take a more active role in the European integration process, but also in the activities in their local communities." Upon that, she had a presentation on the topics "Active Citizenship Knows no Boundaries."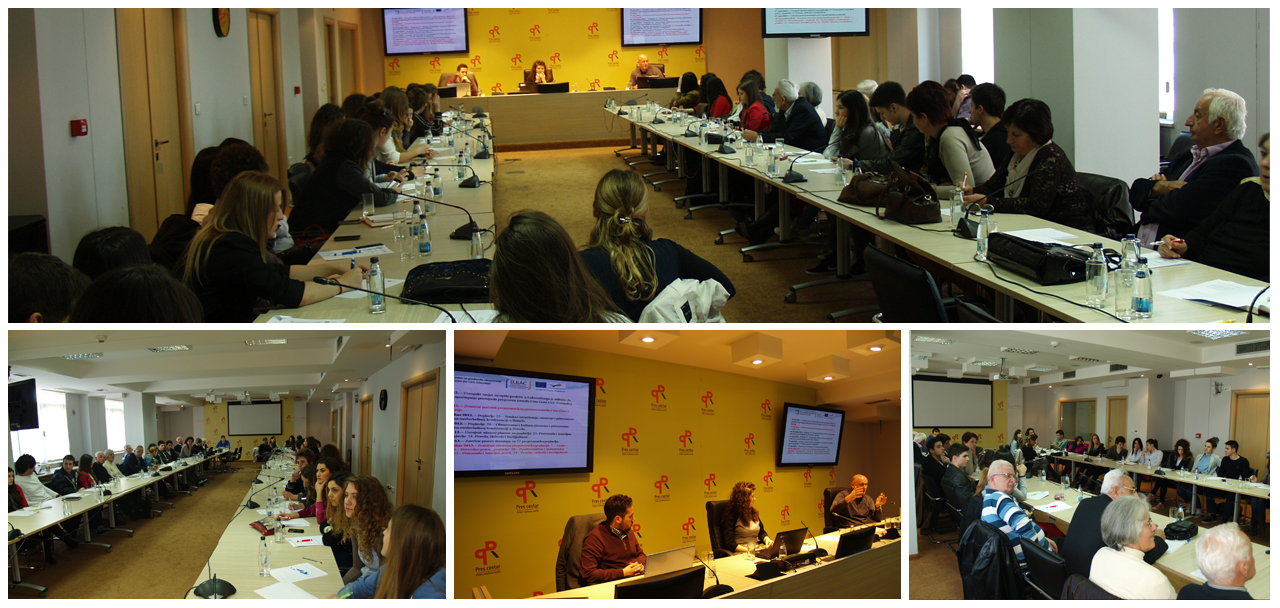 Vladimir Vučković, Programme Associate in the CCE, spoke on the topic "United Europe – History and Development of the European Union", starting from the idea that led to this supranational organization, followed by the enlargement waves, challenges of development within the Union, reforms of the institutional structure, as well as experiences in the region, particularly citing the example of Croatia, which joined the European Union in the last (sixth) wave of enlargement.
Boris Marić, Senior Legal Advisor and member of the Working Group for the preparation of negotiations on Chapter 23 spoke about "The European Path of Montenegro – Montenegro from Disappearance of SFR of Yugoslavia until Now", focusing on recent Montenegrin history through four separate points – AB revolution, attack on Dubrovnik, referendum in 1992 and referendum in 2006, followed by the chronology from the signing of the Stabilization and Association Agreement (SAA) in 2007 up to 18 December 2013, when five negotiation chapters were officially opened between Montenegro and the EU.
After these presentations, quite dynamic discussion followed on Life between the Two Systems – SFR of Yugoslavia and the European Union through Stories of the citizens.
The project Intergenerational learning for European citizenship is simultaneously being conducted in Italy, France, Bulgaria, Slovenia, Sweden and Montenegro, with the support of the "Europe for Citizens" programme. Montenegro has signed a Memorandum with the European Commission on 24 October 2012 regarding participation in the "Europe for Citizens" Programme, and this is one of the first projects funded within that programme with activities in Montenegro and implemented by the CCE and its partners from five other EU member states.
Svetlana Pešić, Programme Associate