Centre for Civic Education (CCE), on behalf of the regional Coalition for Equality – STEP, with the support of European Commission, organized today a regional conference on Position and Influence of Women in the Public and Political life in the Western Balkans, in the EU Info Centre in Podgorica.
The conference was opened by Daliborka Uljarević, executive director of the CCE who assessed that "The question of gender differences is not only an issue of importance for women's rights, but that it is an indicator of the overall level of democracy", adding that "strengthening gender representation within the legislative bodies has a special importance, and Montenegro, unfortunately, traditionally marks poor performance in that respect". She indicated that "women in Montenegro had essential influence in promoting the anti-war engagement, education, gender equality and putting on the agenda the issue of political participation of women, mainly through non-partisian forms of organizations but the most often through non-governmental organizations and individual public appearances." Uljarević concluded that "there is no excuse for the policy of ignoring competences and capacities of women if Montenegro wants to build a true democracy. The state and political parties are obliged to undertake adequate activities in order to solve the problem of systematic marginalization of women in the politic spectrum because that represents structural problem which has its roots in unequal distribution of economic and political power, tradition burdened with stereotypes and prejudices about entrenched roles of women and men which significantly limit women in realization of their potential and professional aspirations."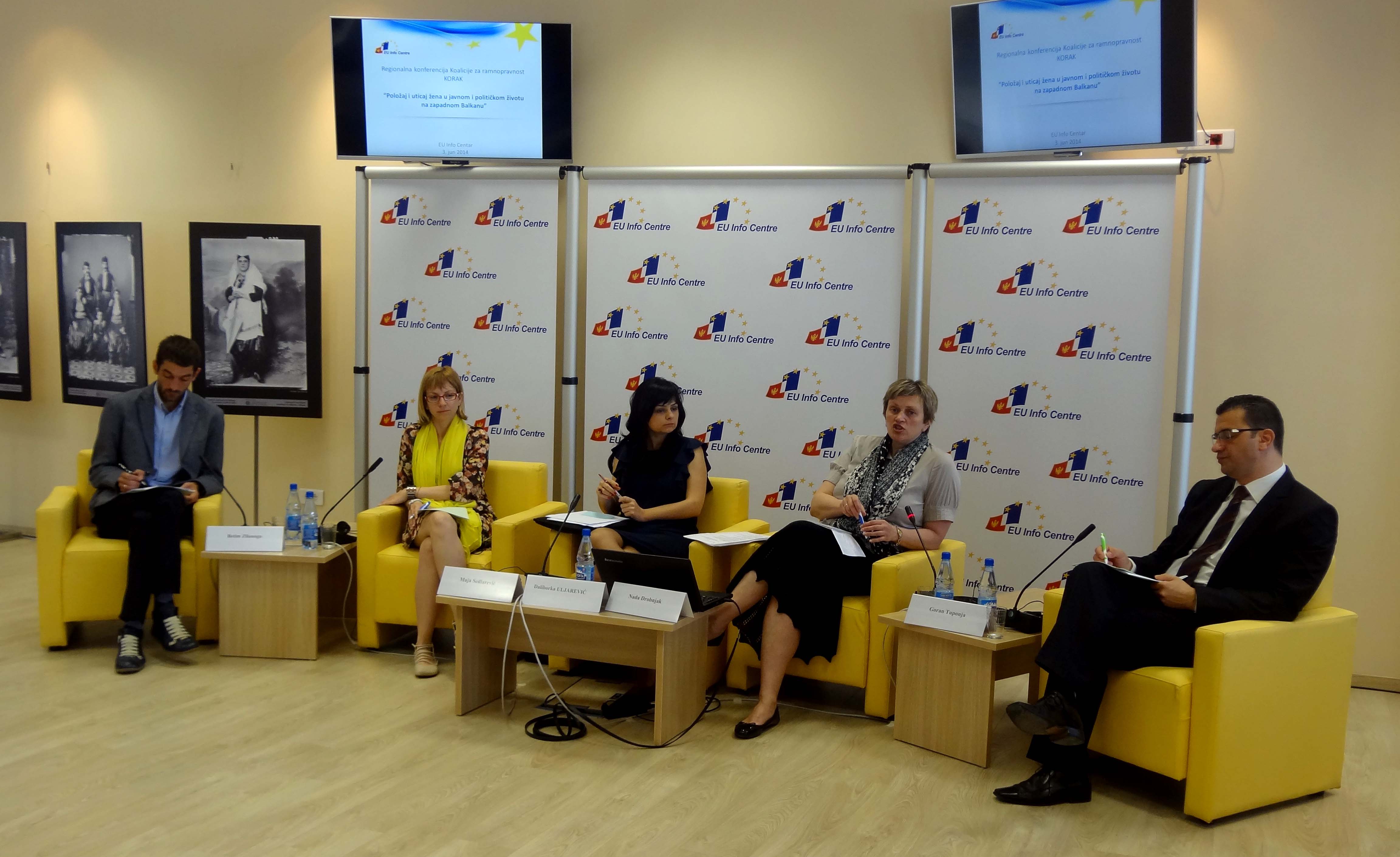 Ivana Sjelja, programme coordinator from the Lawyers' Committee for Human Rights (YUCOM), reminded that "the project "Civil Society Networking on Critical Human Rights Values in Serbia, Montenegro and Kosovo" as its focus has rights of women and LGBT people because they are marginalized and discriminated in the countries of the region."
Alberto Cammarata, Head of Operations of the EU Delegation to Montenegro, reminded that "gender equality is a very important topic for any society and for its democratization whose integral part is introducing women into decision-making processes". He also assessed that the current practice in this field, within the European Union, is still unbalanced, noting that member states share similar experiences in this area and that certain, but still insufficient, progress has been achieved. He estimated that societies, which are not inclusive for all of its parts, are "loosing potential, knowledge and creativity" and that this is one of the questions that European Commission monitors carefully through its regular reports.
Within the first session "Women and Politics – How to Achieve Gender Balance in Political decision-making?" short presentations were held by: Nada Drobnjak, president of the Gender Equality Committee of the Parliament of Montenegro (DPS), Goran Tuponja, vice president of the Gender Equality Committee of the Parliament of Montenegro (PCG), Maja Sedlarević, member of the Assembly of the Autonomous Province of Vojvodina (LSV), Betim Zallonga, project coordinator in the Humanitarian Law Centre of Kosovo. Their mutual conclusion was that the legal framework that addresses gender equality in Montenegro, Serbia and Kosovo is significantly improved but that the problems are happening in practice. In this context, the recommendations were mostly related to the need of networking of all sectors that can contribute to the improvement of the current situation, continuous improvement of the legal and institutional framework, work on strengthening of mechanisms for implementation of gender policies and strategies (within institutions as well as within political parties), greater involvement of men in the actions of public advocacy for gender-based policies, etc.
During the second session moderated by Petar Đukanović, programme coordinator at the CCE, on the topic "Discrimination and Violence against Women – Current State of Affairs, Mechanisms for Prevention and Sanctions", the speakers were Maja Raičević, executive director of the Centre for Women Rights from Montenegro, Jelena Keserović, activist at the Autonomous Women Center from Serbia and Miradije Gashi, executive director of the Women Network of Kosovo. In the course of this session, it was assessed that violence and discrimination against women are still the most common problems that women from the Western Balkans are facing, both in private and professional life, together with the increase of family violence as well as non-adequate legal framework and responds from the competent institutions that very often additionally victimize a woman-victim. The special emphasis was given to the hard status of women with disabilities who suffer family violence. In that segment, it was recommended to work in more dedicated on economic empowerment and independence of women as those are basis for their full emancipation, improvement of already existing legal framework, sensibilization of competent officers, institutional support of services such as shelter, SOS lines, etc.
Particularly dynamic was the third session on the topic "Gender equality in media and through media", moderated by Milena Vasić, lawyer at YUCOM and activist at non-formal group "Women of the Internet", while presentations were held by Slavica Striković from Women Action and also member of the RTCG Council, Duška Pejović, journalist at RTV Atlas and Tamara Skrozza, journalist of "Vreme" and member of the Press Council of Serbia. They listed numerous examples of ubiquitous misogyny in media, but at the same time they offered specific recommendations which referred to establishment of the Gender Media Council, provision of the continuous training for media in this field, financial support for programmes promoting gender equality, empowerment of women experts to speak in media about their results, strong sanctioning of sexism in media, comprehensive research of media content and consumers of media content, analysis of advertising content, etc.
The last session "Women Activism in the Region – Challenges in Work of Women Civil Sector" was moderated by Jelena Todorović Savović, coordinator at the Organization for Lesbian Human Rights LABRIS, and the speakers were: Ljupka Kovačević, coordinator of the Centre for Women and Peace Education ANIMA from Kotor, Biljana Zeković, executive director of the SOS Telephone from Podgorica, Marija Perković, activist at the Women in Black from Belgrade and Shemsije Seferi, executive director of the NGO Alma from Prishtina. Within this session there were emphasized: the importance of deconstruction of male-female roles, financial support of women organizations for implementation of gender equality affirmation projects, greater degree of involvement of women in consultations by legislative and executive powers, prevention of loosing women staff in women organizations etc. The speakers also reflected to the extremely difficult situation of women organizations today, despite decades of their dedicated work on opening discussion about numerous and important social issues.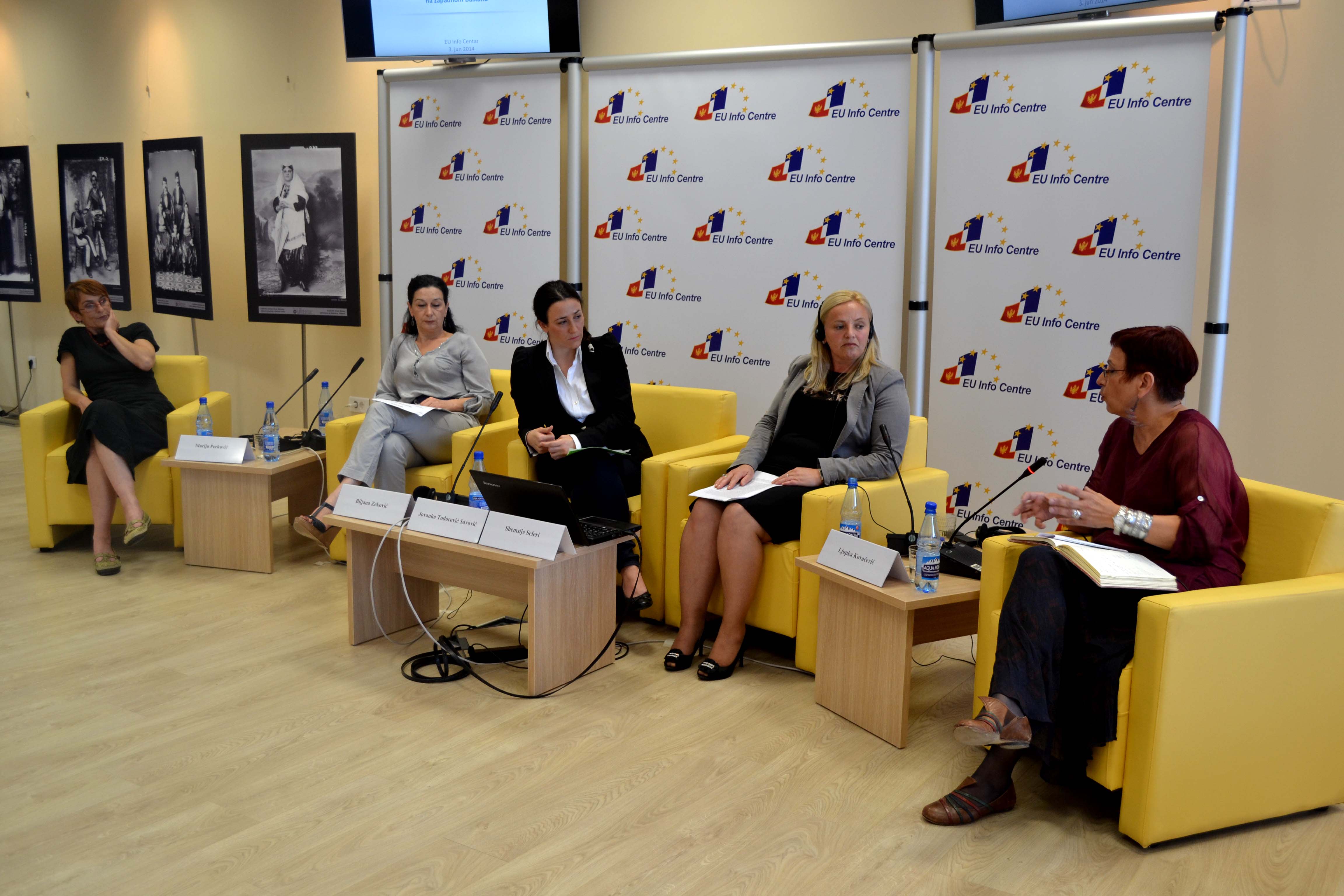 At the end of the conference, a regional network of organizations of civil society, interested individuals and media from Serbia, Kosovo and Montenegro – Network for Improvement of Participation of Women in Public and Political Life was formed. It will be in charge of monitoring the situation in the area of implementation of women's rights, as well as regional networking and establishing cooperation aiming to initiate joint activities and project directed towards improvement of gender equality policies as a framework for advancement of women's rights and their representation in decision-making fields.
STEP is a coalition of non-governmental organizations from Serbia, Montenegro and Kosovo, organized with the aim to fight against discrimination at the regional level. Members of STEP coalition are: Lawyer's Committee for Human Rights –YUCOM, Belgrade Centre for Human Rights, CHRIS Networks, Gay Straight Alliance from Serbia, Centre for Civic Education (CCE) and LGBT Forum Progress from Montenegro and Humanitarian Law Centre and Youth Initiative for Human rights from Kosovo.
Mira Popović, Programme Associate