Centre for Civic Education (CCE) donated 100 titles from its library (in total 179 books) to the non-governmental organization Active Zone from Cetinje, as support for establishment of Community Centre in Cetinje which this NGO initiated.

NGO Active Zone from Cetinje is a young organization that has already achieved significant results with its initiatives. One of those initiatives is founding the Community Centre in Cetinje that will represent a place for quality leisure time and for gathering of individuals and groups who deal with activities that are of importance for the community, together with improvement of cultural life in the city, introduction of new contents and stimulation of civic activism in the Royal Capital. CCE welcomes this initiative and believes that these kind of places in any city could be the sources of good ideas, positive energy and civic activism that will stimulate positive changes. Among the donated books, there were CCE publications in Montenegrin and English, as well as numerous publications of newer production of other publishers in the field of human rights, European integrations and democracy. On behalf of NGO Active Zone, the books are handed to Miloš Marković, the president of this organization.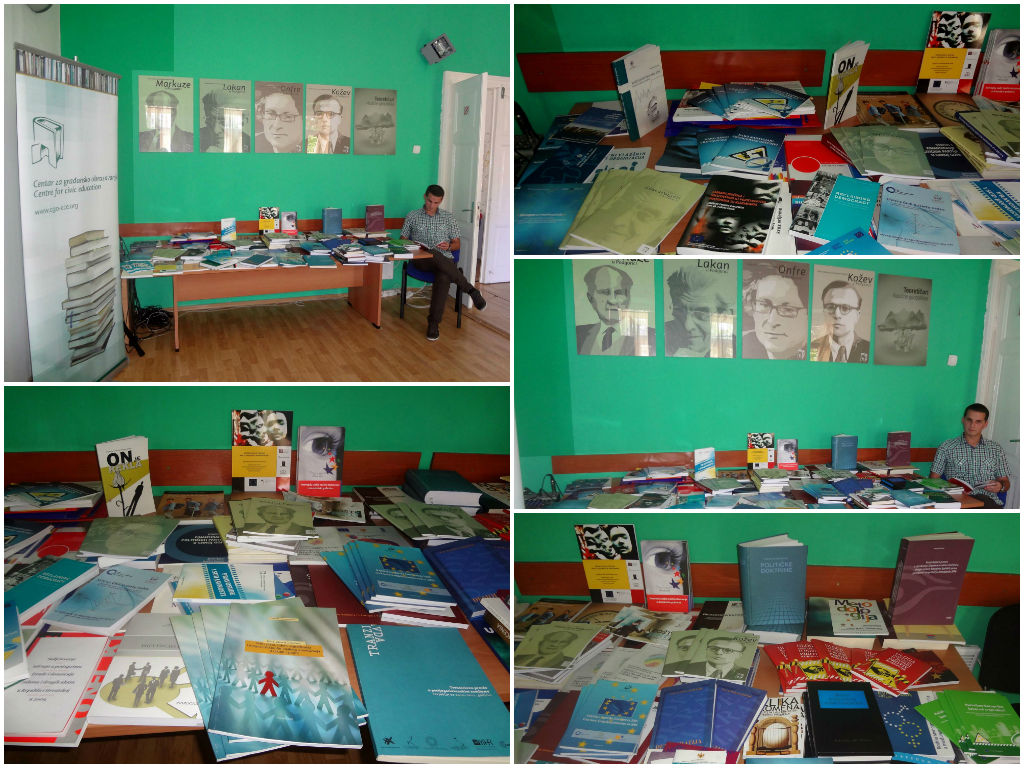 CCE assesses that the cooperation in NGO sector is of crucial importance and that mechanisms of support between the organisations should be encouraged, especially when it comes to the organizations of different degree of development and different regional presence. Thus, CCE will continue to support less developed non-governmental organizations in Montenegro in different ways and it will encourage them to continue with work in their local communities.
Also, during 2014, CCE supported 14 projects of non-governmental organizations from all over Montenegro in total amount of 72, 342 EUR, with financial support of the European Union. In that way in May 2014, projects dealing with fight against different kinds of discriminations by five organizations are supported with 18,222 EUR, through the programme "Civil Society Networking on Critical Human Rights Values in Serbia, Montenegro and Kosovo" (initially 4 projects with 15, 000 EUR, and with investment of additional funds one more from the reserve list with 3,220 EUR). Additionally, during June through the programme Fast Forward Human Rights, 9 projects were supported and they will be conducted in 11 organizations in the field of human rights with total amount of 54,120 EUR.
Kristina Lazarević, Programme Assistant