On the occasion of the International Peace Day – 21 September 21 – representatives of the Centre for Civic Education (CCE) and members of the Coalition for RECOM, attended the opening of the Documentary Centre SENSE in Potočari, which consists of material collected by press agency SENSE in the last 20 years of trial monitoring before the Hague Tribunal (ICTY). They also used the opportunity to pay respect to victims of the genocide committed in Srebrenica.
The crimes that were committed in July 1995 in Srebrenica were the subject of nine trials before the International Criminal Tribunal for the Former Yugoslavia. Monitoring of those trials and reporting day by day about what was said and seen in courtrooms, SENSE collected comprehensive documentation: thousands of hours of video footages of testimonies of survivors, witnesses and perpetrators, documented footages from July 1995, photos from the crime scene and air footages, military documents seized in headquarter units which participated in attack on the protected zone.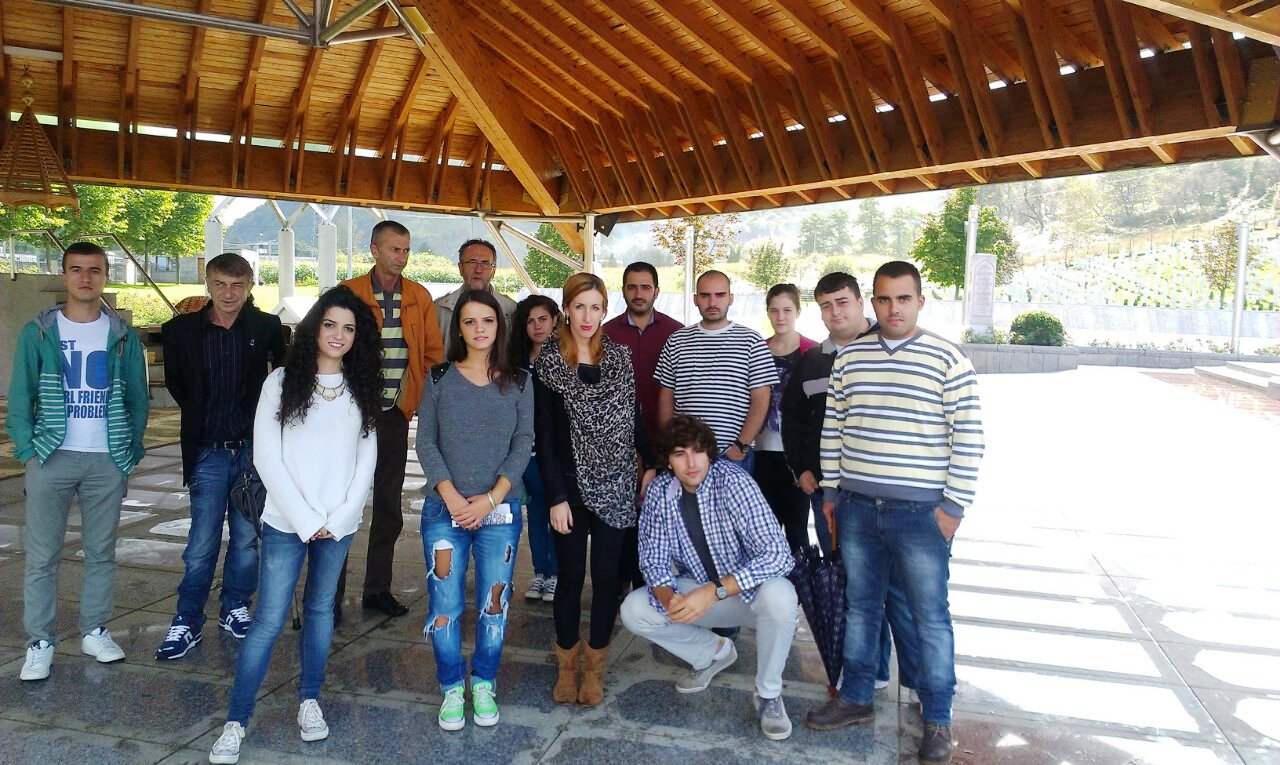 In order to return the genuine historic material where it belongs, SENSE founded Documentary Centre Srebrenica, in cooperation with Memorial Centre in Potočari. The aim of the Centre is to show, with the help of witnesses and other evidence adduced at trials, that events from July 1995 are investigated, reconstructed and processed within the International Criminal Tribunal for the Former Yugoslavia.
Post-Yugoslav societies, especially the institutions of the systems, are obliged to remember all crimes that occurred against innocent civilians, on the territory of the former Yugoslavia in period of 1991 to 2001 and to work with joint forces and through quality regional cooperation on development of a culture of memory and respect, recognition and empathy with all victims in order not to forget the committed crimes and to influence that they never occur again. For years, civil society organizations in Montenegro and in the region are insisting precisely on that and they formed the widest regional coalition until now advocating for the establishment of RECOM, which represent a strong contribution to the process of dealing with the past in the region.
CCE will continue to conduct activities in order to mark the events and strengthen peace, individually or as a referent organization of the Coalition for RECOM for Montenegro. In that context, yesterday's visit to Potočari and attendance to the opening of Documentary Centre SENSE was organised.
Tamara Milaš, CCE Programme Associate and Spokesperson for The Coalition for RECOM in Montenegro