Centre for Civic Education (CCE), in cooperation with portal "Vijesti", and within the framework of project "EU news – get informed!", supported from Communication budget of EU Delegation to Montenegro, organised a Training for editors and journalists of portal Vijesti on development of technique for reporting on EU and negotiation process between Montenegro and EU, during past two weekends.
Within the first module, held on 5 and 6 March 2015, alongside Daliborka Uljarević, Executive director of the CCE, who opened the training, the participants were addressed by Patrick Schmelzer, from the Cooperation Section Media and Public Affairs EU Delegation to Montenegro, who talked about the role and significance of media in process of European integration. Miodrag Radović, secretary of Negotiation group in the Ministry of Foreign Affairs and European integration of Montenegro (MFAEI), spoke about the negotiations between Montenegro and EU and its implications, the role of negotiating structure during process of negotiations, as well as about the strategy of informing the public on the accession of Montenegro in EU for 2014-2018. Svetlana Rajković, assistant minister of justice and chief negotiator with the EU for Chapters 23 and 24, spoke about the process of negotiations between Montenegro and EU, with emphasis on Chapters 23 and 24. Slaven Radunović, president of Committee for European integration of Parliament of Montenegro, introduced participants further with the role of Parliament during the process of European integration through the competencies of this body and possibility of influencing the dynamics and quality of negotiating process.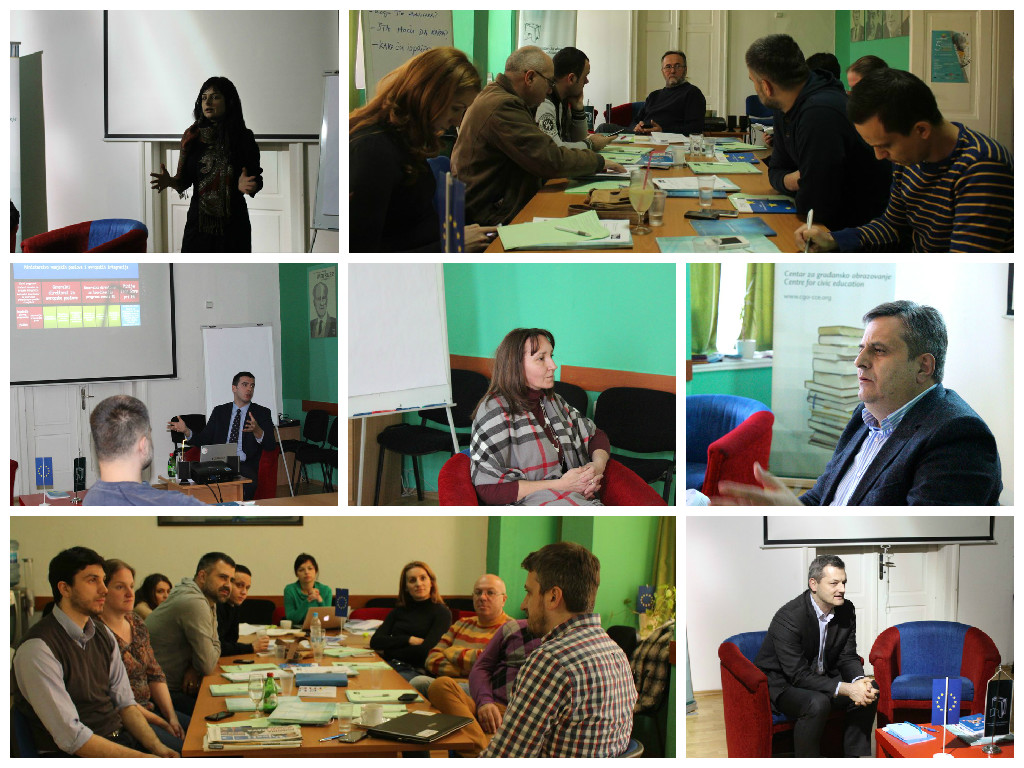 Second module was held on 14 and 15 March 2015. During this module, Slobodan Georgijev, Coordinator of Balkan Investigative Reporting Network (BIRN) from Belgrade and Dragoljub Duško Vuković, independent journalist, spoke on the notion and principles of investigative journalism, research process, manner of collecting documents and information, as well as of techniques of searching databases and writing investigative articles. Additionally, participants had the opportunity to discuss with lecturers on topics in which Montenegrin public is interested, regarding the EU and process of negotiation between Montenegro and EU, what can be regarded as news/story and how to report on this process in manner most receptive to citizens.
Project "EU – get informed!", within which the training for journalists is conducted, aims to contribute to awareness raising, understanding and development of public dialogue regarding the EU, by improving the quality of available information on European Union and negotiating process, on web portals in Montenegro. The activities of the project are part of the Action plan for implementation of the strategy of informing the public on the accession of Montenegro in European Union during 2014-2018 period for 2015.
Svetlana Pešić, programme associate