Centre for Civic Education (CCE), within the framework of the project "EU news – be informed!", organised an international conference in cooperation with Daily Press Vijesti on: "Role and importance of media in the EU integration process – experiences and lessons learned from the region". The project is supported through the Communication budget of EU Delegation to Montenegro.
In the introductory remarks, Alberto CAMMARATA, Head of Political sector of EU Delegation to Montenegro, emphasised during that information is power. In his opinion "In a democratic society, power should come from people, which is why the main challenge we face is to encourage citizens, by providing them with legal and quality information so that they could make decisions themselves based on information." He added that democratic process cannot advance without free media, pluralistic and effective media scene, and pointed out that media are an excellent source of information for all decision-makers, including the ones from the EU.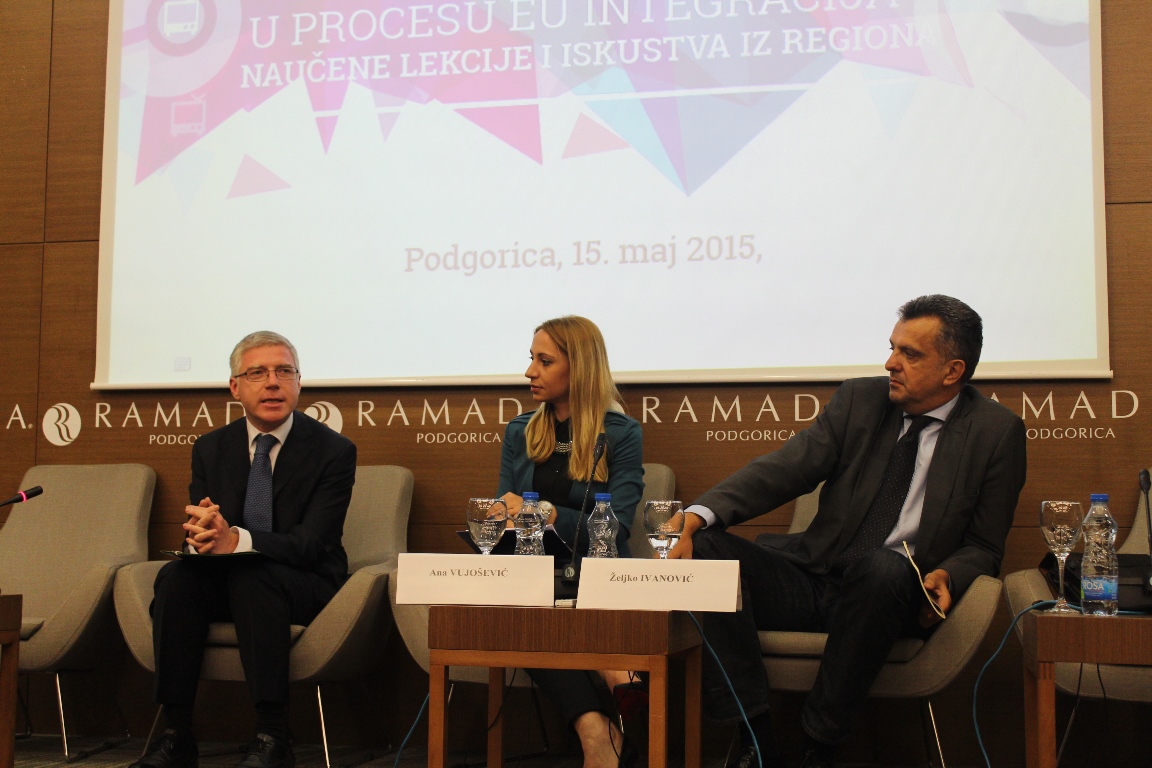 Željko IVANOVIĆ, Executive director of ID Vijesti, assessed that process of European integration is very important for states from region, since they would be lost if they were to be excluded from those processes. "That process would be much harder if it wasn't for the NGO sector and the strong and serious media, which raises the question whether it could be ever completed", Ivanović underlined. He expressed his hope that EU will show that it is closer to professional media, based on the experience it earned during last 25 years in the Balkans, as well as that it will understand problems in a better manner and work on the securing of conditions so that the media could survive.
Ana VUJOŠEVIĆ, Programme Coordinator for EU integration at the CCE, pointed out that: "Montenegrin negotiations with the EU have been the most demanding process so far when it comes to achieving European standards of a state. Role of civil society in the democratisation of Montenegro is inevitable". She reflected on the assaults on representatives of media and NGOs and attempts of discrediting, underlining that those attempts can't jeopardise the commitment of NGO sector and independent media to contribute to Europeanization of Montenegrin society. She concluded that process of negotiations between Montenegro and EU can't be perceived without the significant role of civil society with emphasis on independent media and NGO. "That role must be adequately recognised by state institutions. On the other hand, we – as a civil society – have to work continuously on further development of our capacities and invest efforts in order to contribute to those capacities so that the negotiations could have complete legitimacy in terms of the support of our citizens and their understanding of the complexity of this process", Vujošević stated.
Within the second session which was organised as forum, keynote speaker and moderator Patrick SCHMELZER, Head of the Department for reform of public administration and media at the EU Delegation to Montenegro, expressed his belief that Western Balkan states have no other alternative but to continue with reforms and invest efforts for which they will receive support. He reminded that a training was organised for the group of journalists from Montenegro within the Growing together 3 project, whose integral part was the conference as well, whereby they discussed on this subject. "I did what was in my power, to encourage them to use the Progress report when reporting on European integration. In my opinion, there is no better source of information in addition to Report itself. Reporting on EU is not as hard as the "bureaucratic monster" may seem like in the beginning, once you start peeling its layers and reporting on them", he pointed out.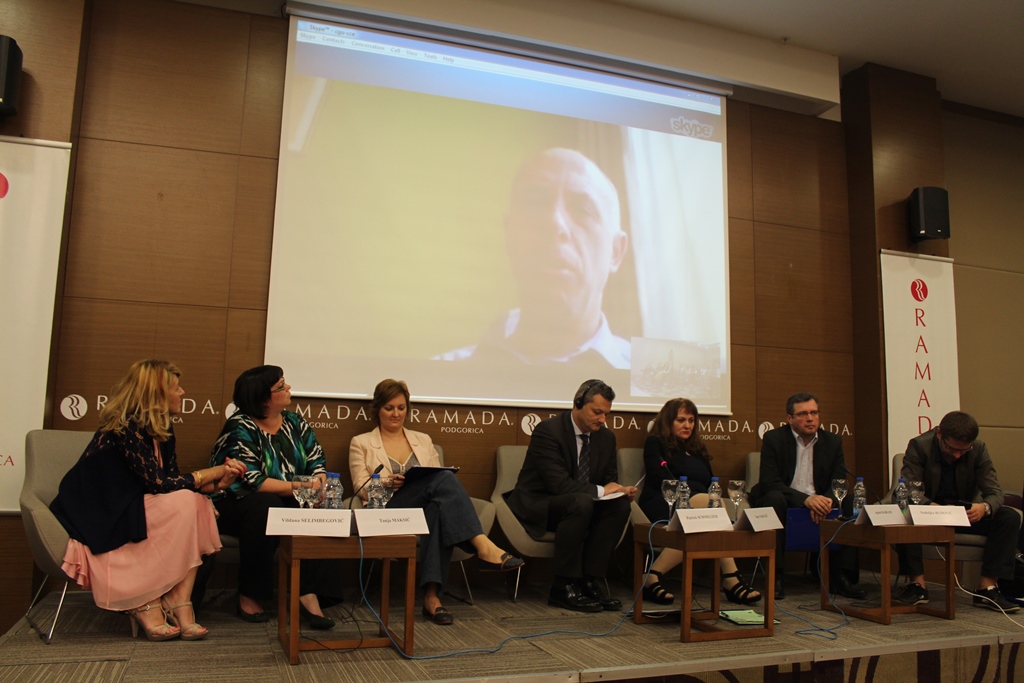 Augustin PALJOKAJ, correspondent from Brussels for daily papers "Koha Ditore" and "Jutarnji list", reminded that journalists must be critical, because it is the nature of journalism. "Let's focus on what was not done, so that the state could rectify that", Paljokaj added. He told that "Montenegro is the only state which is truly involved in process of EU integration, because it opens and provisionally closes certain chapters, while at the same time, it does not have a correspondent from Brussels, which leaves the impression that it is not sufficiently interested".
Ines SABALIĆ, Croatian correspondent for several regional media from Brussels, compared the reporting from Brussels to the job of a "miner". She believes that, currently, the information that comes from Brussels is even more closed. "What we receive in Brussels is a compressed message, and it is hard to get a hold of some particular information." She added that progress reports are an excellent source of information even though they are written in diplomatic language as well, and that one can figure out precisely which member state influenced which fact during the reading.
Vildana SELIMBEGOVIĆ, Editor in chief of "Oslobođenje", presented the media scene in Bosnia and Herzegovina and emphasised that no matter how much political elites are not prepared to cooperate when it comes to European integration, they very much cooperate when it comes to their existence on political scene, and that the question of how to make the European integration priority to citizens is still raised. "Given the situation which Bosnia and Herzegovina faces at the moment, working in media and reporting on European integration and even considering a correspondent from Brussels seems like a mission impossible", Selimbegović told.
Tanja MAKSIĆ, from BIRN from Serbia, stated that European integration are currently the biggest Serbian project, which also raises the question of how to make this process the priority to citizens. Maksić believes that "neither the elite nor the media are quite successful in their attempt to bring the citizens closer to specific problems, to connect them with their lives and life situations, and the reporting is quite inconsistent and protocol-based."
Agron BAJRAMI, editor in chief of "Koha Ditore", assessed that process of European integration is used as an internal issue in Kosovo, because the government is taking advantage of current situation in order to preserve itself, and in that manner it will present every improvement as its success and manipulate the facts. Bajrami told that "Kosovo has the issue with perception because the EU is as a part of executive power through EULEX, and there are still accusations that the government is extremely corrupted, which decreases citizens' trust in the significance of EU integration".
Petra SOVDAT, journalist of daily "Finance", talked about the experience of Slovenia when it comes to reporting on European integration and underlined that there is no point in reporting in figures and bureaucratic language. Sovdat concluded that "for those who are informed, Reports are good sources of information, if one can read between the lines of diplomatic language".
Nedjeljko RUDOVIĆ, journalist of ID Vijesti, said that it is "not an easy task to report on European Union and integrations while someone is trying to "strangle" you, to make you disappear from the face of earth". He expressed his hope that Brussels will continue to be an ally in the field of fight of independent media, as well as the fight against the corruption and organised crime, which will certainly influence the fact that EU won't loose on its popularity in reporting.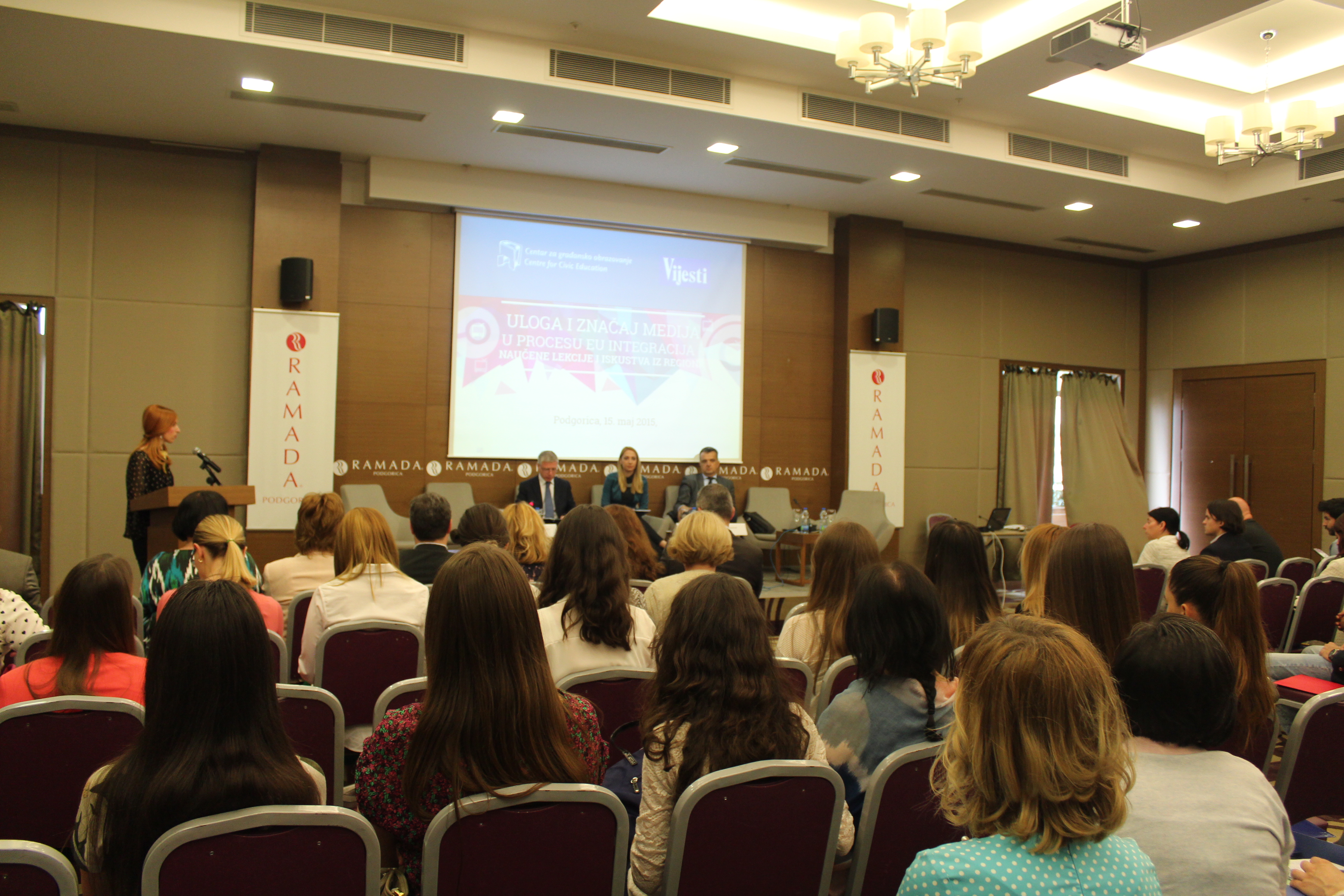 Conference objective was to gather at one place editors and journalists of international, regional and national media, who report on the process of EU integration within the scope of their work, as well as on subjects related to this process. This was an opportunity for the participants to exchange experiences and opinions in relation to what were the expectations of media and their role in process of EU integration. The event gathered more than 50 representatives of Government, NGOs, media, political parties and diplomatic corp.
The conference was organised within the EU news – be informed! project, which aims to contribute to increase of level of awareness, understanding and development of public dialogue on EU, through the increase of quality of information available on EU and process of negotiations, on web portals in Montenegro. Project activities are part of Action plan for the implementation of Strategy of informing the public on the accession process of Montenegro into the EU 2014-2018, for 2015.
Svetlana Pešić, programme associate