Centre for Civic Education (CCE) once again hosted this year's American participants of prestigious Marshall Memorial Fellowship programme in Montenegro from 15-20 April 2016.
During their stay in Montenegro, the participants had the opportunity to get to know more about the potentials and challenges of Montenegro, by visiting its various parts, by learning about Montenegrin history, but also of contemporary cultural expressions, as well as about current social-political and economic situation, with emphasis on Euro-Atlantic integration and rule of law.
In this regard, they had meetings with various decision-makers, including: Ranko Krivokapić, Speaker of the Parliament of Montenegro; Aleksandar Damjanović, President of the Committee for Economy, Finance and Budget in the Parliament of Montenegro, Vesko Garčević, National Coordinator for NATO Accession; Genci Nimanbegu, President of Albanian Council and MP of FORCA in the Parliament of Montenegro.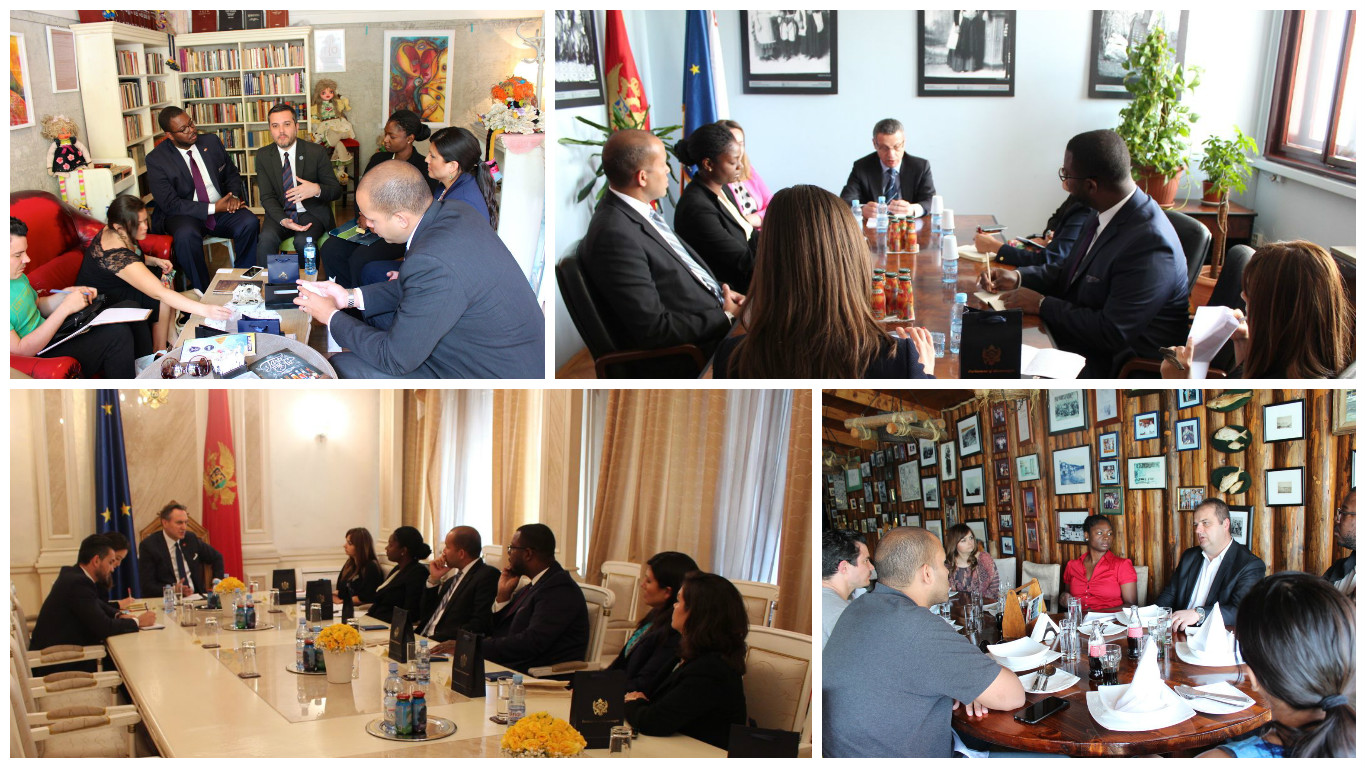 Furthermore, they met with high officials of US Embassy in Montenegro, as well as with representatives of foreign investors who manage some of the largest projects in the state, then with representatives of successful Montenegrin entrepreneurs, artists, media and NGO sector.
Marshall Memorial Fellowship was founded in 1982 by German Marshall Fund in the US with the aim to present new generations of European leaders in the USA, as well as young American leaders in Europe. The programme is focused on the exchange of ideas and best practices between Europe and US, by providing an unique opportunity to new leaders from the US and Europe to research policies, business innovations and meet cultures across the Atlantic. The programme itself functions in the US and in 39 European states, as one of the most prestigious leadership programmes which connects 3000 leaders worldwide, and Montenegro became a part of the programme in 2007 when Daliborka Uljarević, CCE Executive Director, was the first participant from Montenegro.
CCE initiated the inclusion of visits to Montenegro within the American Marshall Memorial Fellowship programme, and the first group of participants was hosted in 2008, since when the visit to Montenegro became the tradition ever since. In doing so, CCE seeks to develop the cooperation with worldwide renowned organisations and to take an active participation in the promotion of Montenegro among world leaders all for the purpose of democratisation and further development of Euro-Atlantic integration.
Delegation of American Marshall Memorial Fellowship 2016 was consisted of: Ajenai Clemmons, Managing Partner in The Policy Shop LLC from Washington; Jason Esteves, Lawyer specialized for corporate law and litigation matters in Equifax in Atlanta; Sean Gray-Lewis, Assistant Director in Goldman Sachs Business Program from Detroit; Tatuye Topa Najin Win (Tatewin) Means, Attorney General in Oglala Sioux Tribe from South Dakota; Olivia Mendoza, Director of Office of Economic Development and International Trade from Colorado; and Dylan Orr, Chief of Staff in the Office of Disability Employment Policy at the US Department of Labor from Washington.
Svetlana Pešić, programme associate