Last night at the Centre for Civic Education (CCE), beginning at 18h00, first out of four regional conferences under the joint title LANGUAGES AND NATIONALISMS was complted after the second round of debate titled "What's the essence of increasing linguistic differences?". During 2016, conferences will be held in Podgorica, Sarajevo, Belgrade and Split.
Hanka Vajzović, PhD, linguist and MP in the Parliament of B&H, moderated also the second round of debate and reminded of obvious disharmony between the linguistic barrier and what is applied in practice. Namely, in her opinion, everybody speaks the language of his/her environment unless they wish to highlight their identity. She also pointed out that language has to be an integral part of the community, not a barrier.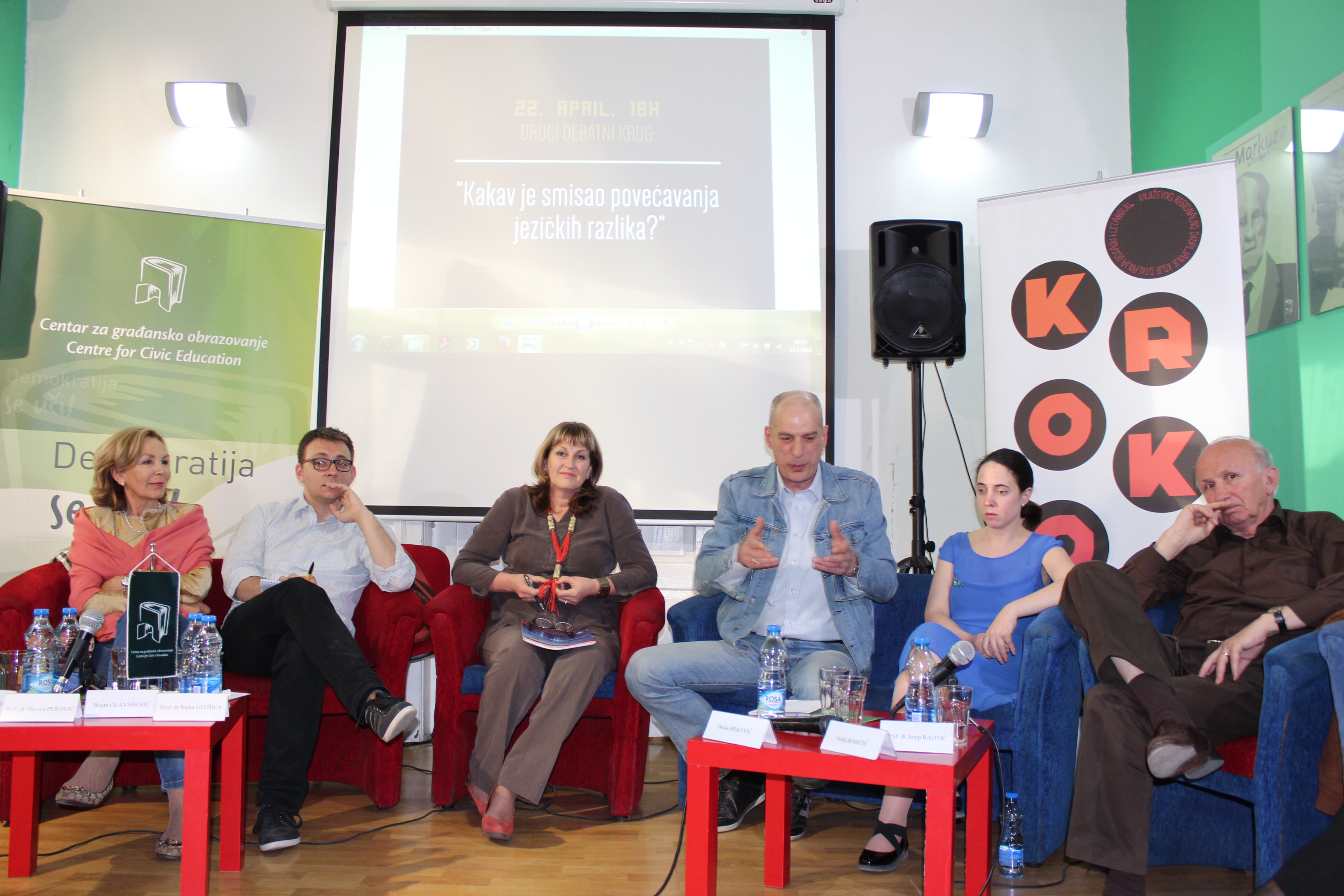 During second round of debate they spoke on linguistic differences on the territory of former Yugoslavia, about the tendencies to increase the linguistic differences and misuse them for nationalist purposes.
Writer Balša Brković assessed, inspired by the the questions from audience, that "It would be wrong to renounce Montenegrin language since that would imply the renunciation of entire literature. The problem, however, lies in the tendency for domination of forms of iotation. Should we continue insisting on such domination, in two decades we will have completely incomprehensible literature".

Bojan Glavašević, PhD student in the Semiotics at the Department of Linguistics, Faculty of Philosophy in Zagreb, underlined that there is a great number of states across the world which have same languages, and which do not insist on national signs.
Sociolinguist Slavica Perović, PhD, reminded of wealth and origin of certain words in Montenegrin language, which need not be altered in terms of the codification of language.
Nadja Bobičić, PhD student of cultural studies at the Faculty of Political Sciences of the University of Belgrade, pointed out that the most important thing is to find the answer on question: why do we still discuss on these issues. She spoke of earlier interpretations of the disintegration of Yugoslavia, which were essentially concerned with nation and nationalism, pointing out that most recent interpretations recognise class distinctions related to certain global phenomena. "Apparently this topic is still alive same as the manipulation of languages", Bobičić underlined.
Rajka Glušica PhD, linguist and professor at the Faculty of Philosophy of the University of Montenegro, reiterated that science provides answers to every linguistic question and raised the question of changing of the content when changing the name of the language. She emphasised that nationalism should be criticised, since nationalists insist on differences and see language as national identity, rather than a mean of communication. "Every nationalist makes up some differences, so that they would have a language different from other", concluded Glušica.
Josip Baotić PhD and professor from B&H was the only dialectician among the participants, and pointed out that languages in former Yugoslavia are genetically the same but not in terms of the standards. "There can be no errors in language, however it must be used within the prescribed norm", clarified Baotić.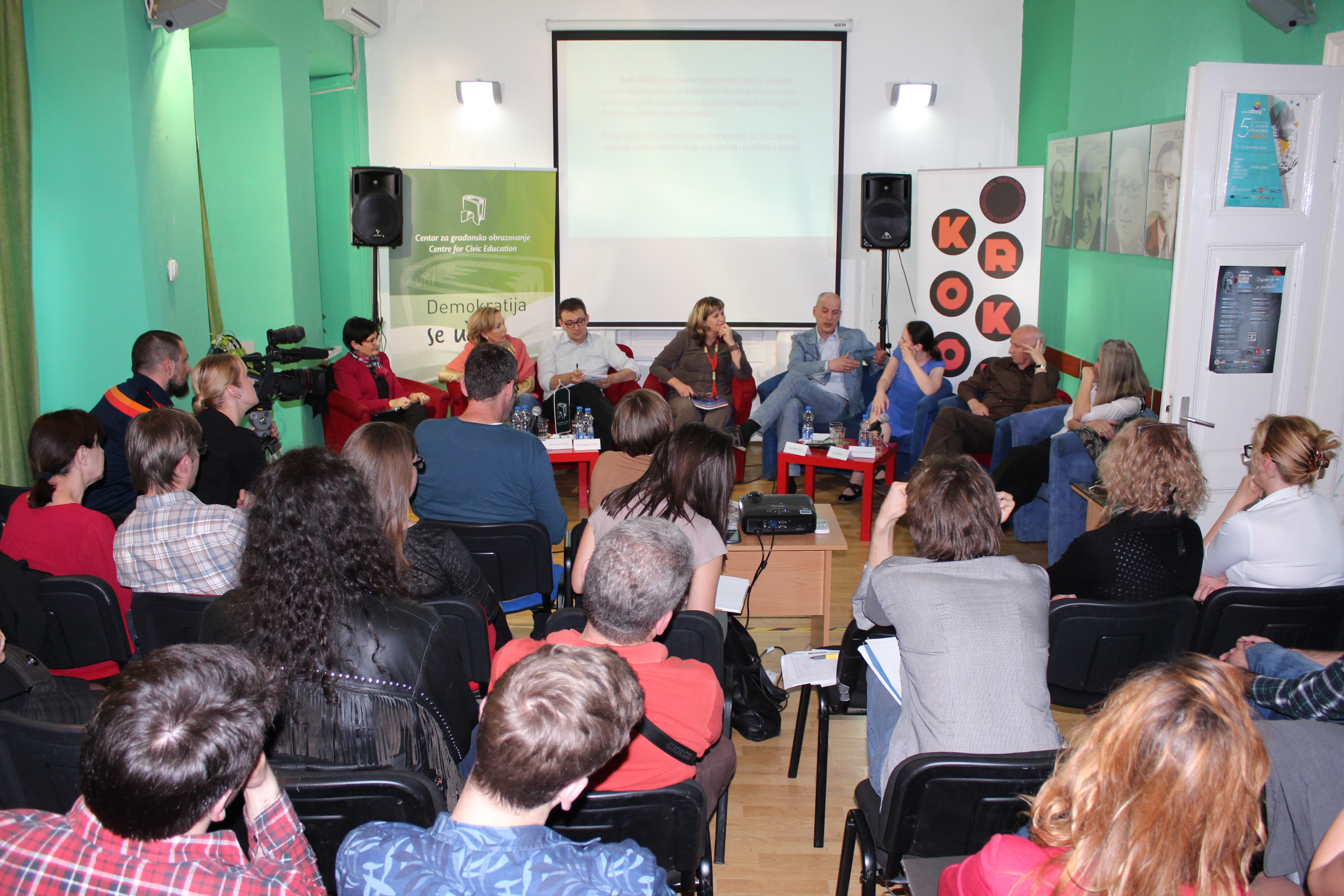 First round of debate was held on Thursday, 21 April, under the title "Does every nation in Montenegro speak in other language?". Second round of debate was attended by app. 40 interested experts from academic community, media, NGO sector, culture and etc.
Project LANGUAGES AND NATIONALISMS is a result of two years long expert missions and partnership of Belgrade Association Krokodil, Association Kurs from Split, Centre for Civic Education (CCE) from Podgorica and PEN Centre of B&H from Sarajevo. It was supported by Allianz Kulturstiftung and Forum ZFD.

Svetlana Pešić, programme associate