Centre for Civic Education (CCE), within the framework of the project Think locally – act locally! – Fight against the corruption on local level, today signed the agreements with civil society organisations (CSO) that have been funded through second public call for the support to these organisations in 2016.
Five projects of NGOs were supported through this call. NGOs will conduct their activities in Ulcinj, Budva, Cetinje, Danilovgrad and Pljevlja, and thereby address the issue of corruption through direct work with citizens of these municipalities, in the total amount of EUR 30,476.00. Projects of eight following NGOs were supported: NGO Za Druga from Petrovac with NVO Agora from Budva, NGO Da zaživi selo and NGO Informative centre from Pljevlja, NGO Civic Creative Centre from Cetinje, NGO Open School from Danilovgrad and NGO Ul info from Ulcinj. Projects implementation will begin between 5 December 2016 and 15 January 2017.
During the signing of agreement, Daliborka Uljarević, CCE executive director, pointed out that "fight against corruption is one of the greatest challenges of Montenegrin society, hence it is necessary to take that fight to local level, which implies not only the transfer of certain state affairs to local self-governments, but a continued improvement and stimulation of mechanisms and institutes for the participation of citizens in decision-making process on local level". Uljarević reminded that EUR 18 000 were allocated for three projects during previous call, and that these are implemented by NGO Active zone (Cetinje), NGO Atak (Podgorica) and NGO Youth info Montenegro (Nikšić).
Stefan Samardžić, on behalf of Civic Creative Centre, stated: "This project presents a significant contribution to our main goal – increase of youth participation in decision-making bodies and shaping of youth-related policies on local level. High level of corruption is present during the creation of local plans, selection of members of working groups and council of young people, thus, this project will help us influence the change of existing poor practices in that part."
Tatjana Đurović, executive director of NGO Open School, underlined that this organisation began implementing projects related to subject of corruption back in 2013, and that based on this project they seek to "stimulate the citizens to involve themselves in the fight against corruption on local level in a much more efficient manner."
Mustafa Canka, on behalf of NGO Ul Info, indicated on the imbalance between the potentials of municipality of Ulcinj and their poor utilisation for the purposes of public interest, as well as that there was no progress in the area of fight against corruption. "Municipality of Ulcinj adopted the plan of fight against this occurrence, but its measures were never realised. This was also accompanied with a host of specific cases which only contribute to poor image of municipality and our goal is to fight the same", Canka added.
Miloš Ostojić, on behalf of NGO Da zaživi selo, explained that their project will familiarise the citizens with forms of corruption, both in rural and urban areas. "We aim to interview 1000 citizens through this project, organise workshops, and thus try to reduce the corruption on local level", told Ostojić.
Đorđe Gregović, from NGO Za druga, stated that through the artistic perception of project "Museum of corruption" individuals from cultural sector, as well as other citizens, will have the opportunity to indicate on the issue of corruption in a creative manner. "Based on the virtual museum which will be available to everyone, there will be room for everyone to provide his or her vision of this issue and examples of corruption from their environment", he emphasised.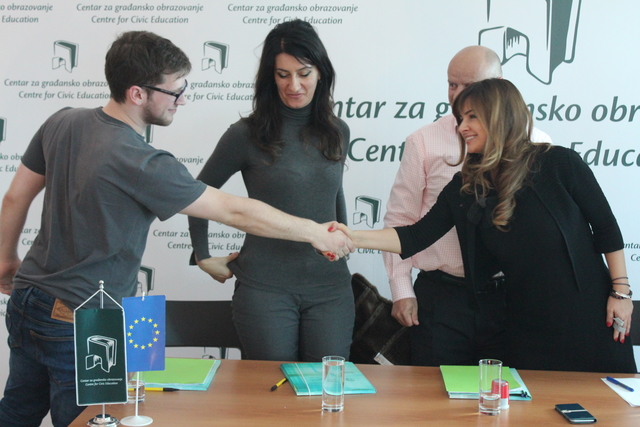 Project "Act locally – think locally! – Fight against the corruption on local level" aims to contribute to development of participation of civil society in the implementation of anti-corruptive policies through monitoring, reporting and supervision over the activities on local level in Montenegro. Among other things, objective of this project is to improve the capacities of smaller civil society organisations in Montenegro in the monitoring of anti-corruptive strategies and activities on local level through the exchange of information, experience, and financial support.

Project Act locally – think locally! – Fight against the corruption on local level is implemented by CCE, in cooperation with NGO Bonum from Pljevlja, NGO Inkubator from Kotor and NGO Centre for investigative journalism from Podgorica, with the support of European Union through the EU Delegation to Montenegro through IPA 2015.

Mina Kalezić, programme assistant