Centre for Civic Education (CCE) organised the initial meeting today in Podgorica with interns, who were selected within the project "Active students for sustainable progress". Programme participants were familiarised with the action plan, as well as with their obligations and rights within this new programme, tailored in line with the needs of students.
After the competition closed, the following 10 students from the Faculty of Political Sciences of University of Montenegro were selected: Andrea Lekić, Andrijana Radević, Anđela Nenadić, Bojan Vukojičić, Dušan Pejaković, Jelena Kontić, Marija Bulatović, Nina Đuranović, Rajko Vučetić, Vanja Đikanović. Five political scientists will complete their internships in NGO Institute Alternative, and five journalists in portal Vijesti.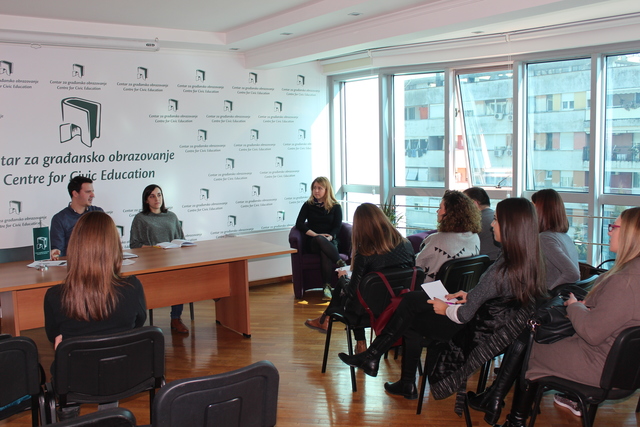 Damir Nikočević, CCE Development coordinator, welcomed the selected students and introduced them with the intensive training programme and practice, comprised of: study visits to organisations and companies – project partners, workshops on media reporting and basics of public policy writing, professional mentorship and practice in Institute Alternative and portal Vijesti for a duration of one month.
"We at the CCE believe that this project can significantly contribute to professional improvement of students, since it offers practical experience in addition to theoretic teaching. I emphasise this, since students of social sciences, especially students from Political Sciences, lack such practice", Nikočević pointed out.
Results of internship of these students will be in the form of articles, reports and studies related to key topics within current affairs in Montenegrin, which will come as good basis for later adjustment to labour market conditions.
Project "Active students for sustainable progress" is financed by European Union through the Directorate for Finance and Contracting of the EU Assistance Funds (CFCU) of Ministry of Finance, within the programme "Transfer of knowledge between the sector of higher education, science and industry". Specific objective of project is the improvement of skills of students and small and medium-sized companies for the purpose of realisation of close ties among these sectors, all for the benefit of students, which require some practical form of education.
Svetlana Pešić, programme associate