On the occasion of February 27, 24 years since the crime in Štrpci occurred, Centre for Civic Education (CCE) wishes to pay homage to victims, as well as to remind about the responsibility of institutions with regards to this crime, since until nowadays, they failed to process involved perpetrators, masterminds and those who initiated this crime.

Crime in Štrpci occurred at the railroad station Štrpci, on 27 February 1993, when Serbian paramilitary group from Višegrad kidnapped and later executed 19 passengers from a train that was on a regular route between Belgrade – Bar. Out of those 19, 18 were Bosniaks, and one was Croatian: Esad Kapetanović, Ilijaz Ličina, Fehim Bakija, Šećo Softić, Rifet Husović, Sead Đečević, Ismet Babačić, Halil Zupčević, Adem Alomerović, Rasim Ćorić, Fikret Memetović, Favzija Zeković, Nijazim Kajević, Muhedin Hanić, Safet Preljević, Džafer Topuzović, Jusuf Rastoder, Zvezdan Zuličić and Tomo Buzov.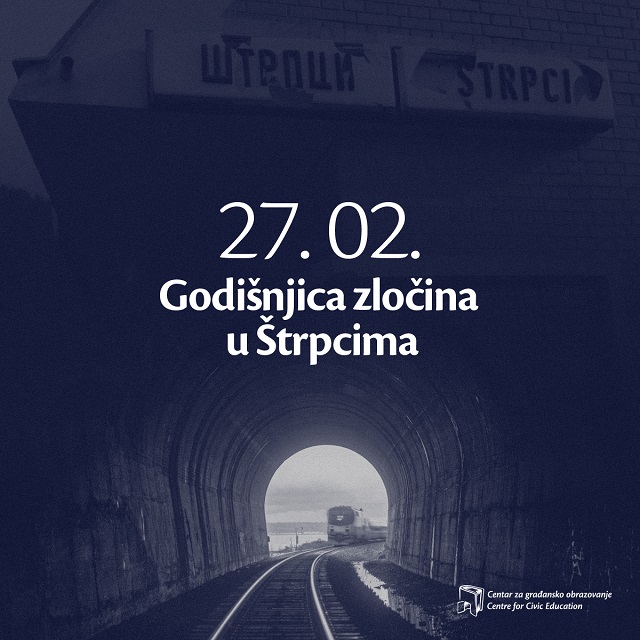 Only Nebojša Ranisavljević was finally convicted for this crime, for 15 years of prison. Court proceeding took place before the Higher court in Bijelo Polje, where it was established that the crime was planned and conducted by the members of Višegrad brigade ARS, led by Milan Lukić.
Last year a memorial to victims of kidnapping was put in Štrpci – an art work "Clock of life" by famous sculptor Zlatko Glamočak. It is a valuable contribution to development of culture of remembrance, as the strong mechanism in the process of establishment of justice for victims and indication that the state recognises that this crime took place.
Culture of remembrance should coexist with the adequate processing of war crimes before the judicial instances. Hence, we urge the competent Special Prosecution of Montenegro, which is in charge of the clarification and punishment of those responsible for war crimes committed on the territory of Montenegro or outside if the perpetrators are the citizens of Montenegro, as well as for the implementation of Strategy on the investigation of war crimes, to take all legal actions, bring forth to justice the perpetrators of all crimes, as well as the masterminds behind the crimes, and seek for adequate punitive measures in line with international and national criminal norms of humanitarian law.
It is the obligation of all of us to contribute to establishment of transitional justice and restoration of dignity to innocent victims. CCE will continue to conduct activities aimed to establish the culture of remembrance, either independently or as a referent organisation of Coalition for RECOM, so that the atrocities of war and war crimes would not be forgotten. At the same, it will insist that the competent ones prosecute those responsible for crimes.
Tamara Milaš, CCE Programme associate and spokesperson of Coalition for RECOM in Montenegro