On the occasion of 15 March – International Day of action against police brutality – Centre for Civic Education (CCE) would like to indicate on the insufficient sanctioning of police officer performance, who act restrictively on the freedom of citizens and respect of human rights.

CCE has previously expressed its concern due to the abolition of those who have misused police authorities, which we were able to witness through the examples of police torture against the late Aleksandar Pejanović, beating of Mijo Martinović, and many other citizens who have attended the protests of opposition during 2015, as well as similar individual cases.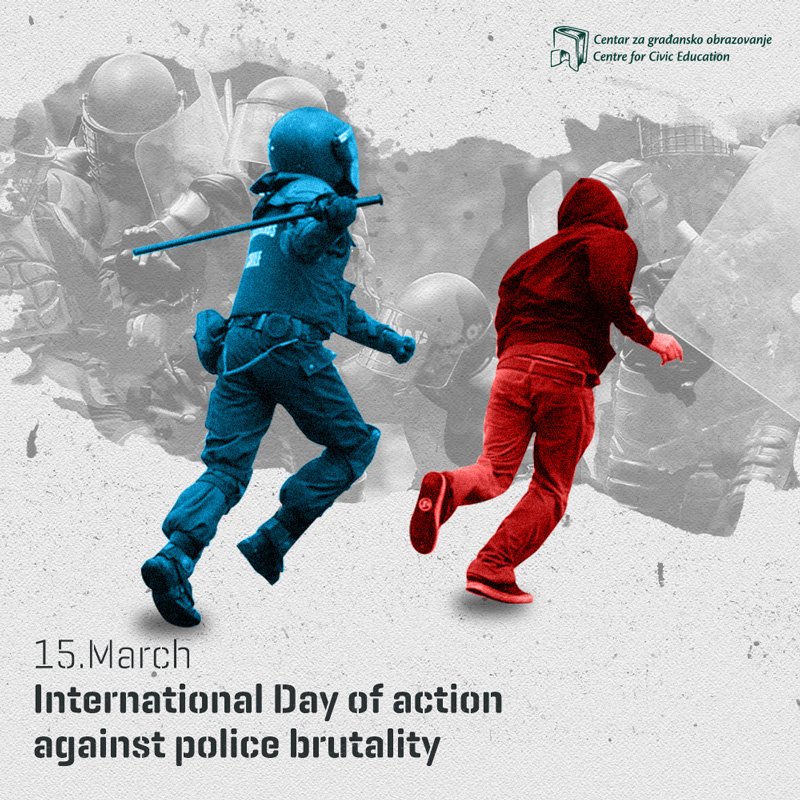 Such practice reminds that it is necessary to invest more in the establishment and implementation of accountability within police organisation. Also, it is necessary to act proactively, through legislative initiatives, in order to prevent the working engagement of police officers on the same functions from which they previously severely violated human rights and freedoms, where such instances were proved after the suspension or prison sentence. As an organisation which advocates the respect and affirmation of human rights, CCE believes that people should be given a second chance. However, it is unacceptable that they are later returned to same positions from which they initially violated human rights, which is the case in Montenegro, and which restricts the establishment of culture of human rights and effective rule of law system.
In addition to NGO sector, both the European Commission, in its Report for Montenegro, and State Department, in the report on the state of human rights in Montenegro, indicated on the issue of impunity.

Police Department and Ministry of Interior of Montenegro should take up the responsibility, in other words, in addition to individual responsibility of acting police officers who misuse official positions and show negligent performance of duty, by severely abusing police authorities and by making offenses, we must emphasise the responsibility of managerial staff which abolishes such conduct. With all due respect for the complexity of police work, competent police structures should still show more dedication to respect and protection of human rights, so that they could enjoy a higher level of trust by citizens when it comes to their security, and use the force only when it is necessary, and in a legally prescribed extent.
International Day of action against police brutality was established on 15 March 1997, on the initiative of (anarchist) collective Black Flag from Switzerland. On that day, 20 years ago, Swiss police beat two kids, aged 11 and 12. Hence, this day is used to appeal to those who have exceeded in the use of their powers and urgently suspend them with further processing in accordance with the law.

Tamara Milaš, CCE programme associate