Centre for Civic Education (CCE) organized the European Café in cooperation with Friedrich Ebert Foundation (FES) today in the great hall of CCE. Guests of the European Youth Café were: Danijel Kalezić, Chairman of the Managing Board of Queer Montenegro, Valentina Minić, MP of Democratic Montenegro and Miloš Nikolić, MP of Democratic Party of Socialists (DPS) who had conversed about topic of How much are young people in Montenegro united in diversity? with representatives of high school and student organizations, as well as youth organizations and youth organizations of political parties.
European Café was opened by Tamara Milaš, programme associate at CCE, who reminded the present auditorium of a research of CCE and FES Youth – social decor or social capital?, which data indicate that young persons demonstrate the greatest social distance towards homosexual persons (38%), HIV positive persons (32%), migrants (27%), but also persons with mental disabilities (16%), while they are the most tolerant, i.e. exhibit the smallest social distance towards students, persons with physical disabilities, retired persons and persons with visual or hearing impairment 3%). In this regard, Milaš pointed out that "it must be paid special attention to work of those who create public opinion and who send various messages both via media and political channels to the public in order to develop an understanding of diversity and tolerance".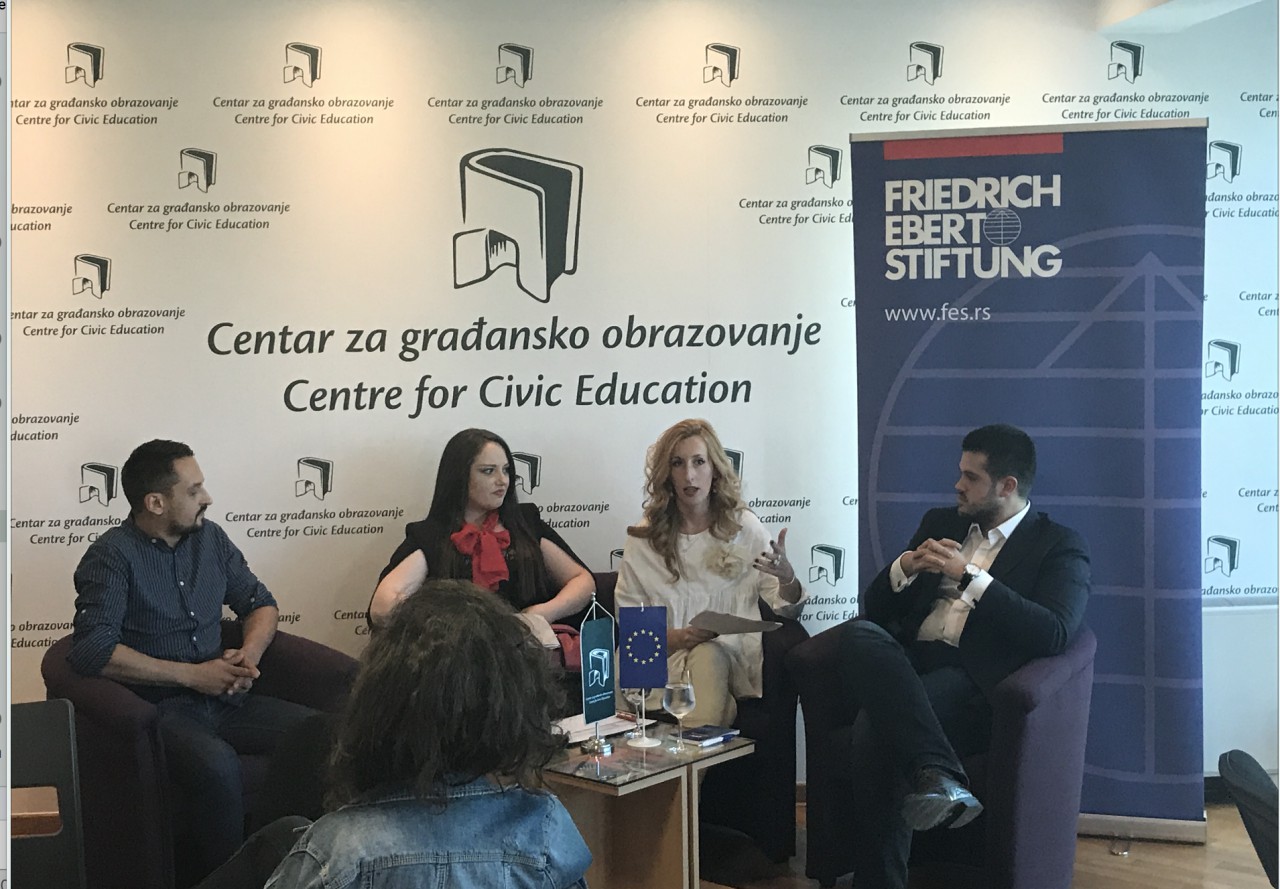 Danijel Kalezić, Chairman of Managing Board of Queer Montenegro, emphasized that last Pride parade demonstrated that politicians in Montenegro are still ashamed to support human rights and rights of LGBT persons, even though the entire Pride was dedicated to fight against violence. "Most political actors are making different political calculations when support to rights of LGBT persons is concerned, especially shortly before election year that is ahead of us, thereby forgetting that the voting body of all political parties is comprised also of LGBT persons. Due to absence of support from members of Government this year, there has been noted an increase in the number of cases of physical violence", Kalezić stated. Kalezić pointed out that "most of those who make decisions about our lives were prone to support LGBT human rights while it politically suited them and while it was one of pressing issues during the EU accession negotiation process. Kalezić concluded that support of political actors is now needed more than before since global political conditions are increasingly becoming such that human rights are at greater risk, and he expressed the hope that young persons in political parties as well as new political parties will assume a more consistent and principled position when human rights protection is concerned.
Valentina Minić, MP of Democratic Montenegro assessed that "Montenegro is far from a society in which human rights are respected. The state has proved to be unable to provide any kind of security and freedom for its citizens in an autocratic system, created by a small number of powerful persons". She further explained this by stating that a series of citizens' rights are violated on a daily basis and that there is no established system of accountability for this, as well as that "LGBT community is surviving the fate of all citizens, with additional disapproval of traditional environment as an obstacle to quicker acceptance of diversity". Explaining the approach of party she represents she stated: "Democrats have tolerance as one of their fundamental values, and it is held by educated, energetic, young persons of pure biographies, ready to face many challenges that await them on the path of reconciliation of deeply divided Montenegrin society. Without any prejudices, we are fighting fo rights of all our citizens, especially marginalized groups. The only ones we show zero tolerance to are people from a criminal milieu, with all due respect to their legally prescribed rights."
Miloš Nikolić, MP of Democratic Party of Socialists (DPS) with gratitude to the invitation, emphasized that young persons in Montenegro, and especially young persons in politics are a new wave that is leading the country to a new, more prosperous path. Furthermore, he pointed out that young persons from political parties, those in power and those in opposition, must work together in order to improve of entire society. Responding to question of whether they have talked in the DPS MP club about possible organizing arrival at Parade or even about delegating a representative, Nikolić stated: "There was no specific type of initiative in the DPS MP club for any of members of the club to appear on Pride, but while talking about this issue we agreed that members of LGBT persons should be provided with all the support." He drew a parallel between the first Pride organized in 2013 and this year's one and said that it is evident that situation in Montenegro in regards to this issue has greatly improved. "It is necessary to work on emancipation of all citizens because precisely this emancipation will bring right attitude on rights of LGBT persons and precisely education on this issue will reduce the rigid public opinion regarding LGBT rights that occurs either due to ignorance or fear", Nikolić concluded.
Objective of the European Café is to create a platform for open and fruitful informal discussions that will contribute to improving of cooperation between different social groups and institutions, intensifying communication, mapping the existing challenges and defining proposals for their overcoming, as well as informing on specific aspects of the EU accession process of Montenegro, therefore a part of this event was devoted to conversing about the role of youth in these processes.
Over past two years, CCE has by means of European Café organized numerous meetings between representatives of civil society, on one side and national and international decision-makers in the process of negotiations, on the other side. Since 2017 the European Cafe is also being organized with young persons. Guests of the European Café have so far been: Ambassador Mitja Drobnič, then Head of the EU Delegation in Montenegro, Aleksandar Andrija Pejović, Chief Negotiator for negotiation of EU accession, Gudrun Elizabeth Steinacker, then Ambassador of the Federal Republic of Germany in Montenegro, Zoran Pažin, Minister of Justice and Vice President of Government of Montenegro, followed by representatives of opposition of pro-civic orientation – Miodrag Lekić, President of DEMOS, Aleksa Bečić, President of Democrats of Montenegro and Dritan Abazović, President of the United Reform Action (URA) with whom we spoke about whether European values ​​live in Montenegro and in what manner is the civil opposition fighting for them. Our guests further were Jozo Radoš, MP of the European Parliament and member of the EU and Montenegro Stabilization and Association Parliamentary Committee (SAPC), Milivoje Katnić, Chief Special Prosecutor in Montenegro with associates, Ambassador of the Slovak Republic in Montenegro, Roman Hloben, Ambassador of Federal Republic of Germany in Montenegro Hans Günter Mattern and Veselko Grubišić, Ambassador of the Republic of Croatia to Montenegro.
This European Café has gathered 30 of young persons, mainly from youth and student organizations as well as youth organizations of political parties.
Miloš Knežević, programme associate