Stabilicracy is present in Montenegro and has its expression through manipulative techniques of political leaders, who are characterized by lack of dialogue and excess of monologue communication capacities, assessed executive director of Centre for Civic Education (CCE), Daliborka Uljarevic.
Today at the regional conference «Stabilicracy or Democracy?» , organized by CCE in the partnership with Friedrich Ebert Stiftung, she stated that due to monopolization of integration path towards the EU by the authorities, and also due to «reforms fatigue», "governing structures are maintaining the «status quo» as preferable condition of retaining of levers of power".
"In this framework, stabilicracy is has its expression through manipulative techniques of rigid Balkan leaders who are characterized by lack of dialogue and excess of monologue communication capacites", Uljarevic pointed out.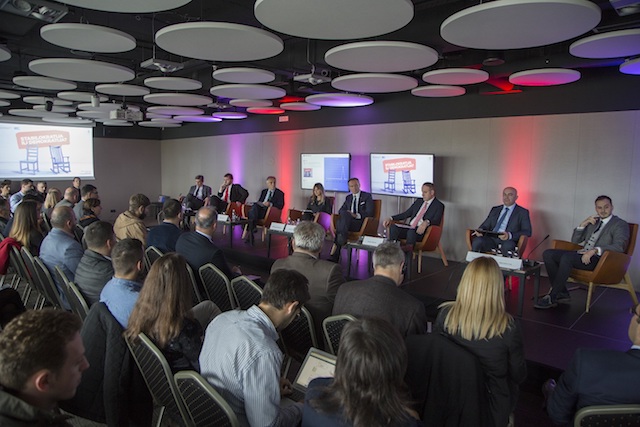 Montenegrin political actors are also in this conundrum, she stated.
"Government and opposition in Montenegro are distancing themselves from dialogue, that could relax the increasing tense atmosphere. In regards to democratic consolidation, we mark regression at all levels – credibility of key institutions and actors of representative democracy, with strenghtening of influence of informal centres of power and restriction of development of civic culture", warned Uljarevic.
According to her, life topics, social problems, economic turmoil are remaining on margins of these party clashes, while, as she stated, laws and impositions in the Parliament of Montenegro are at the same time "being passed by the principle of «taster democracy», and not by participatory democracy as it is in developed democratic societies".
"Only when information of public interest cease to be a strictly kept secret, when individuals cease to cover dozens of functions in pursuance of their promotion and material interest, when the state budget is managed circumspectly, when public administration becomes a service to citizen and not to parties, only then we will be able to talk about democratized and Europeanized society ", stated Uljarevic.
President of Social Democratic Party Ranko Krivokapic believes that Montenegro had a period called stabilicracy when, as he said, it had to switch to "the right side of history" in order to prevail.
"Corruption here is manner of governing, and that is why stabilicracy is against democracy and this co-existence is impossible", Krivokapic assessed.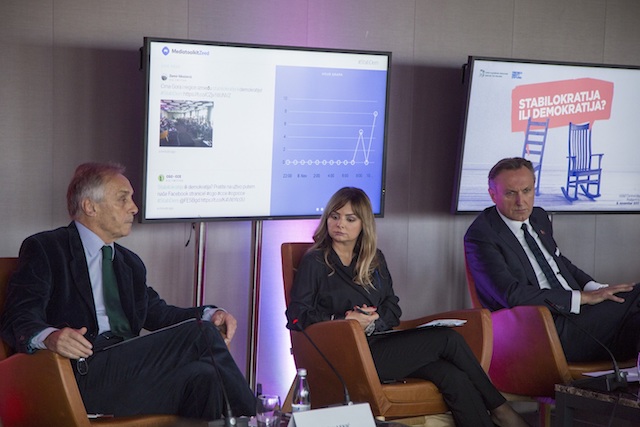 President of DEMOS, Miodrag Lekic, assessed that the highest stability was in Fascist regimes.
"Stability in itself is not a guarantee of securing democracy. On the contrary, it is more an expression of autocracy", Lekic pointed out.
According to him, boycott of the opposition is an act of «double responsibility».
"Firstly, it is a democratic response to non-free elections that occurred on the day of disclosed coup d'etat. Furthermore, it is higly inconveniently reminding that previous parliamentary and presidential elections were held in the context of «Recording» affair. Another part of the responsibility is that opposition proposed a way out of the crisis", Lekic stated.
Member of the Presidency of the Bosniak Party, Ervin Ibrahimovic, said that citizens are witnesses of reappearance of «ghosts of past» in the form of nationalism and territorial aspiration.
"It was a warning that EU is necessary for Western Balkans, but also that EU needs countries of the Western Balkans. They are needed, not to be in the EU entrance hall, but to contribute to development of democracy of EU and the entire European continent with our energy", Ibrahimovic estimated.
He believes that stability has no alternative, especially in the Western Balkans, when, as he recalled, account is taken of experiences from the end of XX century "during which a large number of innocent lives was lost".
President of the Socialist People's Party, Vladimir Jokovic, assessed that Montenegro requires primarily democracy, and after democracy, as he stated, stability as well.
"There is no democracy without change of powers in any system. There has never been recorded anywhere in Europe and the world that democratic systems have been ruling for so long and that they have emerged as democratic", Jokovic pointed out.
Length of governance, as he estimates, influences even the most democratic systems not to be such.
"Being so much accustomed to power and exercise of power for so long does not allow participants of this process to be democrats and to, in the best possible manner in the spirit of European values answer when it comes to elections", Jokovic said.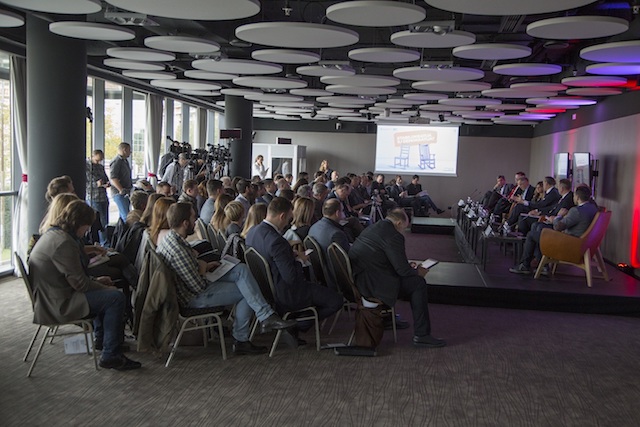 President of Liberal Party Andrija Popovic assessed that Europe acted for so long in the manner that stability is its priority, "while democracy seems to be paying the price of it".
"Stabilicracy is present in all countries of the region, with minor variations and undeniably threating to become a recipe for instability. Western Blakan has proved that stability can easily turn into instability in the absence of democracy", Popovic said.
Vice President of Democratic Montenegro Momo Koprivica, believes that if government can do what it wants "it is the source of greatest instability".
"The key factors of stability of political and democratic order are the possibility of democratic change of power and peaceful transfer of power. In democracy, change of power is a pre-defined process and it is defined in a manner that everyone adheres to and respects it", emphasized Koprivica.
According to him, everything occurred in Montenegrin history except the change of power in elections.
"The more frequent peaceful and democratic change of power is, the more likely any future change of power will be peaceful and democratic. Only a mature and consolidated democracy is something that guarantees stability", Koprivica believes.
Vice President of the Citizens' Movement URA, Milos Kontar, assessed that if there is no EU pressure, when it comes to compliance with legislation, there is no political will for some reforms to be applied and implemented.
"Is it enough to merely adopt laws, regulations for advancement of society? I do not think so. In order for the substantive reforms to come to life, it is necessary to respect these laws and regulations, which is a problem in Montenegro today", Konatar said.
Milos Knezevic, programme associate/PR