Any deficiency in the work at the local level, whether it is a lack of citizens' service or non-performance of jobs within jurisdiction of local self-government directly affects the quality of life of citizens but also the overall functioning of the system at higher levels, as it was assessed today at the final conference 'I have the right to know!' organized by the Centre for Civic Education (CCE).
During opening of the conference, Daliborka Uljarevic, Executive Director of the CCE, pointed out the fact that 'local authorities are the closest to citizens and it is to be expected that they are also the most transparent. However, this is not yet the case in Montenegro, whereby significant differences in degree of openness i.e. closeness of local governments exist'. 'Transparency is also directly linked to effectiveness of the fight against corruption at the local level, therefore we insist on consistent application of the Law on Free Access to Information, both in the part of providing information per requests, as well as in the part of proactivity of authorities to publish all information of public importance at their official presentations', concluded Uljarevic.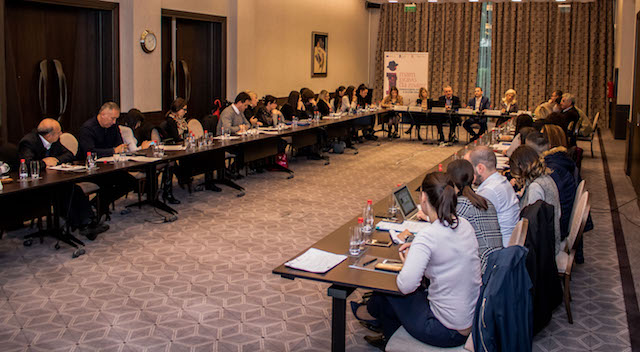 Director General of the Directorate for Local Self-Government in the Ministry of Public Administration, Jadranka Vukcevic, emphasized that 'every developed society rests on foundations of representative democracy, through operation of political parties and participatory democracy, which implies a strong role of citizens and NGOs in the social and political life of the community'. She pointed out that 'creation of a professional and service-oriented public administration is one of the basic strategic commitments of all participants in the public administration reform'. Vukcevic assessed that 'transparency and publicity of the work of local self-government are legally prescribed and strategically determined, it is at satisfactory level in most municipalities, all local self-governments have their own websites on which they publish decisions and other acts that promote matters of immediate interest for the local population, etc. but we still need to work in order to improve the level of citizens' informing'.
Presenting summarized preliminary findings on transparency in the work of three municipalities covered by the project – Kotor, Pljevlja and Podgorica, Mira Popovic, Project Coordinator and Programme associate in CCE, explained that data were collected using the Law on Free Access to Information, through 43 requests for free access to information with 258 questions, and via detailed overview of the internet presentations of the aforementioned municipalities.
'These three municipalities received 2.561 requests for free access to information during the previous three years, whereby municipality of Kotor responded in 93% of cases, municipality of Pljevlja in 72%, and the Capital of Podgorica in 53% cases. Most common applicants of requests for free access to information in these three municipalities are NGOs, i.e. 63% of all requests were submitted by NGOs, followed by citizens with 27% and other legal entities with 10%', Popovic explained.
'Agency for Protection of Personal Data and Free Access to Information has received a total of 202 complaints to first instance decisions of the Capital Podgorica and municipalities of Kotor and Pljevlja in the previous three years, but it did neither undertake any control over legality of deciding upon requests for access to administrative acts nor submit any request for initiation of a misdemeanor procedure for violation of provisions of the Law on Free Access to Information. Agency carried out two inspection controls over implementation of the Law in relation to creation and updating of information access guides, proactive publication of information and submission of acts and data for the purpose of maintenance of an information system for access to information'.
'When it comes to transparency of the Internet presentations of municipalities, the best rating according to 11 parameters set, was obtained by municipality of Kotor with 4, followed by municipality of Pljevlja with 3.54 while at the last place was the Capital Podgorica with 3.21', Popovic said.
Popovic concluded that 'there is not enough information of public importance on websites of municipalities and the Ministry of Public Administration should develop a uniform model for all municipalities with a list of all data and documents that must be available as well as to carry out controls in this area. In addition, the Agency should conduct periodic trainings for persons responsible for working on free access to information at local level'.
Amra Strujic, Coordinator of NGO Bonum from Pljevlja, presented concrete activities that were carried out in municipality of Pljevlja by this NGO, during which openness and transparency in the work of local self-government was investigated. 'Large problem in the municipality of Pljevlja is that due to lack of information citizens themselves are not interested in politics at the local level and all this affects their ignorance of how and in what manner they can influence at the local level in this area', said Strujic.
Executive Director of the Centre for Development of Non-Governmental Organizations (CDNGO), Ana Novakovic, adduced that in their many years of work in this field in CDNGO, they are not satisfied with transparency of local self-governments, considering that there is much space for situation to be further improved. Novakovic pointed out the fact that 'when it comes to application of the Law on Free Access to Information, a third of municipalities in Montenegro have not made any progress in mandatory disclosure of set of information that must be accessible to citizens. Cases of local administrations are quite present, which is unacceptable for the present moment and the social context'. Novakovic underlined that 'in Montenegro, problems are most often solved by adoption of new regulations, and if the existing regulations are really respected, there would be no need for creating new ones'
 Muhamed Gjokaj, President of the Council of Agency for Personal Data Protection and Free Access to Information, recalled that Montenegro is at the very top when it comes to the number of complaints based on requests for free access to information. 'Free access to information is foundation of any open society. However, the question is whether this right is used in the wrong manner and whether society as such is a hostage of a bad Law? Therefore, I hope that creation of a new Law should be initiated, so that we will, in cooperation with those who really care about openness, contribute to the LoFAI taking hold in a proper manner'. In addition, he pointed out the fact that unfamiliarity with the Law on Free of Access to Information is still enormous, which is particularly burdensome for work of the Agency itself and it also additionally consumes state money. Gjokaj concluded that 'deadline of 15 days for responding to complaints submitted to Agency is fairly short because it can not be timely responded to quite large number of complaints in this given time, which leads to abuses of state organs'. He called on 'the Ministry of Public Administration to react as urgently as possible as a competent body because someone must bear responsibility for the apparent abuse of the law'. 
Chief administrator in the Municipality of Kotor, Veljko Vujovic, pointed out that 'exercise of the citizens' right to information, but also activities, is impossible without free access to information and precisely this law enables them to participate in exercise of public affairs and decision-making process as well as to exercise control over the work of those entrusted with exercise of public authorities'. He reminded that municipality of Kotor has published on its website a guide that helps citizens to acquire easier information on which body they should submit a request for free access to information to. 'As a further step towards improving communication with citizens and transparency in the work of municipal services, we have also initiated the service System 48 for citizens' complaints, by the means of which they receive responses to various questions and even those that do not fall under direct competence of the municipality itself, all in order to be trully in the service of citizens', Vujovic said.
Zoran Radosevic, Chief Administrator in municipality of Pljevlja, emphasized that 'cooperation with non-governmental sector and local self-government in this municipality is remarkable and has resulted in a large number of projects and partnerships'. He further informed that during the past year, 57 requests were sent to the municipality of Pljevlja and that all were solved within the legally prescribed deadline. 'However, a large number of them were addressed to the President of municipality, although over 70% of these requests are not in his jurisdiction nor under jurisdiction of the Administrator. This all points to the fact that citizens do not know who are the persons responsible towards whom they should direct the RoFAI and this is where we should act', Radosevic stated.
Conference gathered 30 representatives of media, non-governmental organizations, institutions etc.
Conference 'I have the right to know!' has been organized by CCE within the framework of the project 'I have the right to know – Responsible municipalities in the service of citizens!' financed from European Union funds and co-financed from Kingdom of Netherlands funds, within broader regional project WeBER (Western Balkans Enabling Project for Civil Society Monitoring of Public Administration Reform. Objective of the project 'I have the right to know – Responsible municipalities in the service of citizens' was to provide contribution to improvement of responsibility and transparency of local self-governments in Montenegro in accordance with principles of good governing, that will be achieved through strenghtening cooperation between national and local non-governmental organizations and local media, in a joint monitoring of implementation and regular informing on state in the area of implementation of Law on Free Access to Information.
Milos Knezevic, programme associate/PR