NGO Active Zone from Cetinje and Centre for Civic Education (CCE) have organized today, in the Youth Centre in Podgorica, a conference 'Youth and Media – Stand-Ins, Actors or Consumers?'.
Andrea Popovic from Ministry of Sports reminded that young people in Montenegro, institutionally speaking, are an cross-sectoral issue. Popovic also pointed out that visibility of youth through media is recognized as one of key priorities within Strategy for Youth. 'In this regard, Directorate for Youth allocated around half million Euros for projects concerning precisely youth, which is significantly higher sum if we take into account that during last period Ministry of Sports has supported 6 projects with 170 000 Euros. Call for projects will be published at the end of year, and Ministry of Sports expects relevant organizations that deal with youth to engage and submit projects of as good quality as possible', announced Popovic.
Danijel Garic, journalist of RTCG, indicated the fact that young people grew up in the system that still fosters grade and gradeing as only measure of knowledge in its formal education. 'Precisely such system induces certain fear among youth, a fear from responsibility and fear from showing an attitude since Montenegrin society does not nurture a culture of freedom of expression'. He further pointed out that 'youth and media communicate in a bad manner and that communication 'creaks' as everything 'creaks' in this system'. 'We must take into consideration that Montenegrin society has undergone a devastating period in the last 25 years, which has resulted in a complete degradation of entire system of values. Precisely this information of chaotic situation in the society in media has shadowed young generations and it has affected their system of values. Taking into account demolished foundations and distorted system of values which young people have grown up in, it could be said that they turned out great, considering how they could have been.', concluded Garic.
Tina Popović, journalist of ID Vijesti, assessed that young people themselves are to blame that information about them is not being distributed in the media. 'On the other hand, we have a situation in daily Montenegrin life in which it is not being written about youth, or, if it is, it is being written about topics that do not even merit large media space. Lack of feedback of youth themselves on what they are interested in currently and what topics are interesting to them is paramount', Popovic pointed out. Asked where do young people stand in the Montenegrin society today, she pointed out that 'youth act the most through political parties, which is somewhat bad, because by their work in parties they do not put focus on their population, on youth, but represent mere copies of political leaders'. 'If we continue with producing series of young people who think the same, and who are afraid to state their attitude, especially if this attitude is critical, Montenegrin society will find itself, on its own, in an even greater crisis than the one it now stands in', emphasized Popovic.
Journalist of Radio Free Europe, Predrag Tomovic, said that youth in all countries of former Yugoslavia are growing up with their heads bent down. 'There is no culture of insurgence and clear and loud expression of attitude among Montenegrin youth which is a great problem. With no culture of insurgence we can not expect quality changes at all, and precisely this value system is inherited from former generations', stated Tomovic. He has, while commenting on stance that young people nowadays are active the most through political parties, said that a young person absolutely must not enter politics in this age, since most of them are not aware that they are entering a closed system that constricts individuality as basic feature of youth. 'Without this individuality, youth are in politics nothing more than 'a vague copy of shabby political leaders', emphasized Tomovic.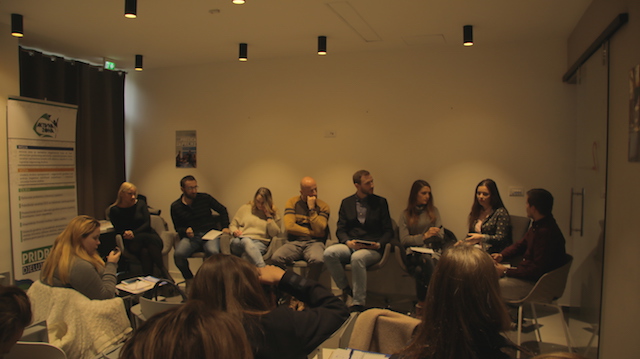 Danilo Ajkovic, journalist of FOS MEDIA portal, does not agree with the claim that there is no enough youth in media. 'Media are dealing with youth always when youth and topics regarding them are occasion', he assessed. During his presentation, he reflected upon work of FOS MEDIA pointing out that during the short time that this media exists, an excellent cooperation with youth was established who are precisely one of their target groups. 'Therefore, we try to interest young people themselves with our contents and short video forms of reporting about current daily-social topics', concluded Ajkovic.
Mia Zekovic, from Union of High-Schoolers and Youth Centre, stressed out the influence of media on youth assessing that 'media have a key role since they are precisely the ones who significantly affect attitudes of young people'. She stated that it is necessary for competent organs to take care of what is being released in media when it comes to youth. Zekovic pointed out that educational content in media is lacking and that youth receive more media space when they are actors of something bad than in cases when they are initiators of something positive. Her general conclusion is that youth are out of media focus, and on the other hand, they themselves must be involved in creation of media contents that media will cover furtheron in more quality manner.
Mila Cerovic, from MAPSS, stated an example of students of Faculty of Political Sciences that recently launched an initiative for replacement of professor Mujovic that has not been adequately covered by media. Cerovic pointed out that precisely these students were the ones who called media and introduced the public with illegal acts on the faculty. 'A question arises whether this was a news for media or a sensation considering that an epilogue of the story itself remains absent after everything. The same thing happened also with the reform at the University – youth are not interested enough to be represented in media, but how much are these media present to cover stories on young people who have something positive to say? There is bad communication between media and youth and this is where we should act, i.e. the media are here to be a factor that will encourage youth', stated Cerovic.
Conference gathered 20 representatives of youth, NGO and media, etc.
Objective of conference 'Youth and Media – Stand-Ins, Actors or Consumers?' was a discussion about youth through viewpoint of media reporting, i.e. on what is the media picture about youth in Montenegro.
Bojana Tomic, project assistant