Centre for Civic Education (CCE) yesterday, in the premises of PI Daycare for children and youth with disabilities and difficulties in development in Berane, in cooperation with Municipality of Berane, has organized a screening of film, Life Animated, by US director and awardwinner of a prestigious film award Oscar Roger Ross Williams, which was attended by parents of Daycare Centre users as well as employees of the same. Representatives of CCE have, on this occasion, delivered New Year's packages to the users of Daycare Centre.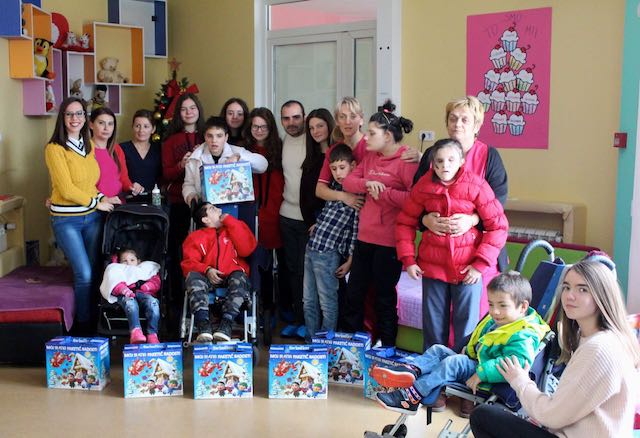 Director of FAST FORWARD Human Rights Film Festival, Milos Knezevic, thanked the Daycare Centre for initiative for this screening to be held, as well as the Municipality of Berane, that has thus promoted an idea of FAST FORWARD Festival even after official festival days. 'Director is introducing us all with autism through prism of an autistic boy Owen and his family, but also manages to dismantle borders, stereotypes and prejudices in understanding of this ever so actual problem. Therefore, we are rather pleased that this film was screened precisely today in the Daycare Centre', concluded Knezevic.
Life Animated follows a true story about a child Owen Suskind who at three years old suddenly stopped talking and retreated into a place inside his own head. To the despair of his parents, Owen has been diagnosed with autism. Hower, boy's father, Pulitzer Prize-winning journalist Ron Suskind, has no attention of giving up that easily. Noticing that his son is mesmerized by Disney films, he decided to attempt to communicate with his son through characters and quotes from films like Aladdin, Dumbo, and Hercules, among others. Soon Owen was able to express himself through memorized lines and situations from the animated movies he loved, and after several years of silence was finally connecting again with his family. Director Roger Ross Williams has received a Directing Award at Sundance Film Festival for this film, and is an awardwinner of numerous audience awards on festival throughout the world.
CCE has, from 10 to 16 December 2017, organized VIII FAST FORWARD Human Rights Film Festival 2017, with a central programme in Podgorica in PI CIC 'Budo Tomovic' from 10 to 14 December, and accompanying editions in Berane 11 and 12 December in Centre for Culture and in Kotor from 15 to 16 December in Cinema 'Boka'.
FAST FORWARD 2017 has been conducted with the support of Commission for Allocation of Part of Revenues from Games of Chance of Government of Montenegro, Canadian Embassy, foundation Heinrich Böll, Embassy of Italy, Embassy of Israel, Embassy of USA, as well as companies Metropolis, Studio Mouse, Post of Montenegro, PG Taxi and Compania de Vinos Montenegro. Partners of the Festival are PI CIC 'Budo Tomovic', BELDOCS, Sarajevo Film festival, CC 'Nikola Djurkovic' from Kotor, Municipality of Kotor, Municipality of Berane and Centre for Culture of Berane, while media sponsors are public service RTCG (TV and portal) and Vijesti (newspapers and portal).
Bojana Tomic, project assistant