Centre for Civic Education (CCE) in cooperation with the Austro-French Centre for Rapprochement in Europe (CFA/ÖFZ, Vienna), International Centre for European Studies (CIFE, Nice/Berlin), with the support of Open Regional Funds (German cooperation/GIZ), The Balkans in Europe Policy Advisory Group (BiEPAG) and French Institute of International Relations (IFRI, Paris) has organised today a roundtable and debate with the topic of Montenegro, Western Balkans and the European Union: Accession Within the Reach?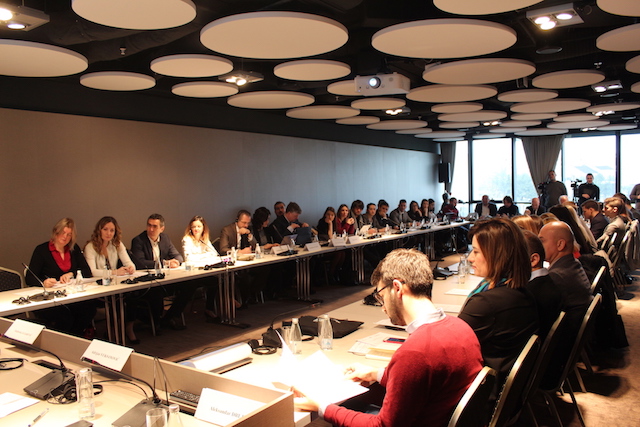 Daliborka Uljarevic, CCE Executive Director, opened the event by assessing that 'Berlin process has brought encouragement, stimulus but also concrete initiatives in regards to reaffirmation of the accession process of the Western Balkans. However, it seems that this was not sufficient and that it did not move towards the proper direction the Balkan leaders who are by their perception and practicing politics demonstrating that autocratic as opposed to democratic political system is closer to them. Therefore, the European values, standards and best practices are still with difficulty becoming a part of our social and political context.' She underlined advantages of Montenegro in relation to the region, but also the internal resistance to democratic reforms and simulation of progress, which she illustrated also through actions of party over-taking of the public service RTCG and smear campaigns being led against critically oriented NGOs. 'Precisely such examples are annulling all rhetorical attestations of ruling structures to have strong political will to properly conduct the accession to the EU process', concluded Uljarevic.
President of the Committee on European Integration in the Parliament of Montenegro, Adrijan Vuksanovic emphasized the importance of pluralism of opinion which is brought by events such as this event. 'Process of EU integration is being led by all of us in Montenegro because it appertains to all segments of our reality. We can perceive the current state from various angles, but it is indisputable that we have been characterised by the so far results as front-runners of the EU process in the region. However, this position must not relax us because it would bring us further to slowing down of the process itself.', declared he. Vuksanovic emphasized the advantage of the regatta principle, clarifying that it, in contrary to the convoy principle, encourages healthy rivalry among countries which are in the accession to the EU process. 'I see the Berlin Process as an important support to all of us in the Western Balkans. We have a lot of work still when it comes to EU integration, and the Parliament will continue to perform its dominantly control role providing thus its full contribution', stated Vuksanovic.
Upon the introductory remarks was first panel entitled How much is the Berlin Process introducing into the new Enlargement Strategy of the EU? and moderated by Florent Marciacq, Deputy of the Secretary General and Researcher in the Austro-French Centre for Rapprochement in Europe (CFA/ÖFZ) from Vienna who, on that occasion, emphasized the importance of 'connecting experts in improvement of Pan-European thought of the European Union.' Marciacq assessed that 'Berlin Process leaves impression that it is creating solidarity in the region in regard to enlargement, healthy competition in integration of countries of the Western Balkans and this competitiveness which is distinguished through the regatta principle should be cherished.' HE Christine Toudic, Ambassador of France in Montenegro, while responding to question of Marciacq what would be the attitude of France on membership of countries of Western Balkans in the EU considering that France is among those countries of the EU which have referendum on new memberships, has stated that 'the answer would most probably be 'NO' and this is a standpoint of the entire public opinion since it is currently against EU enlargement and it should be clarified to them that Balkans is in the midst of Europe, and that it is important for EU. Therefore, it should be worked on introducing the public opinion with these facts'. She reminded of the statement of President Macron who saw the summit in Trieste as new step in Berlin Process, especially in the part of establishing the Youth Office (RYCO), security issues upon which France suggested an initiative which will enable better control of munition and light weaponry in order to have an impact on crime in the Balkans region, as well as signing of the protocol on agreement on cooperation in the area of infrastructure. She concluded that 'continuous dialogue within the Berlin Process is extremely important as a forum by which better cooperation is achieved than the one which we have had in the past and the Berlin Process precisely has greatly served as inspiration for the EU Enlargement Strategy.'
The second panel of today's round table – Montenegro: Frontrunner or trailblazer for the Western Balkans on their way to the EU? – was opened by Tobias Flessenkemper, Project Director in the International Centre for European Studies (CIFE) in Nice and a lecturer at the University in Cologne, who, during this occasion stated that 'countries of the Balkans are currently positioned in the so-called ping-pong situation. Attention is being brought to what the European Union wants, it is being worked depending on who is donor, neighbours are often being forgotten, thus I like to discuss not only one country and its EU processes, but I like to expand this story to the entire region. A question is being imposed in all of this, whether Montenegro is front-runner in EU integration or is it something else? Furthermore, there can often be heard a question of whether tensions exist between what standpoints of candidate states and EU member states are. Theresa May, the British Prime Minister, states that they have decided on leaving the European Union but not Europe. For Western Balkans we can say that each country wishes to join the Union but will not allow itself to abandon its region and its neighbours', underlined he.  Director of ShtetiWeb, Institute for Cooperation and Development (CDI) from Tirana, Ardian Hackaj is of opinion that 'Berlin Process is not replacing the previous Enlargement Strategy but is utilising it. Basically, the main message is that Berlin Process is comprised of pillars of economy and connectivity. This process has not emanated from nothing, elements of connection have existed in previous strategies, but only within the European Bank for Reconstruction and Development. These are large strategic projects and it is necessary for budgets of all countries to be able to withstand and support them. This and similar projects have precisely connected our countries together with roads, infrastructure, new institutions.' Simonida Kacarska, Director of the European Policy Institute (EPI) from Skopje, underlined that 'Berlin Process was not quite envisaged to be directly dealing with the rule of law but considering that easier paths are being sought in the Western Balkans, the rule of law has been positioned into focus. The issue of rule of law will be at the centre of all of our activities until 2022, when Serbia and Montenegro plan to conclude all chapters and negotiations. The question is imposed whether the expectations that we have from all of that could bring us also the results that we expect. Our starting point was that we will have negotiations which will bring key reforms, that this will be political pressure on all structures, and all is now, in this process, under question mark. The greatest concern is how much EU can treat the systemic shortcomings in the circumstances on Balkans', stated she. 'My attitude is that priorities cannot be determined on the outside but on the inside', highlighted Kacarska.  Stevo Muk, President of the MB Institute Alternative from Podgorica, stated that 'it is important to point out that Montenegro is the front-runner because we did not have this kind of problems and challenges that other countries have had due to set of historical circumstances. This provided the chance to Montenegro to enter the EU accession to negotiation process and to remain in it and realise technical obligations – i.e. opening and closing of the chapters. We want reform, which precisely is a request of civil society. We share opinion of large part of the public and we do not have rose-coloured perception on what seems like a great progress to the EU', stated Muk. He emphasised also that 'the European Commission should take a different position towards Montenegro and that now is the right time for different and more severe relation towards country since this type of rhetoric does not encourages political will for reforms. We are witnesses that Montenegro is walking backwards and not only in the sphere of media freedom, although regression in this area is the most evident and the most brutal step backwards that occurred here. EC has acknowledged that the so far approach was unsuccessful, and it is high time to reconsider the balance clause towards Montenegro. The Enlargement Strategy does not possess its action plan, budget and the time framework yet. Many unanswered questions remained, which is the thing on what the CSO should be working, and civil society has even given the most contribution for this approach to be considered in the positive direction', concluded Muk.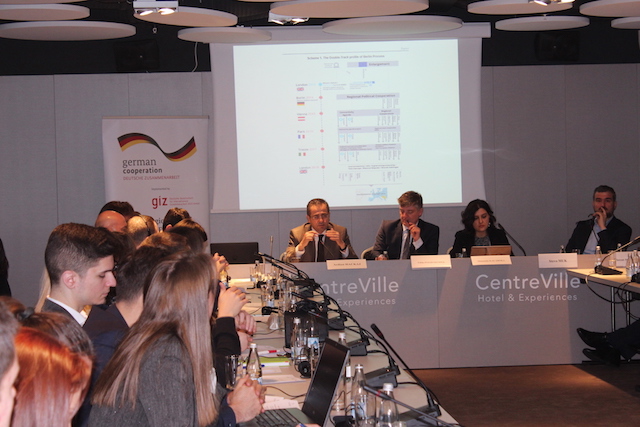 Aleksandar Drljevic, Director General of the Directorate General for EU and Regional Policy in the Ministry of Foreign Affairs, stated that 'this event is important since it comes in the significant moment for Montenegro and the Western Balkans. This is a process which includes the entire society as a whole, and not particularly institutions, civil society, the Parliament, political parties etc. Berlin Process had in its basis the objective to strengthen infrastructure, better connectivity, movement of people, goods, capital etc. Summit in London should do a revision of what progress have we made in connectivity in Western Balkans. Political will for participation in this process existed in these countries and still exists, which resulted in meetings, summits, conferences, wherein Montenegro participates in several national and regional projects and all for the purpose of strengthening cooperation in the Western Balkan', highlighted he.
Referring to the progress of Montenegro in the negotiation process, Head of the EU Delegation to Montenegro, Ambassador Aivo Orav emphasized the key importance of the freedom of expression and credible track record in the area of rule of law. Orav assessed that Western Balkans is in the focus of the EU and commended efforts of Montenegro to improve regional cooperation. 'EU provided framework and incentive. Now everything is up to candidate states. There is not a lot of time until 2025, you have a homework so try and do it as better as you can', concluded Orav.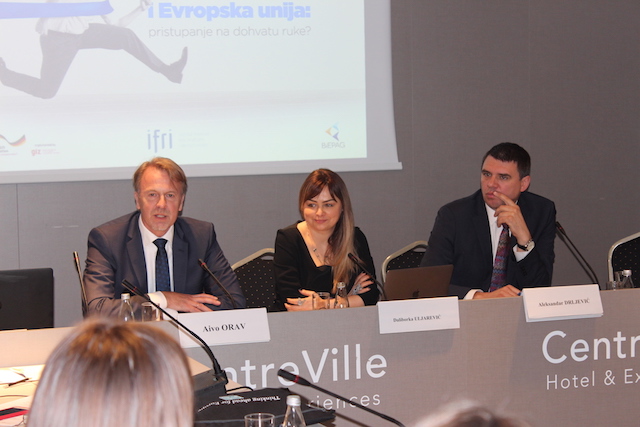 The roundtable Montenegro, Western Balkans and European Union: accession within the reach? gathered around 60 representatives of relevant institutions, NGOs, political parties, media, etc. and it was marked by discussion in which the very participants from various spheres of social action gave their contribution.
Miloš Knežević, PR/ programme associate