In Montenegro, more proactive approach and cooperation of all competent institutions, at national and local level, is needed for the fight against corruption, and support of civil society organizations, media and citizens is prerequisite for track record in this area. This was assessed at the national conference within the framework of project "Let's put corruption into museum!" organized by the Center for Monitoring and Research (CeMI) and the Centre for Civic Education (CCE).
Minister of Public Administration, Suzana Pribilovic, said that integrity of local officials and state employees and fight against corruption at the local level represent key determinants of new approach to the functioning of local self-government units. "Also, in our local self-governments, apart from legal, ethical rules and standards of behaviour applied to all holders of public functions are determined for employees at the local level," explained Pribilović.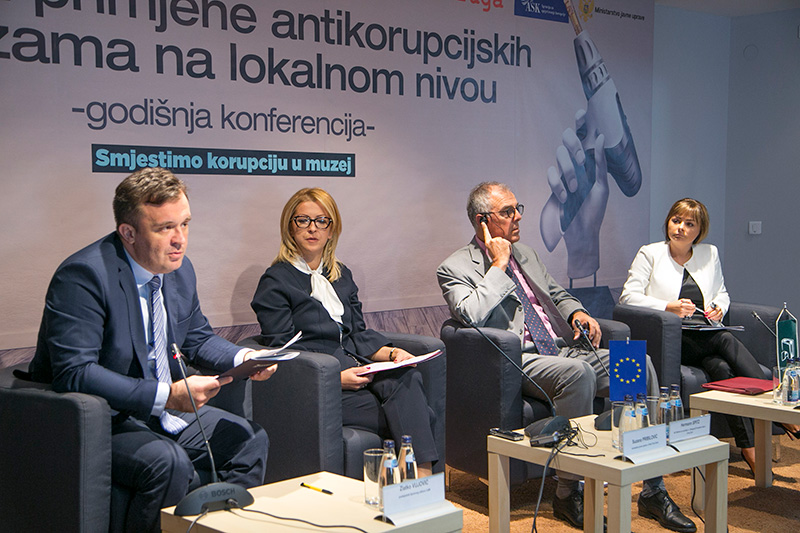 According to her, the adoption of the Law on Local Self-Government emphasizes social values such as ethics and responsibility. "The provisions regulating the status issues of local officials, human resource management, capacity building of local servants, raising transparency of work, employment and monitoring over the work of local self-government bodies are in direct function of strengthening integrity and successful fight against corruption, i.e. basis for the prevention of corruption at the local level", underlined Pribilovic.
She said that the fight against corruption must be social action of largest extent, including all state organs, interested organizations, business entities, non-governmental organizations, citizens and media.
Executive Director of the CCE, Daliborka Uljarević, said that the social consequences of corruption are multiple and complex, both at the national and local level. "They are particularly visible and directly affect the lives of citizens in their communities and as such have the most damaging impact. In order for local communities to more effectively confront corruption, it is necessary to first and foremost realistically look at the conditions and causes that boost its formation, functioning and development, and clearly map out areas most relevant to corruption," Uljarević stressed.
She said that in Montenegro there is no comprehensive and realistic analysis of the state of affars by the institutions when it comes to corruption. "We do not even see their measurable results, and the existing mechanisms are dysfunctional because they do not come from strategic approach to solving this problem, but from the formal adoption of documents for the sake of adoption and attempts to put this issue under the carpet. This gives the impression that institutions in Montenegro more feed, conceal and protect the corruptive actions and corrupt systems than they are working to discourage those who choose, detect and process that", Uljarević said.
She pointed out that it is not known who, at the national level, is competent to conduct this process and support and strengthen, as she stated, local self-government in fight against corruption, supervise their work in that direction and analyze the effects of the actions taken. "On the other hand, citizens are predominantly recognizing the impunity of corruption or dysfunctional system of processing identified corruption cases as a reason for low level of activism in the fight against corruption, as evidenced by our research conducted last year by IPSOS Strategic Marketing ", said Uljarević.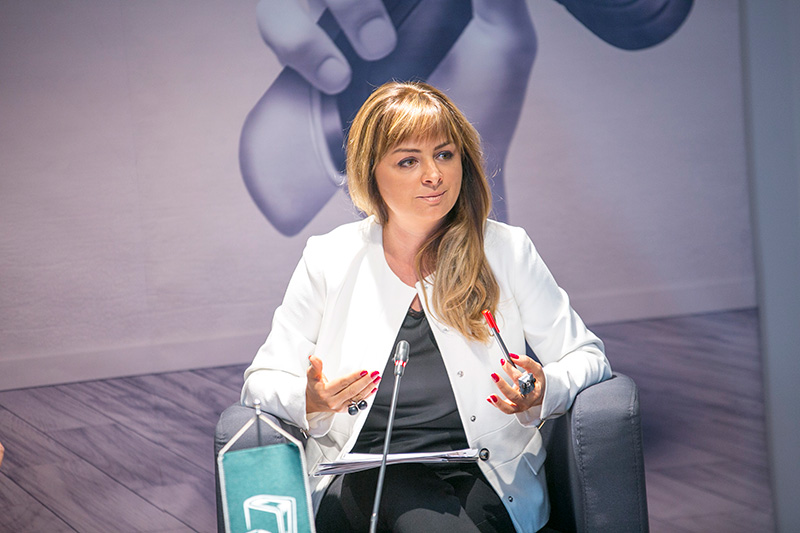 She added that the analysis of the effects of the work of local self-government this year confirms that there is basis for such data. "Namely, in the past year, no cases of corruption were reported by the municipalities, and about which the municipalities themselves have informed us, and that is concerning. Adding to this the fact that most municipalities did not provide internal guidelines for registering charges for corruption within the institution and dealing with these charges, we have a clearer picture and we can not be surprised by such findings," considers Uljarević.
She assesed that the problem of corruption at the local level would not disappear by itself, and that "it will not disappear without painful cuts and effective processes before the competent authorities, and this requires firm political will to end this phenomenon."
"Therefore, more proactive approach and cooperation of all competent institutions at the national and local level, with the support of civil society organizations, media and citizens, is of crucial importance and precondition for results in this area," Uljarević said.
She considers that the system of fighting corruption at the local level as its key supporting elements must have the Government accountable to citizens with equal relation towards municipalities regardless who holds the power in them, and, as it is stated, the clearly defined responsibilities of the Ministry of Public Administration in relation to local self-government concerning the results of the application of available mechanisms in fight against corruption, the Anti-Corruption Agency and the Prosecutor's Office that work in non selective manner and as such could represent pillars in fighting corruption. "Only system of that kind can strengthen local communities and citizens, and consequently lead to the establishment of functional rule of law and environment in which corruption will not be socially tolerated, but unacceptable and punitive phenomenon," Uljarević highlighted.
Head of Cooperation in the EU Delegation to Montenegro, Hermann Spitz, assessed that Montenegro made some progress in the fight against corruption, stating that this phenomenon is still present in number of areas "and raises concern".
He said that local self-government represents the closest level to citizens. "The public responsibility of decision-makers in local self-governments is precondition for an effective fight against corruption," stated Spitz.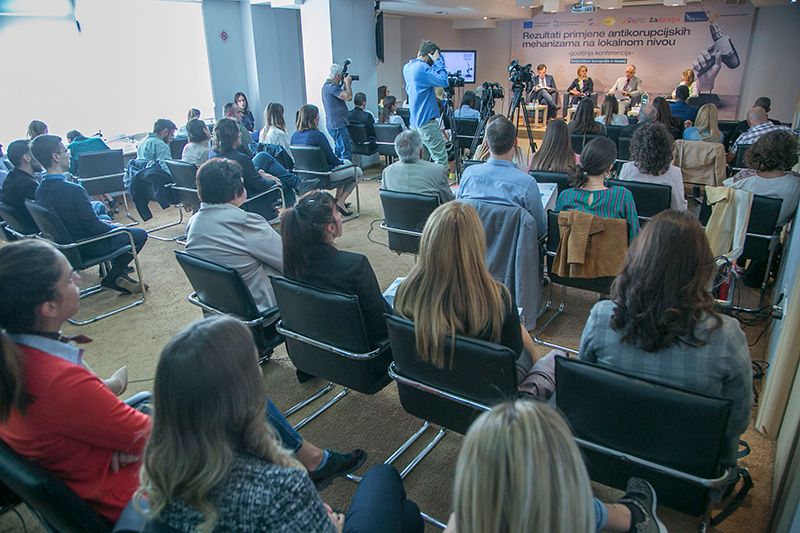 He considers that local self-government should find innovative solutions and use modern practices in management "based on the principles of transparency and equal access".
"Prevention of corruption has advantages. It contributes to municipal revenue growth, greater opportunities for local community development, enables putting citizens into focus of local authorities' attention and influence public confidence. These are the principles on which local communities in the EU work. Montenegro, as its future member, is encouraged to strive for it," Spitz pointed out.
The project "Let's put corruption into museum!" is conducted by the CCE conducts in cooperation with CeMI, NGO Bonum from Pljevlja, NGO UL-Info from Ulcinj and NGO Za Druga from Petrovac, where the project associates are Ministry of Public Administration and Anti-corruption Agency. It is funded by the EU Delegation to Montenegro, and it represents the third phase of wider CCE's programme aiming to contribute to the fight against corruption at the local level.
PR centre