Today, the Centre for Civic Education (CCE) presented findings of the survey of public opinion about LGBT persons, within the project "NO to discrimination – YES to diversity".
Tamara Milaš, CCE Programme Associate, opening the presentation stated that the findings of the research were pleasant surprise, adding 'We assess that they reflect also the so far performance of civil society organizations, and above all, of course, non-governmental organisations which are gathering the LGBT persons and focusing on this issue'.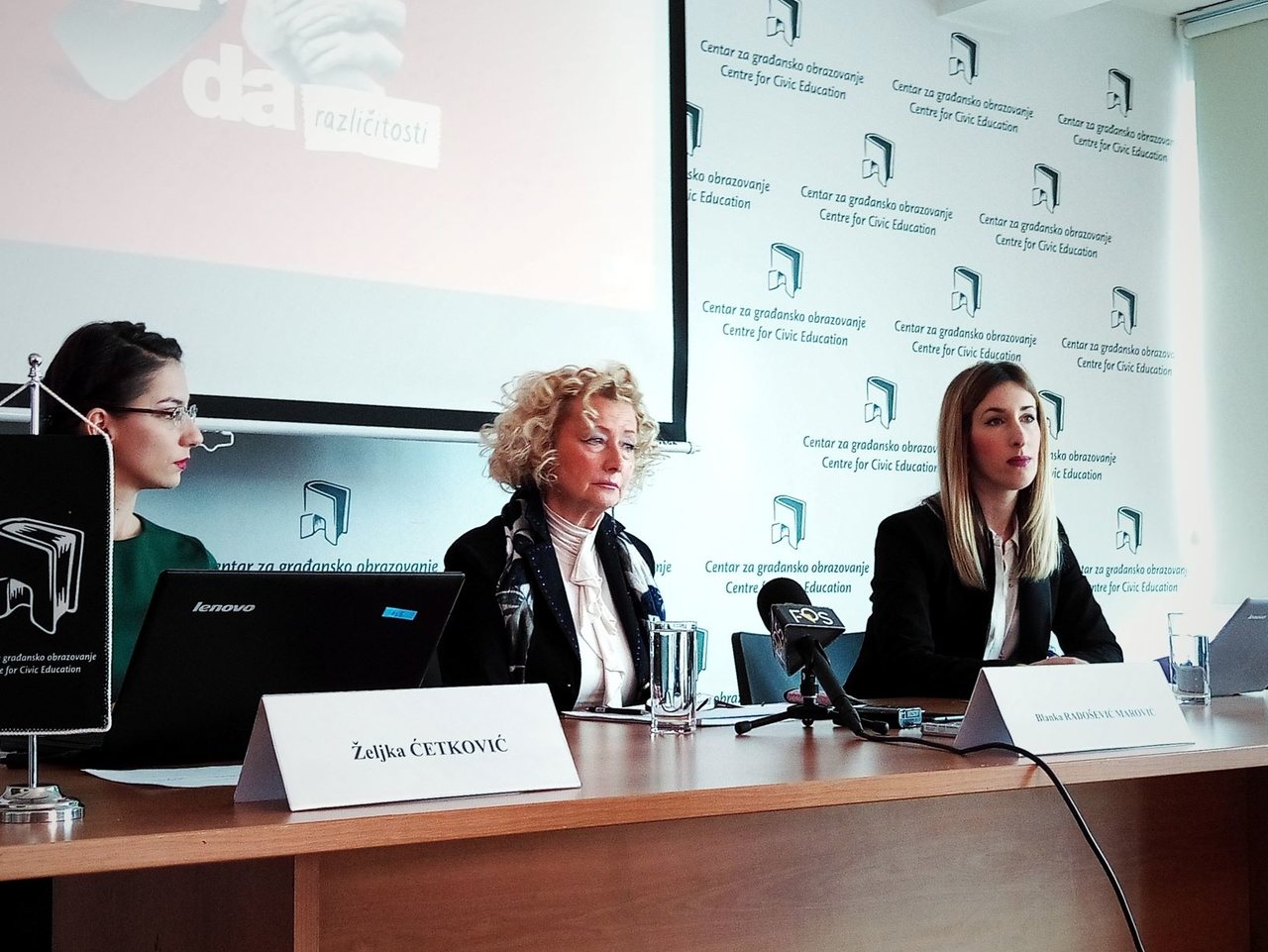 Željka Ćetković, Project Coordinator, explained that the survey was conducted from 6 to 8 February 2019, on a two-stage accidental representative stratified sample of 1013 adult respondents from 17 Montenegrin municipalities, via telephone survey.'As per survey results, in overall, more positive attitude towards LGBT is evident, but generally also greater tolerance than in previous survey', assessed Ćetković.
Furthermore, Ćetković stated that divided views amongst Montenegrin citizens concerning respect of the rights of LGBT persons remain, but that the share of those who believe that discussion on LGBT personsis exaggerated because this is a normal phenomenon is increasing. Comparing the data from previous CCE's survey on this topic from 2016, she pointed out that significant growth in tolerance is recorded in this segment.
'It is interesting that we have significant growth in positive attitude towards the presence of scientific discourse in public about issues and problems related to LGBT persons, i.e. today, half of the respondents find it preferable in relation to 2016 when it was slightly less than a fifth. This is accompanied by enormous change in the openness of citizens towards their children attending scientific lectures about LGBT persons, i.e. 73% compared to 45% in the previous research. Also, there ispositive trend in the acceptance of experts of the LGBT orientation. For example, in a hypothetical situation in which respondents are asked to choose between a superb surgeon who is homosexual and the one who is not half as good, but is straight, family man, 76% or three-quarters of respondents replied that they would choose a superb surgeon regardless of his sexual orientation. I would remind that in 2016 such positive attitude has had less than three-fifths of respondents', she said.
Ćetković pointed out that the largest restraints still exist towards the closest ones, because only slightly more than a fifth of citizens (27%) are willing to support their child immediately and fully upon finding out about his or her different sexual orientation.
'One issue that, I believe, speaks a lot about the attitude towards application of the LGBT rights is the acceptance that LGBT people can express their emotions in public as well.It is interesting that citizens' support in this matter has decreased compared to 2016 when this percentage was 70%, and now only half of the citizens find it alright for LGBT persons to be hugging, kissing and expressing tenderness in public', stated Ćetković.
On the other hand, it is encouraging that greater level of tolerance on LGBT rights is registered through series of positions.'Today, there is a significantly lower number of those who justify verbal and physical violence against LGBT persons. Understanding and openness to support LGBT people increases. Also,political parties can be more proactive in advocating for LGBT rights because the findings indicate that this would now bring them fewer negative points than before', said Ćetković.
Survey has shown that for more than half majority (57%) nothing would change towards the political figures if they found out that are of LGBT orientation, which is significant change compared to 2016 when this percentage was dramatically lower – only 33%. Similar level of tolerance is also registered regarding inclusion of LGBT rights in the party programme, as 64% of respondents say that they would still vote for political party which would decide to have the rights of LGBT persons in their programme, which is an increase for nearly one fifth since 2016.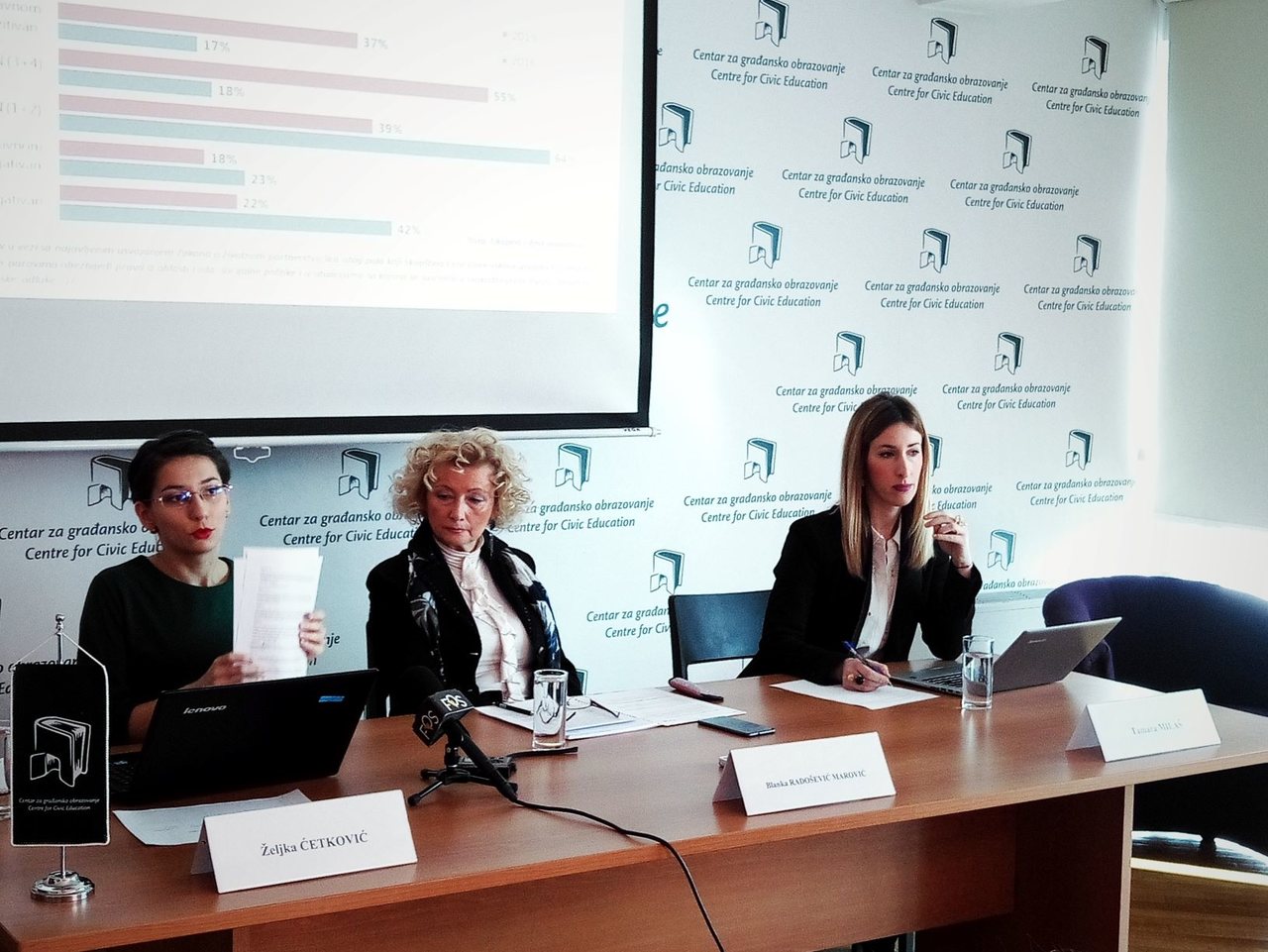 'The current focus – the Law on Life Partnership of Same-Sex Persons – which I must say, is a positive surprise for us, bearing in mind the numerous previous resistances for to have this area legally defined. Nowadays,positive attitude towards this legal text, which is in the parliamentary procedure, is 55% compared to less than one-fifth i.e. 18% in the previous survey from 2016', Ćetković emphasized.
More and more citizens also believe that the Pride is being organised with the aim of pointing out the discrimination against LGBT persons, i.e. today it is over one half – 53%, and it was only 36% in 2016. When it comes to media coverage of the Pride, four of ten citizens believe that the media are reporting neutrally, while a one-quarter believes that the media should not even inform about it at all. 
Ćetković said that it is very important that 'we now have strong majority, even as much as 81% of those who stated that in the event of witnessing violence against the LGBT person, they would try to help, noting that no one should suffer violence due to some difference'.
'Hence, the attitude towards LGBT persons in Montenegro is definitely experiencing significant change in positive direction which provides tailwind to all of us who are fighting for respect of rights of all persons, regardless of their sexual and gender orientation. This survey may also be an announcement of new maturity of Montenegrin society when it comes to tolerance and acceptance, and we in the Centre for Civic Education hope that the views demonstrated in the survey will come to life in practice on a daily basis', Ćetković concluded.
The survey also pointed out that citizens single out the Ministry for Human and Minority Rights, educational institutions and non-governmental organizations as the most responsible for the fight against homophobia.
Blanka Radošević Marović, Director General of the Directorate for Promotion and Protection of Human Rights at the Ministry for Human and Minority Rights, said that this project points to the first breakthroughs in the process of new manner of financing of the NGO sector and the modalities of cooperation in the implementation of strategies related to improving the position of LGBTpersons.
'The survey results, based on excellent methodology, are very important and represent the starting point, but also guidelines, in creation and implementation of policies through strategies and projects that are essentially aimed at improvement of the rights of LGBT persons, which the Ministry is committed to in the full extent', said Radošević Marović.
'The relatively positive attitudes of the public related to LGBT persons represent an additional encouragement for us, but also confirmation that the Strategy for protection of LGBT persons has borne fruit. We need to proceed further with the implementation of the new five-year Strategy, and also the adoption and implementation of the proposed Law that is in the procedure, and which I hope will be adopted soon', she assessed.
Reflecting upon the upcoming challenges, Radošević Marović stated that 'the acceptance of LGBT persons in society, and especially in the working environment, is a prerequisite for the adequate implementation ofLaw on Same-Sex Partnership'. 
The objective of the project NO to Discrimination – YES to Diversity! is improvement of human rights of LGBT persons and suppression of discrimination based on sexual orientation or gender identity, reduction of homophobia and transphobia in society, promotion of culture of tolerance and inclusion of LGBT persons and improvement of conditions and quality of life of LGBT persons in Montenegro. The project was supported by the Ministry for Human and Minority Rights of the Government of Montenegro. The expert part of the survey was conducted by Ipsos Strategic Marketing.
Liridon Vulaj, Programme Assistant