It is necessary to ensure non-selective application of Law on Electronic Media towards all broadcasters which have broadcast license, in order to protect public interest within the area of informing citizens on issues important for satisfying everyday life needs, as it was concluded today at the presentation of the study of Centre for Civic Education (CCE) on work of Agency for Electronic Media – Controlled Chaos in Regulation of Electronic Media.
CCE Development Coordinator, Damir Nikočević, stated that 'findings of the study indicate that AEM has not consistently respected Law on Electronic Media in its work, which consequently led to unfair competition on electronic media market, but also significant contamination of media environment with unprofessional and unethical contents.'
Nikočević stated that 'the work of electronic media was also allowed, even certain ones which have national license, although they are not fulfilling their legal obligations, by which they were privileged while others were put into by far less favourable position. More precisely, this especially relates to the manner of collecting broadcasting fees from broadcasters by the AEM which allowed accumulation of debts for certain and even final writings-off when these broadcasters ceased to work, followed by supervision of fulfilment, or better said non-fulfilment, of broadcasting of minimal quota of information from the coverage zone, as well as minimal quota of its own production, and application of programme principles and standards in electronic media.'
'It is noticeable that AEM has not been using all legally prescribed measures to bring all broadcasters into the zone of compliance with the Law on Electronic Media. For example, AEM has never applied more severe sanctions, such as temporal revocation of broadcast license, despite record-breaking number of complaints and their own warnings towards one broadcaster which has continuously violated professional standards in its work', concluded Nikočević.
Lead author of the study and Director of the Media Centre, Goran Đurović, reminded that one of key aspects of AEM's work relates to issuance of broadcast licenses to providers of audio-visual media (AVM) services, and one of obligations of those broadcasters is payment of annual fees for broadcasting as per Article 44 of the Law on Electronic Media. 'However, all of these years, AEM has been introducing its practices of payment of annual fees for broadcasting by allowing certain media to not fulfil this obligation and to accumulate their debts. Thus, since 2014 until 2017 debts arisen contrary to Law on Electronic Media, and tolerated by AEM, which has even encouraged some by signing of illegal protocols on prolonging of payment of broadcasting fees. In numbers, as follows: in 2014, debts as per broadcasting fees of broadcasters were even as much as 683.452,34€, in 2015 – 665.814,06€, in 2016 – 620.037,00€, while in 2017 these debts amounted to 388.583,04€.'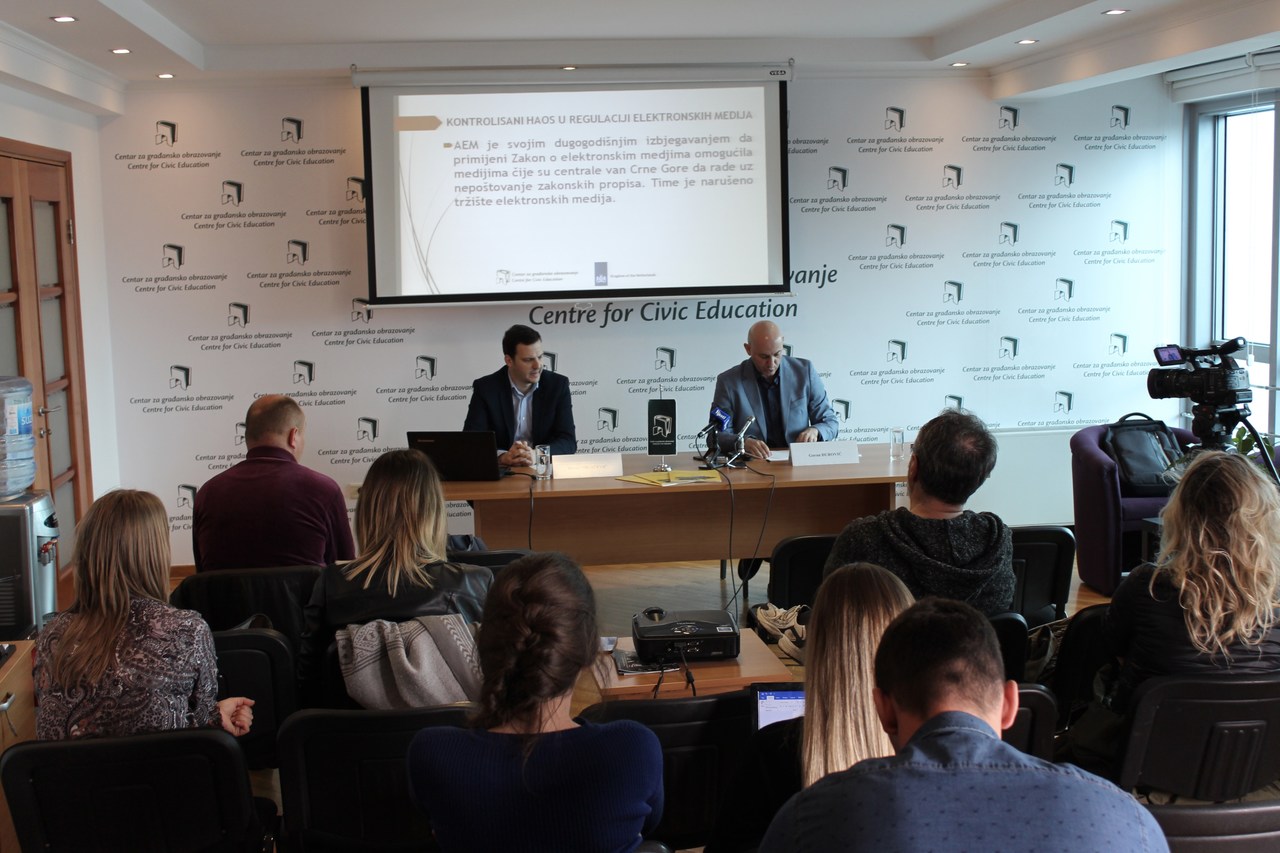 Until 31 December 2017, bankruptcy proceedings were launched against certain commercial entities which performed AVM service in Montenegro and eight broadcasters went into bankruptcy, while the money they owned to AEM, amounting more than 205.000€, was never paid, nor has anyone borne responsibility for damage thus inflicted to budget of AEM, and the Budget of Montenegro.
Đurović has pointed out that the AEM is directly responsible also for application of the Article 59 of the Law on Electronic Media in the part related to respect for broadcasting minimal percentage of information from the coverage zone of at least 10% of such information. 'AEM has conducted an analysis i.e. the monitoring of this legal provision for the first time in 2012 and then it was determined that Prva TV has had only 1% news from Montenegro within the monitored period, and Pink M only 7,8% although the legal minimum obligation was 10%. AEM tolerated violation of law herein as well, although it had possibility to warn broadcasters, as well as to exert sanction such as revocation of permission to broadcast. It has allowed continuously to broadcasters whose headquarters are outside of Montenegro to undisturbedly function in Montenegro, thus bringing unfair competition because these TVs have been selling their marketing space, employed much smaller number of people in comparison to domestic broadcasters and thus have gained profit in illegal manner', said Đurović. The next research of AEM was published after four years and it again noted that television Pink M has not fulfilled legally prescribed conditions in this segment, because they have had 89 minutes of news at daily level from the coverage zone, i.e. Montenegro, in that period, although the legal obligation was 144 minutes.
Đurović stated also that 'only after this report, AEM has started to publish more updated and frequent reports, thus in the next report from December 2016 it states that all broadcasters have respected this legal provision. However, from December 2016 until today, we have no clear monitoring of this Article of the Law. Namely, AEM is deliberately still not monitoring nor disclosing data in its regular reports in relation to this paragraph of the Law'.
In this corps is also the issue of absence of control of AEM in application of the broadcast licenses which Agency issues, in the part related to respect of the given promise on one's own programme production. There are broadcasters in Montenegro which have stated during acquiring broadcasting permissions that even as much as 60% of the total programme that they broadcast will be their own production. Nevertheless, AEM is not publishing these data in broadcasting licenses available at the AEM's website, thus the external monitoring of application of the Law in this segment is being prevented as well. AEM has even passed Rulebook on conditions for determining programme contents deemed to be own production by which broadcasters are obligated to have at least 10% of their own production, thereby derogating the Law because broadcasters are enabled to produce smaller percentage of programme content regardless of what they have promised during application for and acquiring license for broadcasting. Also, there is no data about whether AEM communicated with media to harmonize their operation with what was approved percentage of their own production as per broadcasting licenses.
'All these years AEM has had rather odd relation when it comes to violation of programme principles and standards, and one of those measures was also temporary or permanent revocation of broadcast license. The Law prescribes that the license for provision of AVM services shall be temporarily revoked for duration of up to 30 days if the service provider is violating provisions on programme standards even after having been sentenced with warning measures and fines. Recorder in number of objections to violation of professional principles and standards since 2015 until 2018 was television Pink M. As per data of CCE, over 60% of all totally submitted objections against broadcasters has referred to this television. Sanctions for these violations are neither known nor has this borne consequences for television Pink M. An illustrative example that AEM demonstrated lack of resistance to political influence is seen in the case of TV Vijesti which could not obtain broadcast frequency for over two years, parallel to which AEM has had benevolent relation towards all media which were close to the ruling structure', said Đurović.
An important aspect of the AEM's work is also financial management which the study also reflects upon. Annual budget of the Agency is over 900 thousand euros. Part of this money has been allocated also to broadcasters on the basis of the Rulebook on allocation of finances from the Fund of Agency for assistance to commercial radio broadcasters. During 2018, around 260 thousand euros was disseminated for the total of 18 broadcasters as per public call. Allocation for 2017 has been annulled contrary to the law. Considering the fact that the Constitutional Court has abolished provisions of the Law on Safety of Road Transport, the application of which has been filling this fund, the allocation of these funds has ceased as well. 'However, at this point it should be noted that the AEM has continuously breached Law on Electronic Media by allocating donations, diverse forms of scholarships, humanitarian aid to various legal and natural persons. Since 2015 until 2018, AEM spent around 130,000 of euros for the purpose of supporting individuals and legal entities. The Law clearly prescribes jurisdictions of AEM and none of them refer to socio-humanitarian aid', concluded Đurović.
Đurović has underlined also the annulment of the will of non-governmental organisations during election of members of AEM Council from this sector, wherein, in fact, political parties have chosen their candidates despite the fact that others have had several times greater support and qualifications required by the law.
The study brings also set of recommendations for improvement of the identified situation, especially in the part of consistent application of the Law on Electronic Media, as well as amendments to this Law in direction of determining basis for dismissal of AEM's director and specifying limitation of director's term of office, followed by an increase of minimal percentage of own production by broadcasters in relation to news content, contents from culture and education, then with the protection of appointment procedure of members of Council from undue political influence, but also establishment of AEM's practice to regularly work and publicly disclose periodical reports on structure of TV broadcasters' programme with correlation to issued licenses for work.
The study on work of Agency for Electronic Media Controlled Chaos in Regulation of Electronic Media was produced within the framework of the project Facts Do Matter, supported by the Embassy of the Kingdom of Netherlands. Its objective is to contribute to establishment of favourable environment for free, professional and ethical media reporting without external pressures. More specifically, the project aims to influence the improvement of media legislation and to support journalists who report about complex process of democratization and Europeanization of Montenegro in quality manner, as well as to strengthen cooperation between media, relevant institutions, political parties and non-governmental organisations in this area.
Miloš Knežević, PR/Programme Associate