Young people are not essentially in the focus of decision-makers, and this also has its expression through a certain sense of alienation of young people from political and social engagement, as well as through the growing trend of young people's desire to leave Montenegro, as it was concluded at the conference What can politics and society do for young people in Montenegro? organized by the Centre for Civic Education (CCE) and Friedrich Ebert Stiftung.
Daliborka Uljarevic, CCE Executive director, reflecting upon survey, pointed to the concerning number of young people in Montenegro who less and less see personal and professional perspective in Montenegro. 'Amongst ten countries covered by this survey, Montenegro and Albania are leading with potential for brain drain. Over 50% of young people who want to emigrate from Montenegro are stabilized with belief that a better future waits for them in another country, and also there is not a small number of those who are thinking about it,' explained Uljarevic. She emphasized that 'within young people who want to leave Montenegro, those with the highest level of education are the dominant ones, which is data that turns red alarm on for the country of Montenegrin structure.' Such relationship she connected with the perception of the society in which they live. 'Young people in Montenegro consider that knowledge is much less important for the employment than relationships with powerful figures, personal links and party affiliations. Even luck is assessed as more important than education for employment. This calls for undertaking of urgent and substantial actions in order to improve the situation,' concluded Uljarevic.
'Young people have correct thinking about democracy and European values, but also the affection for strong leadership and authoritarianism, which we can notice in other countries encompassed by survey and which is causing concern. Instead of fighting corruption that they themselves perceive, young people would rather adapt themselves to the rules of the game or leave the state – which is disturbing fact. Therefore, comprehensive efforts are needed to democratize and strengthen youth activism at all levels – civic education in schools, youth programmes through civil society organizations, unions, parties, student organizations. This would also contribute to activating the potential of young people and shaping their value system,' assessed Dr. Max Brändle, Director of the Friedrich Ebert Stiftung Regional Office. He also noted that 'the interests and demands of young people are neglected, while youth unemployment continues to dominate, youth policies are not sufficiently functional, and young people are not even the primary target groups to politic parties during election campaigns.' Dr Brändle concluded that "the institutions and political actors must give much more space to youth in their official agendas. "
Reflecting on the findings of the research and possibilities of responding to them, Nenad Koprivica, Director of the Directorate of Youth at the Ministry of Sport of the Government of Montenegro, accentuated the activities of the Ministry in the field of work with young people. 'I would also emphasize the importance of the new Law on Youth, which was adopted in April, which affirms continuous efforts of the Government to improve the position of youth. The process was inclusive, and everyone interested in it could comment. Also, we opened the first Youth Centre in Podgorica, where over 2000 activities are held annually. Our intention is to have youth clubs and centres in all municipalities in the coming period, and through the new law we have institutionalized youth services. From 2017 we have continuous calls to support youth projects. So, in 2017, we supported 37 projects for young people with 170,000 EUR, and in 2018 we increased this to 86 projects supported with more than half a million euros. We are very actively supporting RYCO, and we are the only country in which the European Youth Card is shared for free and so far, nearly 3,000 of these cards have been distributed.'
'We often hear that young people are future, but I believe that young people cannot have quality future if they are not present', said Andrea Micanovic, Chairman of the Board of the Union of High School Students. She assessed that data point to a lot of space for work in improving activism and volunteering within young people, but also that support for young people is higher as well as they are offered more opportunities than before. She emphasized the importance of direct consultations with young people about their needs: 'The moment when young people realized that the Youth Centre was there for them, and not vice versa, at that moment we could boast that we have annually over 3000 visits of young people and therefore trust is very important.' She also referred on the importance of the media, stating that they are insufficiently covering successful stories of young people, which does not seem to be incentive for the youth. 'It is alarming that leaving Montenegro for youth is the biggest success, and therefore everyone – institutions, political parties, media, NGOs and others should work to achieve positive changes', she said.
'Corruption is recognized not only in education, but also in the entire system of Montenegro. I think that the system has begun to address this issue, and now it is our turn,' assessed Mina Medjedovic, President of the Montenegrin Association for Political Science Students (MAPSS), in her overview of the segment of the findings concerning the presence of corruption in evaluation process in education. Medjedovic emphasized the importance of political culture, as well as apathy and reserves that young people express in relation to politics itself. 'I think that the role of civic education that must be developed at lower levels of education is crucial because faculties are already engaged in vocational education, not in development of political culture. The benefits of volunteering need to be shown to young people, as well as participation in elections, inclusion in political parties or NGOs, because it is also way of education and expression of their positions', she pointed out. She also underlined the importance of media, assessing that it is discouraging how small number of the media are dealing with developments concerning young people, which also affects young people in Montenegro.
Human Rights Programme Coordinator in the CCE, Petar Djukanovic, while presenting the most interesting research findings from the Youth Study Montenegro in 2018/19, stated that 'the study provides material that must be basis of every policy that seeks to improve position and perspective of youth in terms of education, mobility, prevention of brain drain, employment, family transition, equal opportunities and fight against discrimination.'
He said that data indicate that young people are partially satisfied with the quality of education system, and that most of them (62.91%) are completely convinced in existence of corruption cases in education. 'There is a significant connection between cultural capital of families from which young people come, as well as their material position and achieved or enrolled level of education and perception of education and expectations in regard ease of finding work after completing education, as well as aspiration of educational ones – in particular related to the tertiary level of education, faculty. Simply, we have significant inequalities in access to education and achieving educational achievements', Djukanovic said.
The unemployment rate of youth in Montenegro is very high at all ages and educational groups, which makes them a vulnerable social group, especially considering that in the oldest cohort of young people – aged 26 to 29 – 24.75% are unemployed. Djukanovic also stated that fixed-term employment with full or incomplete working time represent dominant forms of employment of young people in all cohorts, and that they also prevail in the structure of the most educated young people. 'There is a trend of de-professionalization of work. Young people in high percentage do not work in the profession they are educated, or work in jobs that require a lower level of qualifications than those they have acquired through formal education', said Djukanovic.
The largest percentage of young people (67.6%) that work in private sector, although their preferences are mostly for employment in state service, which is sort of the relic of the previous system and perceived attitude that work in state institutions is the safest option for employment. In opinion of young people, education or work experience abroad is at the bottom of the scale of factors that influence job search, while decisive factors are personal relationships, party affiliation, happiness, etc.
A very strong or moderate desire to emigrate from Montenegro expresses 50.7% of those who are most educated, while 49.3% of them decisively or somewhat more moderately do not want to leave. Motives of emigration desire are mostly of economic nature, but also linked to better educational opportunities.
When it comes to politics, research indicates that young people are somewhat more interested in local and regional politics, but as political developments are moving away from the national level, even already minor interest is diminishing.
'The claim that the voice of young people should be heard louder is not supported by data on how much young people are interested in politics and how much they know about politics, which again raises question: what is necessary to do to raise and strengthen knowledge and competences of young people to take the role of active participants in political and social processes, hence to influence and create these processes in accordance with their needs', Djukanovic noted.
Despite lack of interest and poor knowledge on politics, turnout of young people at elections is relatively good, as in other countries in the region (63.4% stated that they voted at the last parliamentary elections).
Regarding perception of priorities that state would have to deal with – even 89.1% of respondents consider that it is reduction of unemployment.
In the part of young people's trust in institutions, young people have the most trust in church, then army and police, while they have the least trust in political parties, unions, media, Parliament and Government.
Ethnic distances are emphasized – one-third of young people would not socialize with Roma, and there is almost the same number of those who are not open to the idea of ​​socializing with a member of Albanian ethnic group. When asked about marriage with some members of the aforementioned ethnic groups, the distance 'explodes' in relation to Roma – two-thirds of the them consider marriage unacceptable, and similar is with Albanians. One-third of young people are against the idea of ​​marrying Croats, Bosniaks and Macedonians, and every twentieth respondent listed marriage with Serbs, which confirms the findings from some previous research.
In the context of the social trust, an analysis of the (un)justification of certain socially unacceptable behaviour by young people can be included. 'Pulling strings' for employment is never justified by 22.4% of respondents, but 30.1% said that it's always justified, which points to divided opinions. 'Pulling strings' in order to 'accomplish something' at public authorities, hospitals, etc. is never justified by 21.5%, but 31.2% consider that it is always justified.
Furthermore, in the part of free time, going out with friends, spending time with family, party and entertainment on the Internet and social networks are the most likely ways for young people to spend their free time. Activities that engage young people intellectually, creatively or socially are barely presented in their lives.
When it comes to housing, young people in Montenegro are dependent. They mostly live with parents in their parents' home, even in case of the oldest group of young people, and this percentage is extremely high (2/2 young people aged from 26 to 29, i.e. more than 60%). Stable employment increases housing autonomy, but even then, more than half of young people remain in their parents' home.
The study showed that young people do not generally have tendency to use drug, including so-called "soft" drugs, such as marijuana. Regarding attitudes towards alcohol, 22.1% of young people told that alcohol consumption is not acceptable, and slightly more than a quarter consider it acceptable (28.6%).
This presentation and panel gathered large number of interested young people from different structures and was followed by discussion.
Aleksandra Vukovic, member of Democratic Party of Socialists (DPS) from the Committee for Education, Science, Culture and Sports, said that more comprehensive examination of the problem of corruption in education should be carried out, because there are high percentage of students who think that by paying exams or in other similar ways they can achieved some success. 'I believe that people who have completed faculties with high grades, who speak several languages, need to get their place under the sun. We will be get behind in all the European Commission reports if we employ unsuitable, those average who cannot threaten us in any way, which I think was often Montenegrin policy,' she said. She criticized youth activism within political parties: 'I have never heard the young to say 'I have the will to change something in this party, I have the idea to give the idea, I want to make a contribution to this party.' Young people approach parties without some kind of originality, courage or guts to deal with the system itself, to notice errors of that system and make a contribution. And I think that every party in Montenegro, regardless of whether it was founded thirty or three years ago, is looking for new ideas, new energy, new power.'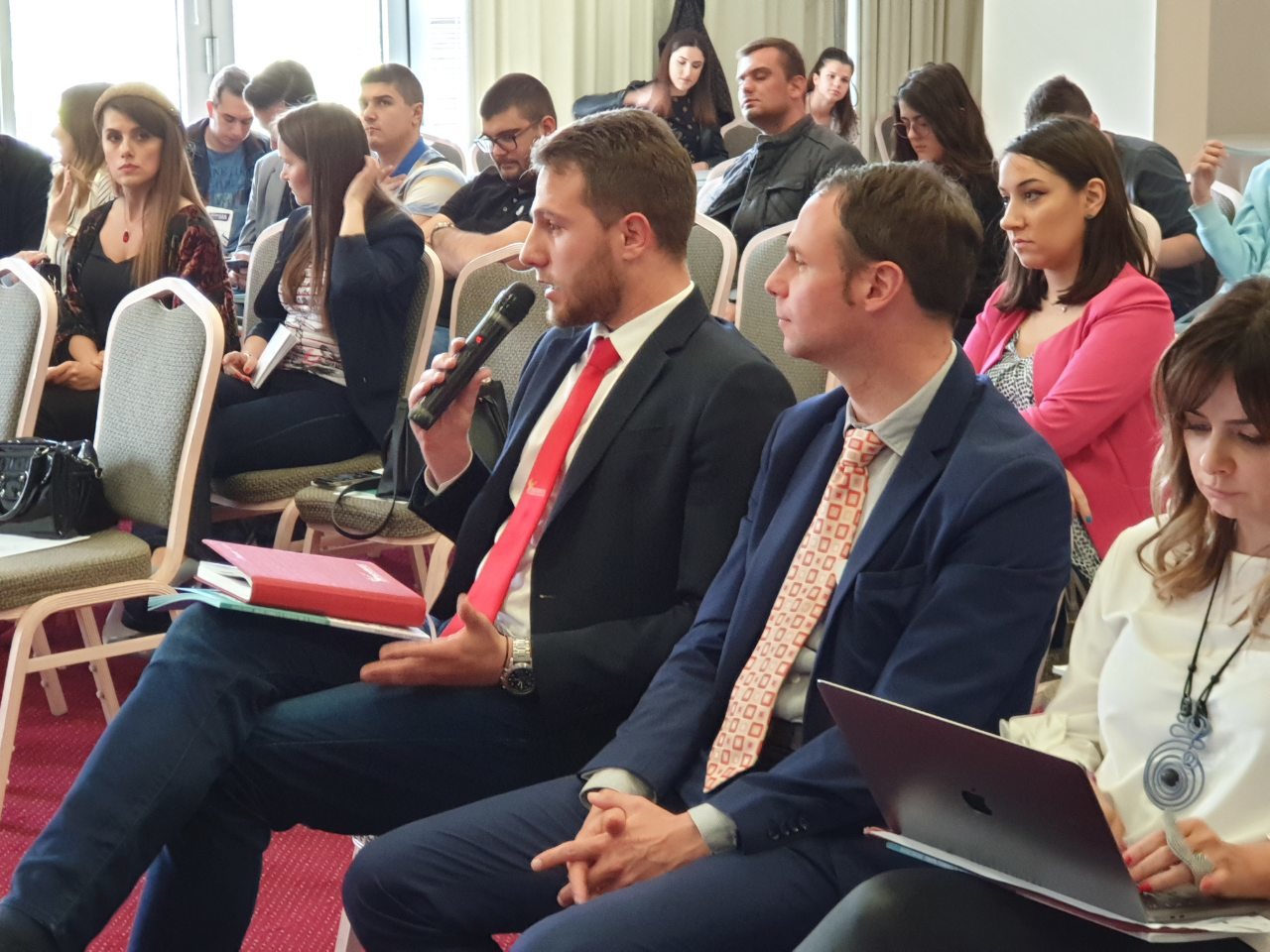 'Young people want to leave not because of knowledge and culture, but because of existential things, and this should be solved as soon as possible, primarily by economic policy, by investing in young entrepreneurs, by developing private sector so that the public sector is not the safest option for employment,' said Vuk Vujisic from the Student Initiative. 'The new Law, which excludes students from the list of unemployed persons, leads to the loss of the right to employment during studies. We have over two thousand students who need independence i.e. employment, which is why we need to look for an alternative (less working hours, flexible working time) to allow students to work during studies, thus achieving independence from parents, which is especially important for students from the north who needs accommodation and hence are exposed to higher expenses,' he said.
Jevrosima Pejovic, from Employment Agency of Montenegro responded to Vujisic's claims by clarifying certain provisions of the Law on Employment.
Lazar Vulević, from the student radio 'Krs', considers that young people should not be narrowed down through political parties, but rather that they should expand horizons through non-governmental organizations, informal organizations, stating that 'currently active parties are those captured with people from the past, who cannot convey their ideologies to young people who strive for European values ​​and equal opportunities for all social groups.' His position is that political parties are bad form for youth activism. 'You have people who are not too educated. But when elections come, they take the shirt of a political party, they stand on streets, and in their party, they are completely irrelevant. This is not a real activist. When a young person shows off through his work, then we can put him in the group of right activists,' he said.
The Youth Study Montenegro 2018/19 provides the latest, relevant information and thus contributes to the accumulation of empirical materials on youth in Montenegro. It is part of the wider research project initiated and supported by the FES within the Youth Studies Southeast Europe project in 2018. The project encompassed research agencies, organizations and teams from ten countries – Montenegro, Serbia, Croatia, Slovenia, Bosnia and Herzegovina, Northern Macedonia, Albania, Kosovo, Bulgaria and Romania. Field research was conducted by the CeSID and in Montenegro it was conducted on a random, stratified, representative sample of 711 subjects aged between 14 and 29, using direct questionnaire method between 10 February 2018 and 6 March 2018 in 15 Montenegrin municipalities (Bar, Berane, Bijelo Polje, Cetinje, Danilovgrad, Herceg Novi, Kotor, Mojkovac, Niksic, Pljevlja, Podgorica, Rozaje, Tivat, Ulcinj and Zabljak).
Maja Marinovic, Project Assistant