The lack of information about others and the intolerance towards others lead to prejudice and radical attitudes that are an obstacle for unification within our diversities, as it was concluded at the third public debate "Dialogue in the community – prevention of radicalization and violent extremism" organized today by the Centre for Civic Education (CCE) in Gymnasium '25 May' in Tuzi.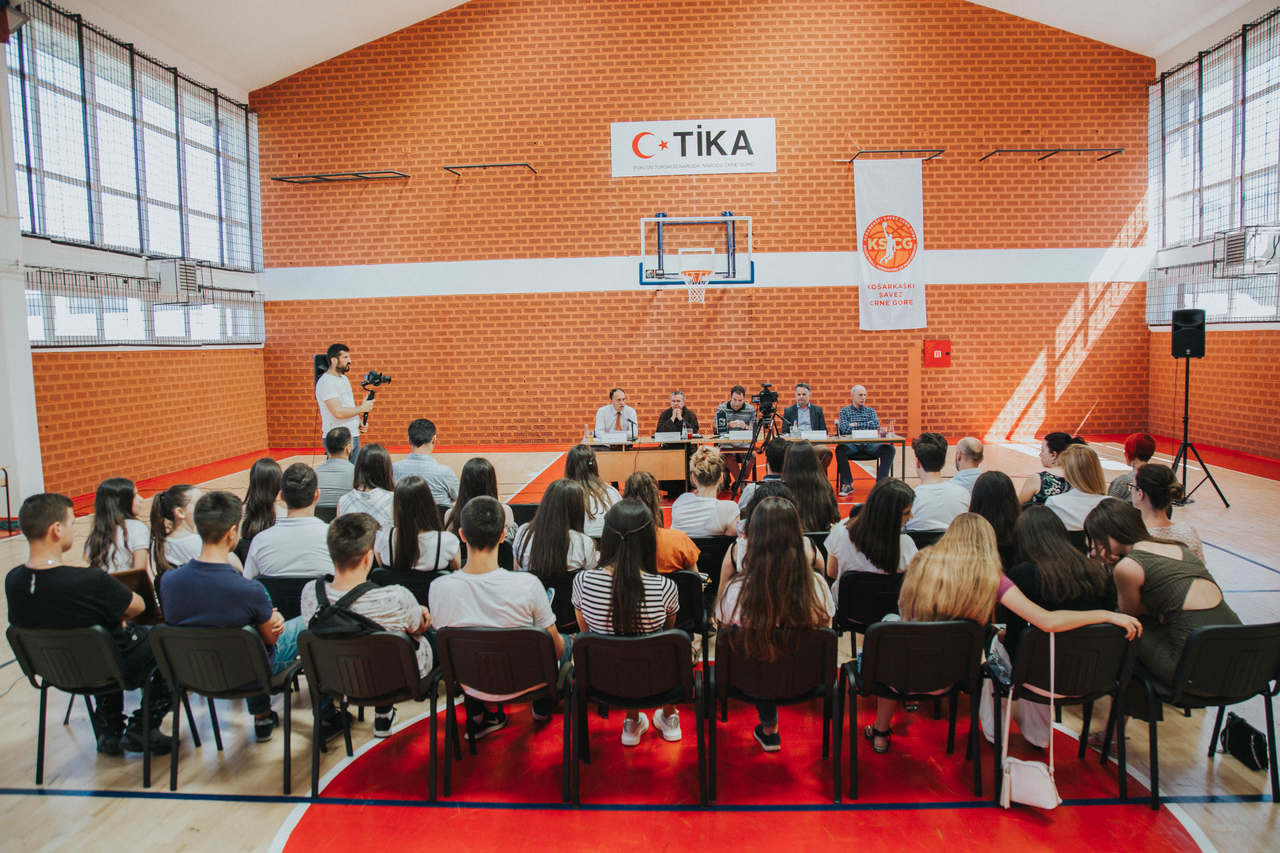 Frano Dushaj, Rector of the Catholic spiritual centre Sanctae Crusis, emphasized the importance of compliance of spirit and body, as well as harmonious relations between religions. "I often say that Catholics, Muslims and Orthodox people live together, and that is fantastic. But I can not congratulate Bajram, Christmas or Easter, and to go to eat and drink only, unless I pray together with them", he said. "I would love us to love together, both in church and in mosque, and then there will be no problems with the dialogue … The horizontal dialogue is not sufficient, if there is no dialogue in vertical sense, i.e. with the God", explained Dushaj. He assessed that it is necessary for people to return to religion, especially young people. "I would like the Government to deal more with restoring God to society, schools, hospitals, police, and every institution because the God is missing. Only then we can dream of a better society, a society that believes and respects others and in which every individual should strive to be better and be a good example to others", Dushaj concluded.
Omer Kajoshaj, Deputy Reis of the Islamic Community, believes that "dialogue in function of preventing radicalism should not be just a wish or programme of segments of the Government, but a commitment of society as a whole." He said that "it is preached in the Qur'an that the God loves us and he wants us well, which is an indisputable conclusion that the faith is not the cause of radicalism, nor ever has that intent." Kajoshaj noted that the tolerance, as one of the virtues that colours stable society, means that we have no right to impose on others our own beliefs. "In order to be tolerant towards religious diversities, we need religious literacy which is in our society at a very low level. Our society is largely religiously illiterate, it does not know neither its own nor the others' faith. In order to get to know others, we must know ourselves. When there is no knowledge of religious diversity, there is abuse in the name of faith. Then faith is used to get political votes, to kill people, discriminate, gain material or some other profit, gain status of the leaders, and so on", said Kajoshaj.
Balša Brković, writer, has emphasized the importance of these debates with young people, because their "greatest interest is to live in a decent society, and the concept of a decent society implies something that demystifies and stops all negative processes that we know as forms of radicalism and extremism," he said. Brković reminded that young people today live in time when media are chasing attractions, when nobody is interested in whether the information is true, but rather whether it is an attraction, which totally degrades human knowledge. By giving the example of the view that the earth is a flat panel that was broken two thousand years ago and that we still have a movement that defends this theory in spite of the evidences, he pointed out that the great problem nowadays is ignorance and forms that make this ignorance even more widespread. He illuminated radicalism itself through nationalism "in which nationalists obsessively hate the present, and glorify the past. All radicals, extremes of any type, act as people who are by mistake in the present, live for the future, inspired by the past and come as a dangerous nexus between these two mystifications", stated Brkovic. He also pointed out that "the religion has no negative intent in the spread of radicalism, but when there is an outburst, abuse of religion, the culprits are not the content of religious books, but again ignorance, i.e, people are guilty."
Fikret Lulunaj, from the Ministry for Human and Minority Rights, thinks that "only by mutual action, respect and understanding, we can achieve harmony in a society in which diversity is a heritage that needs to be nourished and guarded." He emphasized the importance of protecting human and religious rights, promoting minority groups and preserving cultural identity. "The preservation of religious tolerance in our area is one of the basic segments of state integrity and the basis of every democratic society. A multicultural society in which different people live with each other and intercultural as a society in which people enrich themselves and others through the exchange of flows of different cultures also encompasses the religious diversity that is protected by the legal principles of the EU in order to suppress all forms of discrimination and non-respect for minority rights and freedoms. The education is especially important in this process. Facing these barriers requires recognition and implementation of multiculturalism, interculturalism, respect for language, culture, religion, religious affiliation, history and other features of Montenegrin society", he concluded.
Miloš Vukanović, historian and CCE associate, also pointed to the harmful consequences of ignorance. "Everything is channeled through the ignorance, ignorance is like a catalyst for extreme action. Ignorance is also one of the threats to the stability of multicultural societies", he assesed.
The public debate gathered about 60 participants. The upcoming public debates are planned for Plav, Rožaje and Bijelo Polje. These lectures are organized within the framework of the two projects – Safe Net and Education for Multiculturalism and Interculturalism, supported by the US Embassy through the Fund for Active Citizenship (fAKT) and the Ministry for Human and Minority Rights of the Government of Montenegro.
Maja Marinović, Project assistant