After first seven years of Montenegrin negotiations, a serious shift in accession negotiations is needed due to the fact that Montenegro is far from frontrunner, assessed the Executive Director of the Centre for Civic Education (CCE), Daliborka Uljarevic, at the conference 'Seven years of Montenegrin negotiations with the EU', organized by the CCE with the support of the Ministry of Public Administration and the German Friedrich Ebert Stiftung, in cooperation with the Office for European Integration of the Government of Montenegro.
'Accession negotiations are our chance to become well-ordered society, to establish missing responsibility and to create a country in which individuals cannot be above institutions. And the assessment of fulfilment of the undertaken obligations is nothing but an assessment of our credibility. The latest EC Report points to the shaken Montenegrin credibility within the negotiation process,' Uljarevic assessed and added that the progress in 28 negotiating chapters is limited, and that the number of chapters in which Montenegro had made good progress has also decreased.
'Although many times announced by the authorities, we did not receive final benchmarks for Chapters 23 and 24, for the simple reason that the previously undertaken homework have not been done. The average mark based on 33 chapters is the minimal progress, or 3.09, and the comparative findings of colleagues from the Institute Alternative, who measure this for years, indicate that this figure is the lowest since 2015. In summary, Montenegro is far from frontrunner in this process,' Uljarevic underlined.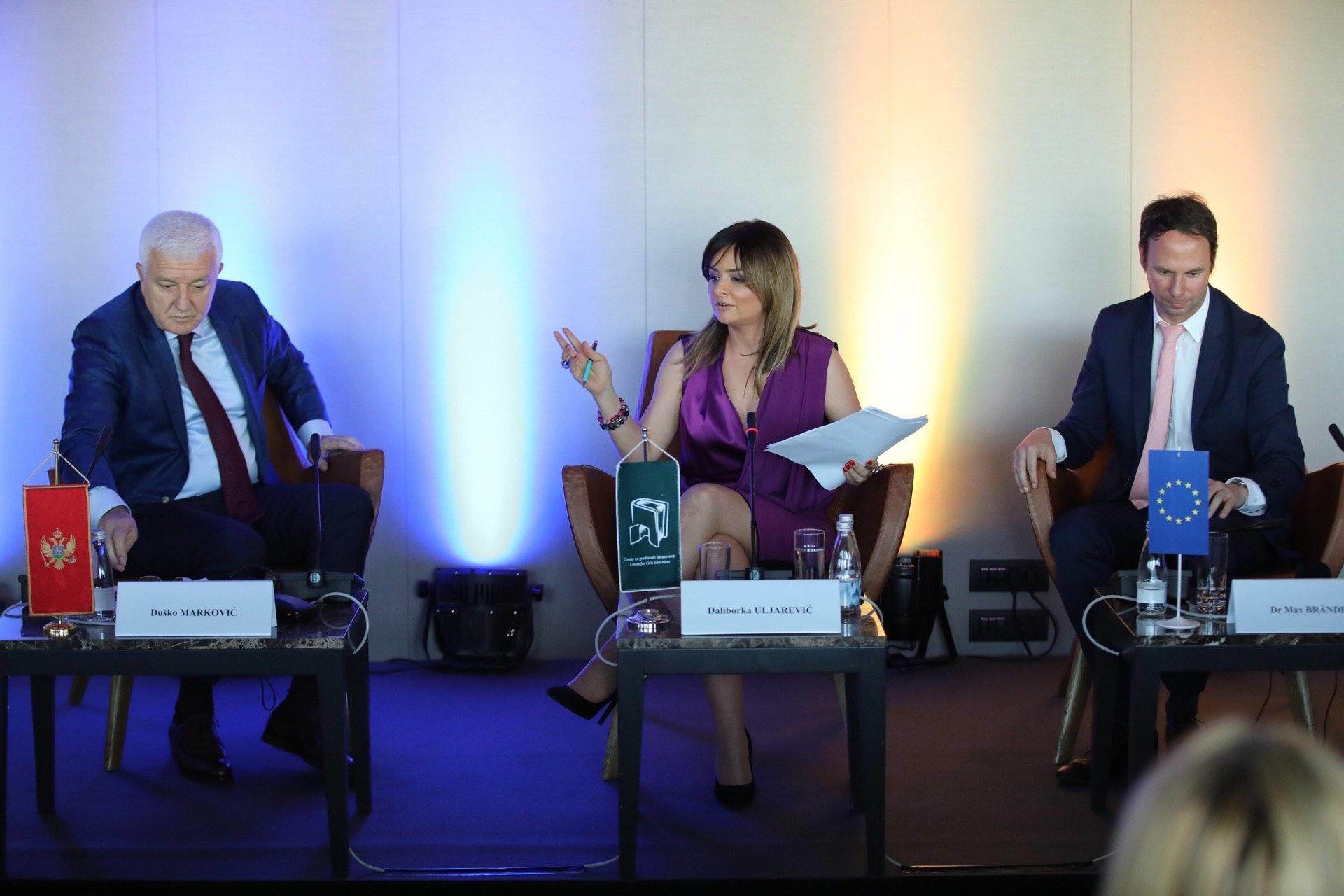 She claimed that executive power as the main actor of the negotiation process has the greatest responsibility for this, and because it has placed that process behind party and particular interests, but also emphasized the responsibility of legislative and judicial power.
'There is a lot of difference between us and that is good. However, the ability to find connective tissue and to overcome our differences at least concerning some key issues, will be one of the most important benchmarks in democratization and Europeanization of Montenegrin society. And this is not Brussels but a Montenegrin benchmark that we should determine for ourselves and on which we should work consistently,' Uljarevic said.
According to her, the process of European integration should not be a process of unmet expectations, neither serve to hide the lack of commitment to reforms, nor it cannot be based solely on negotiations with Brussels.
'The most important negotiations are taking place here, in Montenegro' she stated.
Uljarevic also reflected upon attitude towards dissidents: 'Nothing good was brought to as with PINK glasses through which a parallel reality was tried to be produced, nor with dirty campaigns conducted against those who criticized bad decisions of the authorities. Nowadays, the NGO sector generates higher level of public trust than those who were behind these attacks.'
'Also, times when points scored by simulation of reforms are behind us. We have laws and strategies, we have institutions, old and some new ones. We do not have but should have track record, whether it is related to final verdict in the area of ​​high corruption and organized crime that are efficiently implemented, an independent public service i.e. Radio Television of Montenegro (RTCG) that places the public interest in front of the interests of the ruling party, non-selective approach of the Agency for Prevention of Corruption (APC) to all cases, … etc.,' elaborated Uljarevic.
Hence, she considers that a serious shift is needed, realistic reflection on the situation, reorganization of the negotiating structure and modus operandi, which should be accompanied by political support to the technical part of the process and release of the institutions in order to work professionally and independently. Uljarevic emphasized that it is important to demonstrate that new approach until the new formation of the Commission.
She said that civil society can and must be a partner but that the Government must respect the autonomy of its action.
In the end, she reflected upon the need to establish dialogue, concluding that 'without a functioning internal dialogue there is no progress in meeting political criteria for EU accession.'
The Prime Minister of Montenegro, Dusko Markovic, underlined that the most important political priorities of Montenegro are compatible with the goals of the enlargement process.
'Regional cooperation, reaching European standards and promoting democratic values, and the rule of law together with economic development are within its core. It is what drives us and what we consider as the highest value for Montenegro, the Western Balkan region but also for the EU,' Markovic claimed.
Montenegro, as he stated, progressed confidently towards membership in the EU.
'In addition to continuous progress in legislative functions and institutional building area, the European Commission notes the initial balance of results achieved in the fight against high-level corruption and in certain areas of organized crime, such as money laundering, financial investigations, temporary seizure of assets acquired through criminal activity,' Markovic stated.
"A special Montenegro's feature is that in this period we have carried out a parallel NATO integration process and two years ago we became the 29th NATO member. Today, Montenegro's accession to the EU is supported by two – third of citizens, according to the latest research", stated Markovic.
He reminded that Montenegro opened 32 out of 33 negotiation chapters.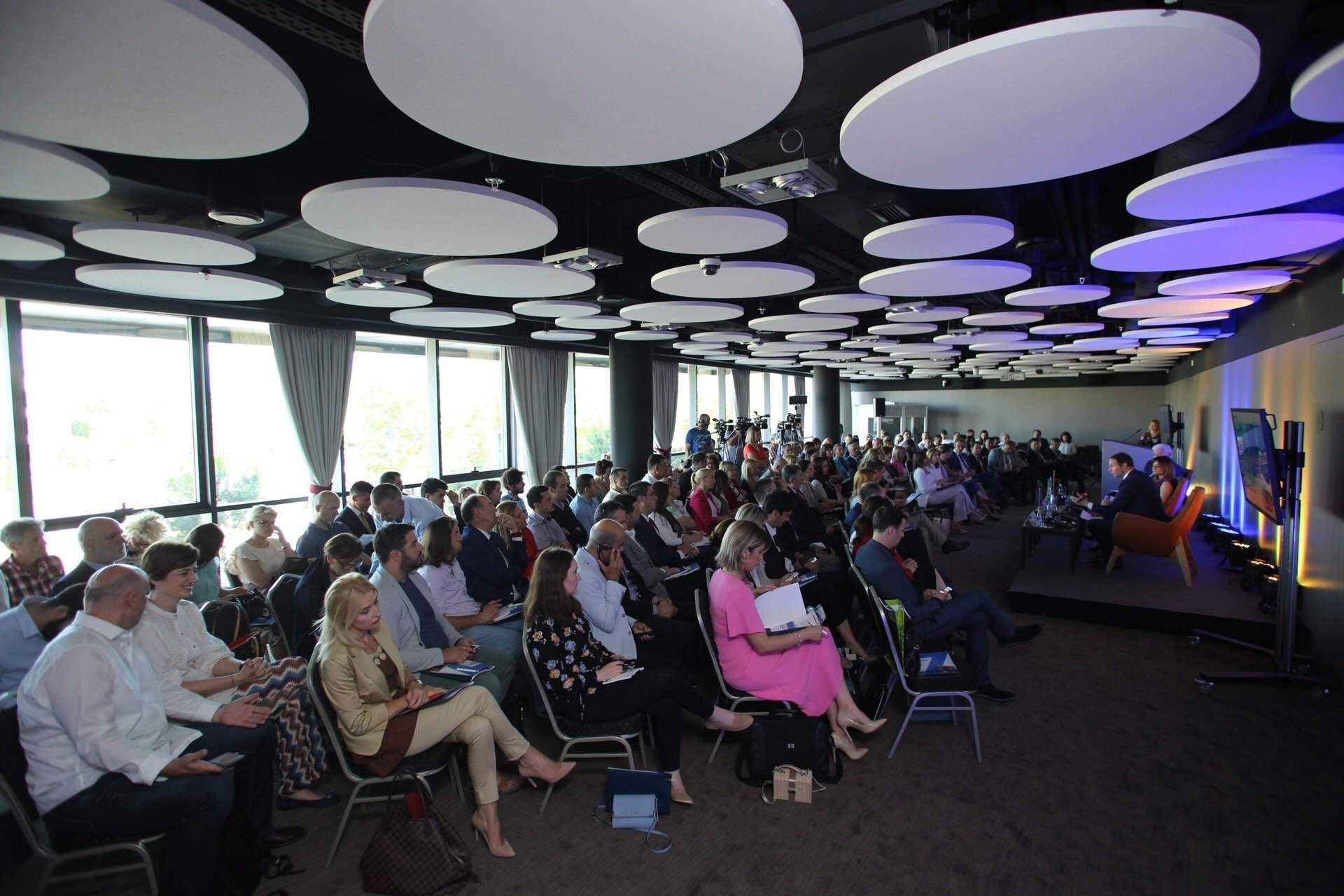 "In addition to the continuous progress in the legislative field and in the area of institution building, the European Commission notes the initial balance of the results achieved in the fight against high-level corruption and in the certain areas of organised crime, such as money laundering, financial investigations, temporary seizure of the property acquired through criminal activity," Markovic pointed out.
He stated that unemployment rate has been lowered from 20% in 2012 to 15.3%.
'We are aware that citizens' life quality is an indicator of the good direction of a society and in that regard, I am particularly pleased that the effects of reforms are more visible in practice and reflect on the everyday life of citizens,' Markovic said.
He pointed that new opportunities for young people have been opened in the European integration process.
'Since 2012, about 800 students and teachers from Montenegro have attended one of the universities in EU countries, while 300 students and teachers from the EU have been residing in Montenegro within the ERASMUS + program,' noted Markovic.
He stated that Montenegro has achieved a national target of 33% of renewable energy sources in total final consumption.
Markovic emphasized that many analyses indicate that over the past 10 years, the European Union has invested over eight billion euros in the region.
He said that Montenegro will continue to work on fulfilling the remaining commitments, particularly in the field of rule of law 'with a focus on areas in which the European Commission has indicated to us that additional efforts are needed.'
Markovic also announced 'the innovation of the negotiation model in order to strengthen our activities, to specify the obligations, but also the responsibility for the quality of the process and the lack of progress. We will soon inform the public and all stakeholders in the process.'
'Cooperation with the civil sector and NGOs is an important part of the process. Since the beginning of the negotiation process, we have been open to their contribution and it has been very important in these seven years. Lately, the Government and, even I, have suffered constant criticism that we have abated our desire for such cooperation. We will put this issue on the agenda by organizing meetings with all NGOs that take part in working groups and other relevant NGOs to restore confidence and synergy in this key process for us,' told Markovic.
He stated that the Government is ready to admit the mistake if it makes one and indisputably, as he added, it is ready and open for cooperation.
Director of the Friedrich Ebert Stiftung Regional Office in Belgrade, Max Brändle, pointed that they are all gathered together for one goal, which is a joint development of Europe.
'We dependent on each other, whether we are EU member stated, or that we are not yet. We depend on each other for the security reasons also. Economic, tourism, every other way is connecting us through facing together numerous challenges in Europe,' Brändle said.
Speaking about Montenegro, he said that it is a part of the overall European development.
'Montenegro is a part of Europe and as such it belongs to the EU. The way in which EU accession process is organized represents the path to combat many challenges. I am sure that this conference, which we organize, will serve to recall many aspects of that path and the challenges that we face together,' Brändle said.
Head of the EU Delegation to Montenegro, Aivo Orav, assessed that this year's Report on Montenegro was very clear.
'All the candidate countries, which get reports, interpret these reports in different ways. But I do not think that it is the most important. What is important is that the language of that report is very clear and that for each chapter there are highlighted issues that need to be addressed,' stated Orav.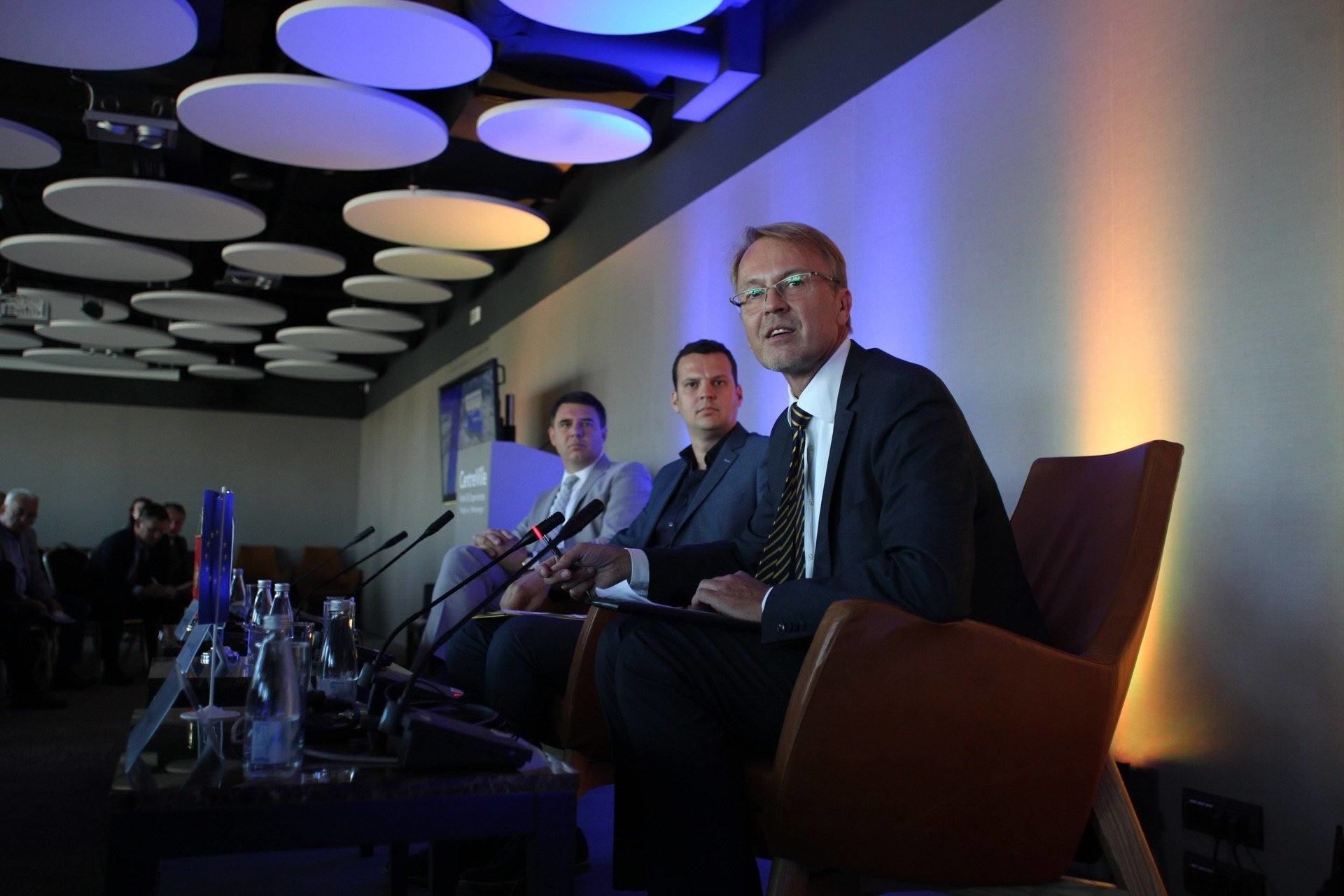 He said that we are moving towards shorter Report for the next year and smaller number of issues that need to be addressed.
'We do not want to criticize just because of the critic, we do that because we want to help. And this is our help in the negotiations with the candidate countries. Chapters 23 and 24 are highlighted, so we hope that Montenegro will make greater progress in these areas,' Orav emphasized.
He said that the elections will be held in October next year and that, as he added, something should be done to rebuild trust, but that this is the issue that needs to be addressed by Montenegro, not by EU.
'If someone wants an interim government, let him do it, but we shall not say what we consider, what Government an independent state should have. We have ODIHR's report, assessing that the elections were credible, and that is the only international institution that assesses election observation in the region,' Orav said.
Orav stated that all candidate countries should work on their tasks now. 'Montenegro should particularly work on interim benchmarks for chapters 23 and 24, in order to Commissioner Hahn and High Representative Mogherini could give positive reports to their successors,' concluded Orav.
Chief Negotiator for Montenegro's Accession to the EU, Aleksandar Drljevic, said that the success from the beginning of the negotiations is best illustrated by the fact which are unambiguous.
'We opened 32 negotiating chapters, out of which three have been temporarily closed and we expect to open the last negotiating chapter – Chapter 8. What has been rejoicing us for seven years, since the beginning of the most complex process in the history of Montenegro is that the European idea in Montenegro is very alive,' Drljevic said.
He pointed out that in many fields good results were achieved and significant changes were recorded.
'Focus of our attention are areas related to the rule of law. Should we be absolutely satisfied? Absolutely no. I think we could be better and that what we have done should be an additional incentive to continue to carry out our domestic tasks and reform activities more intensively. I think that seven years of negotiations demonstrates that the established system already produces certain results in practice,' assessed Drljevic.
In the coming period, he believes that the institutions need to be further strengthened, but also to be committed to the implementation of plans and activities as a society, to produce track record and to intensify the promotion of European values and standards, as well as the promotion of positive examples.
PR press service