Centre for Civic Education (CCE) on the occasion of International Day of Democracy, marked on 15 September, points to concerning trend of crisis of representative democracy, which is confirmed by the fact that almost three-fifths of citizens do not trust political parties, and amongst key institutions the least trusted is Parliament of Montenegro.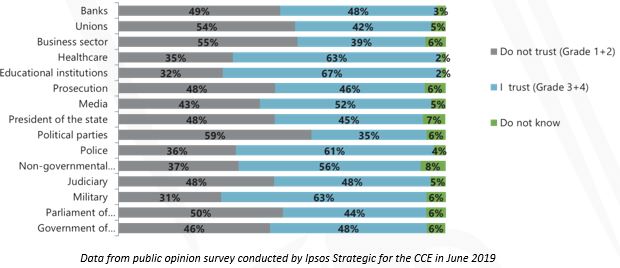 Citizens obviously recognize that democratic mechanisms and institutions are less and less in the service of affirmation of democratic values. This requires change of the approach of institutions and political parties in order to restore original values ​​and put the public interest ahead of individual and particular interests.
In the countries of Europe, democracy institutions are under pressure, and this is the reason why civic movements work on building and expanding the scope of what citizens can and should expect from democracy, says Freedom House in its 2019 report, emphasizing that democracy still remains just a promise. Freedom House also listed Montenegro amongst the countries with antidemocratic leaders in Central Europe and the Balkans, assessing: 'In the Balkans, President Aleksandar Vucic from Serbia and President Milo Djukanovic from Montenegro continued to consolidate state power around themselves and their cliques, subverting basic standards of good governance and exceeding their assigned constitutional roles.'
The European Commission's 2019 Report also has given Montenegro an average mark of limited progress for 33 negotiating chapters, which means that Montenegro does not produced expected track record it has committed to through the EU accession process.
This year, the United Nations reminded countries around the world that democracy is about citizens and that as two-way street, it is built on continuous dialogue between civil society and political structure, emphasizing that this dialogue must have real influence on political decisions. In Montenegro, this is also in decline since civil society participation often reduces to a mere check mark and long-lasting smear campaigns conducted against critically oriented NGOs and their leaders, which further hinder the establishment of substantive and constructive communication on issues of public concern. It seems as though it is forgotten that the citizens are the ones who give legitimacy to the government, and in turn should receive protection and effective implementation and respect for human rights. That is why restoring democracy to be in service of citizens is more than justified demand.
The International Day of Democracy was declared by the UN on 15 September 2007, with invitation to governments of all countries to strengthen national programmes devoted to the promotion and consolidation of democracy, and it has been marked since 2008.
 Zeljka Cetkovic, Programme Associate