Centre for Civic Education (CCE) organised, from 26 September to 8 October 2019, film screenings in eight Montenegrin primary schools within the project FAST FORWARD Travelling Film Factory. In this manner, young people, aged 13 to 15, were better acquainted with complex and sensitive human rights theme, and film industry and socially engaged film were promoted.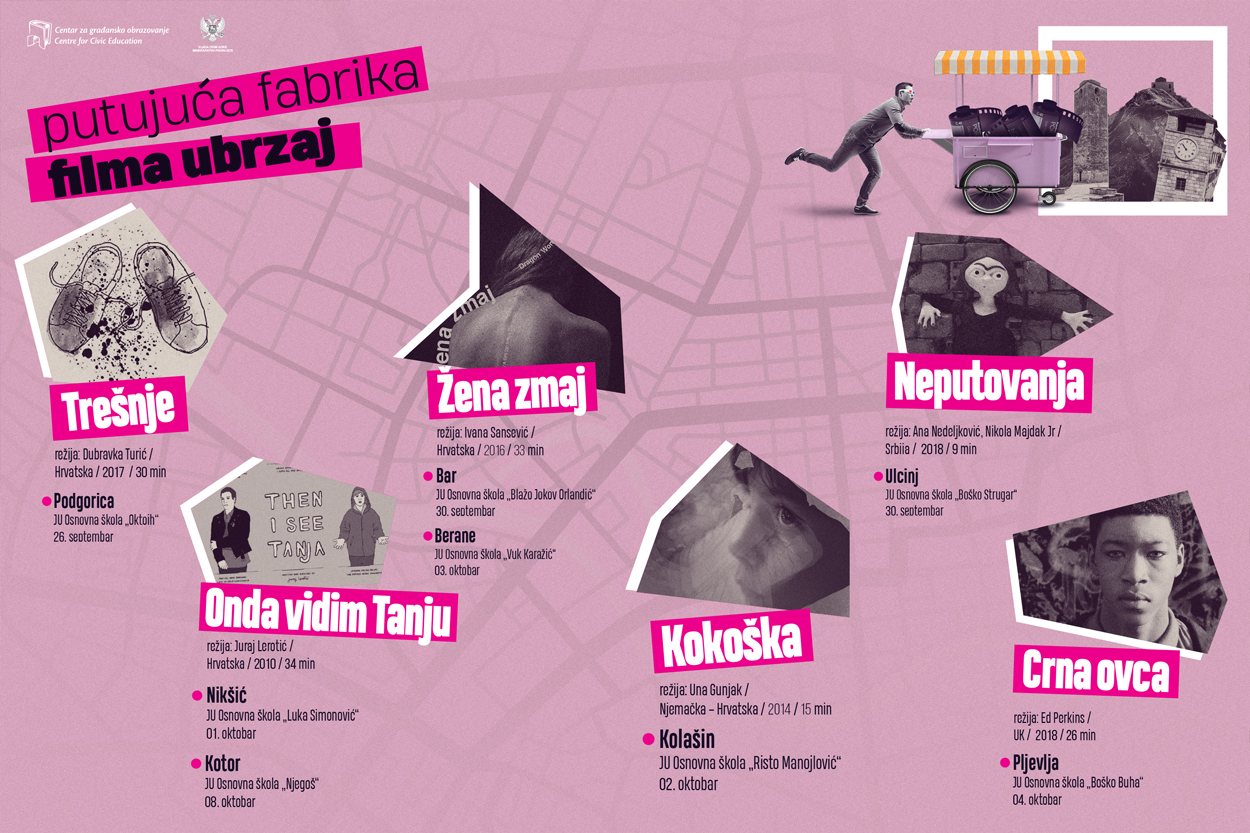 FAST FORWARD Travelling Film factory has presented six documentary, feature and animated films of recent production in eight Montenegrin municipalities : "Cherries", "Dragon woman", "Then I See Tanja", "The Chicken", "Untravel" and "Black Sheep". Screenings and accompanying discussions with elementary school pupils were held in eight primary schools: ''Oktoih" Podgorica, ''Blazo Jokov Orlandic" Bar, ''Bosko Strugar" Ulcinj, ''Luka Simonovic" Niksic, ''Risto Manojlovic" Kolasin, ''Vuk Karadzic" Berane, ''Bosko Buha"  Pljevlja and  ''Njegos" Kotor. Almost 200 elementary school pupils had the opportunity to learn about human rights through film perspective, interaction with peers and moderators from the CCE.
Nowadays, young people are exposed to numerous inappropriate audio-visual content that affect their attitudes, and through screenings of quality films that strongly promote human rights culture, we tried to develop amongst primary school pupils' understanding of the modern concept of human rights, critical awareness, as well as desire to stand up for themselves in defence of their rights. The pupils had very good reaction to all screenings, and a five-day film workshop will be organized for certain number of them.
FAST FORWARD Travelling Film Factory grew out of the FAST FORWARD Human Rights Film Festival, whose tenth jubilee edition will be organized in December this year by the CCE. FAST FORWARD Travelling Film Factory is a part of the same titled project which aims to develop awareness, necessity and capability to preserve and promote human rights, rule of law, natural and social environment, multiethnicity and diversity. The project is supported by the Ministry of Education of the Government of Montenegro.
Vasilije Radulovic, Project Assistant