Podgorica, PR Press Service – An important role in the educational process has development of creativity, and within the FAST FORWARD Travelling Film factory project more than 240 elementary pupils had the opportunity to learn about human rights through the film perspective and interaction with their peers.
This was stated at the conference 'Engaged art as a tool for human rights education', organized by the Centre for Civic Education (CCE), with the support of the Ministry of Education.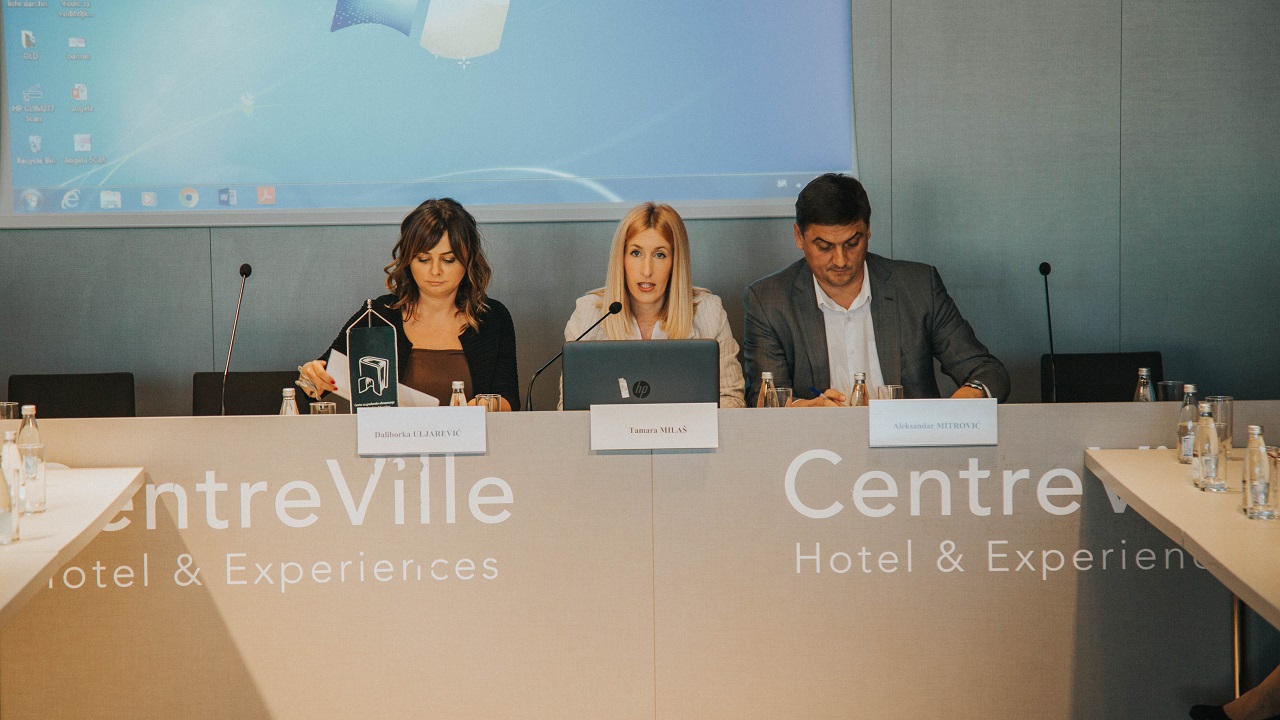 CCE Executive Director, Daliborka Uljarevic, stated that the leading idea of ​​the project FORWARD Travelling Film factory was to strengthen the good practices established trough earlier editions of the FAST FORWARD Human Rights Film Festival and make closer modern concept of human rights to young people aged 13 to 15.
She also said that the project was directed to 'popularization of film industry and socially engaged film amongst the youngest audience.'
'The school should also keep pace with contemporary developments, and part of that development includes the growing focus of young people on audio-visual content. Therefore, it is important that we all try to contribute to the creation of atmosphere for development of critical position towards that content,' underlined Uljarevic.
Human Rights Programme Coordinator at the CCE, Tamara Milas, said that the FAST FORWARD Travelling Film factory, from 26 September to 8 October this year, visited eight Montenegrin municipalities, in which six documentaries, feature and animated films of recent film production were screened and over 200 elementary pupils discussed about them. She also stated that during the first half of October two five-day long cycles of workshops on filmmaking and media in the field of human rights were organised and that 40 pupils from the Capital City successfully completed programme.
State secretary of the Ministry of Education, Aleksandar Mitrovic, emphasized that the Montenegrin education system is constantly changing and improving.
'Within the educational process, human rights are taught through subjects Civic Education, Healthy Lifestyles, crosscurricular areas such as Health Education, but respect for human rights is also present in the objectives of almost all other subject programmes,' Mitrovic said.
He said that development of creativity amongst young people plays an important role in the education process.
'Precisely one of the objectives of our curriculum is to develop students' generic skills such as problem solving, critical thinking, investigative spirit. The point of good teaching is to be diverse, and film is one of the possible education tools and very well received by pupils, 'Mitrovic stated.
Film director from Belgrade, Nikola Ljuca, at the panel, 'The role of socially engaged art in communicating human rights' said that in developed countries children are involved in all festivals that take place in a city, stating that every major festival must have its film programme for young people.
'These are the first steps that make a connection, because all guests who come there have to participate in conversations with children, to motivate children and young people to talk and think about where we are at the moment and how they see the world around them,' explained Ljuca.
He believes that the level of understanding of communication through film comes from the first educational steps that are being made.
Director and CeO of the Montenegrin Cinematheque, Andro Martinovic, assessed that film and music 'affect us directly.'
'Especially, if you take in the popularity of these arts, their scope and how many people watch films or listen to music, you realize that their power is enormous. They convey certain ideas, encourage us to think and they can change each one individually,' Martinovic said.
He believes that film makes more effect than thousand words.
'Film often replaces what used to be historical source, what you learn from books, testimonials. We have examples which show that when a particular film tells a story that is a historical theme, that film becomes more important than what you learn from historical textbooks. The film shapes this collective memory,' Martinovic said.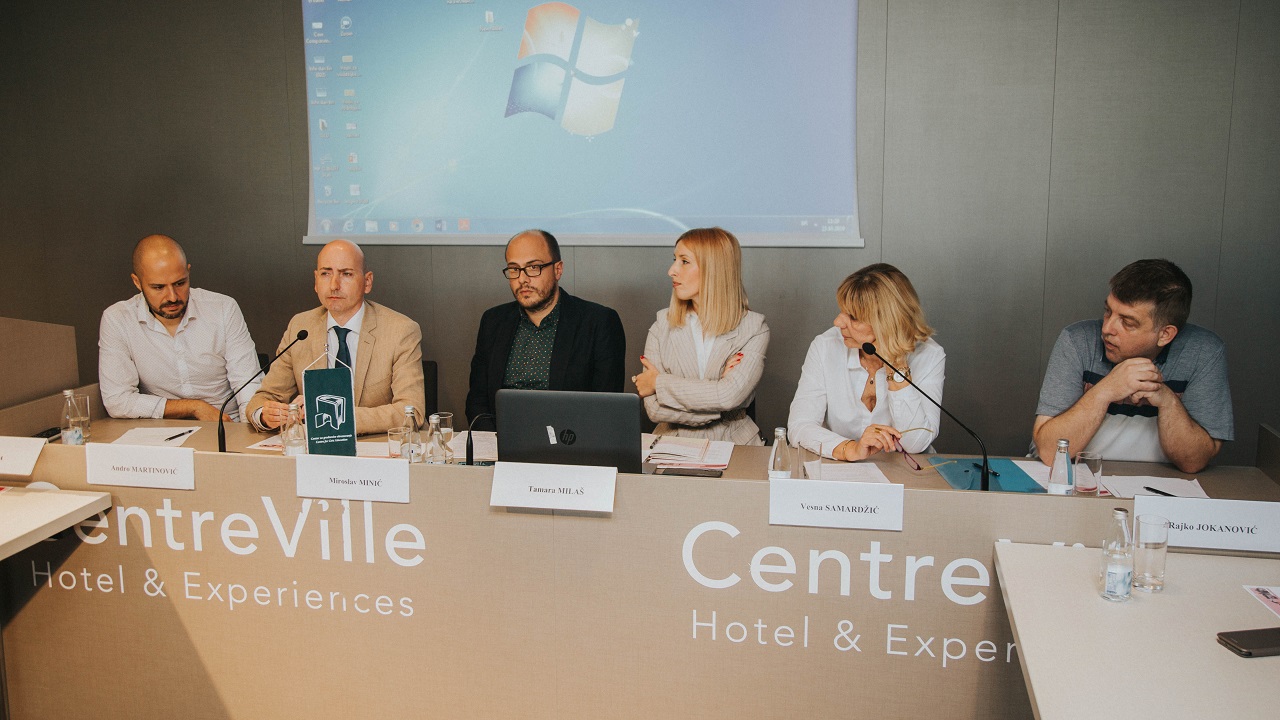 Deputy Director of Elementary School 'Pavle Rovinski', Vesna Samardzic, at the panel 'The influence of extracurricular activities on the creation of value attitudes amongst young people' stated that extracurricular activities must provide pupils the freedom to develop their potential more individually than the regular classes.
'These activities are facultative and more dependent on the pupils' motivation, but they allow the teacher, in collaboration with pupils, to design something different and thus stimulate their curiosity. The benefits of extracurricular activities are numerous, not only for children, but also for teachers, school, parents, community,' Samardzic said.
She explained that extracurricular activities provide better identification of the preferences and interests of child than the educational process itself.
'Extra-curricular activities encourage development of self-confidence and self-esteem, but also social responsibility of children, as well as empathy, respect for diversity, and mutual respect,' said Samardzic.
Professor of Montenegrin language and literature at the Gymnasium 'Petar I Petrovic Njegos' in Danilovgrad, Miroslav Minic, said that the first lesson he teaches first grade is the lesson on art.
'I realized that if we constantly criticize young people, if we keep saying that the present time is not the time that used to be, we will not change anything. One who does not love youth cannot work at school, if s/he prematurely grows old and criticizes young people and thinks that this time is much worse than the one we lived in,' Minic explained.
He recalled the time he was teaching Drama when his pupils told him they had never been to the theatre.
'Then I called the Montenegrin National Theatre and asked if I could get thirty tickets to pay in ten instalments. They said it was not a problem, and that they will donate those tickets because their aim is to have new audience as well. Until nowadays, this cooperation is perfect,' said Minic.
He remembered that the students, after watching the play 'Who's Afraid of Virginia Woolf' had thousand questions for him, and that everything he asked them afterwards they accepted without complaint. 'Every hour after that was great,' Minic added.
History teacher at the Elementary School 'Sutjeska' in Podgorica, Rajko Jokanovic, said that pupils' parliaments, as one of their extracurricular activities, represent mechanim of empowering children and their active participation in all processes of their concern.
'They exist in all primary schools. The role of pupils' parliaments is to familiarize children with the content of the Convention on the Rights of the Child to promote and improve the rights of the child both at school and in the wider community, 'Jokanovic told.
He believes that developing self-confidence is beneficial for children who participate in the work of pupils' parliaments, stating that they have desire to change something.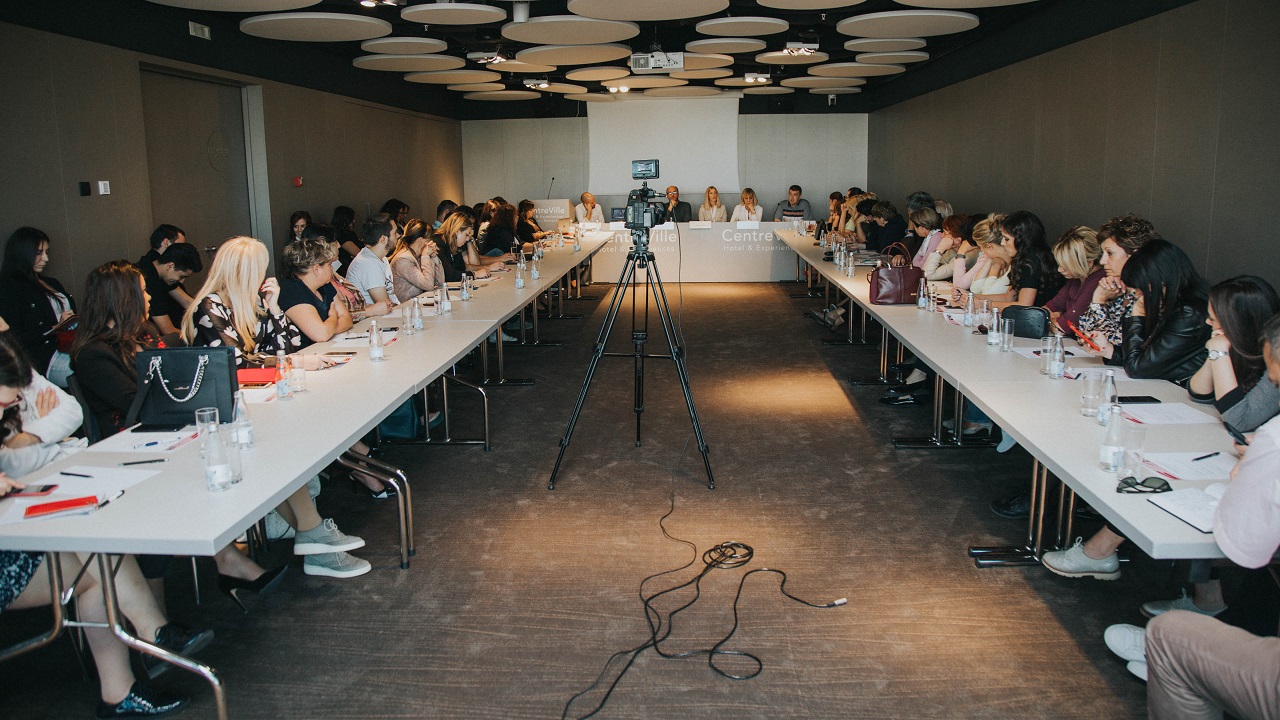 The conference gathered around 50 participants from the fields of education, art, as well as from institutions, civil society, international organizations and media. During the discussion, good practices were shared and there were specific suggestions, such as the establishing an elective subject Drama in primary schools.