By diploma awards to the participants, the Traveling School of Transitional Justice, intensive pilot programme implemented by the Centre for Civic Education (CCE) within the project "Dealing with the Past – Building a Brighter Future", was completed.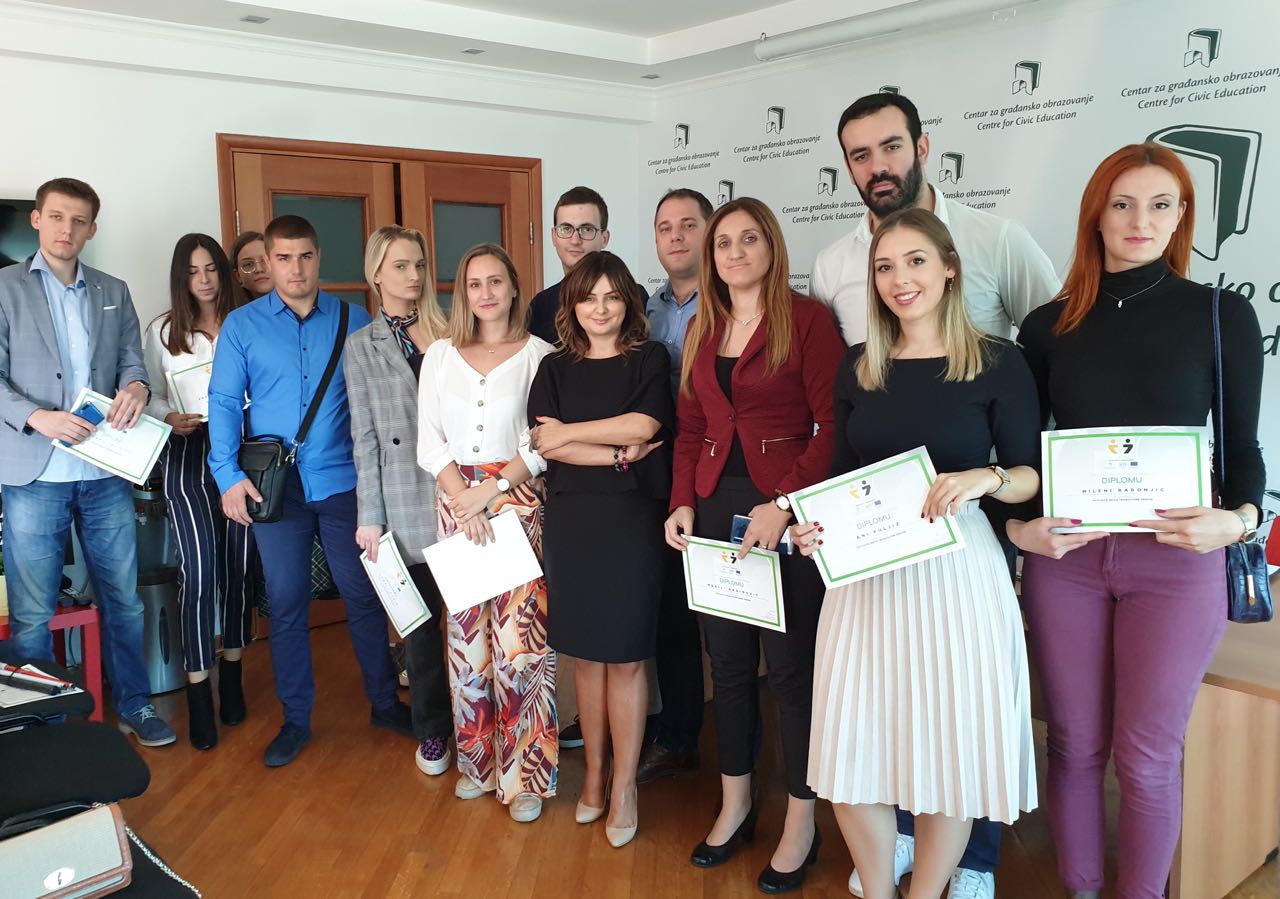 The Traveling School of Transitional Justice brought together students, researchers and young professionals from various fields, who expressed interest and readiness to get acquainted with different aspects of transitional justice through lectures, discussions, film screenings, visits to institutions and visits to war crime places from 90s at the territory of Montenegro. This programme enabled participants to acquire knowledge that is not part of the formal education programme, as well as the opportunity to analyse, through a multiperspective approach, issues of dealing with the past in terms of historical facts, judicial cases, strategic and institutional framework, journalistic investigative work,  local and regional civic initiatives.
Daliborka Uljarević, CCE Executive Director, awarded diplomas to the participants of the Traveling School of Transitional Justice. On that occasion, Uljarević put an accent on the importance of learning about facts from the recent past. "We cannot build a society of functional rule of law without establishing facts from our past and providing justice for victims and their families," stated Uljarević. She expressed hope that the gained knowledge will be basis and inspiration for young professionals to become advocates of initiatives for adequate facing with the past, such as the RECOM Initiative, but also fighters against oblivion.
Significant contribution to the success of the first Traveling Transitional Justice School was provided by historian Miloš Vukanović, Tamara Milaš, spokesperson of the RECOM Initiative in Montenegro and Human Rights Program Coordinator at the CCE, civic activists Sabina Talović from the NGO Bona Fide, Ervina Dabižinović and Ljupka Kovačević from NGO ANIMA, then prosecutor Lidija Vukčević from the Special State Prosecutors' Office and Siniša Bjeković, Deputy Protector of Human Rights in Montenegro.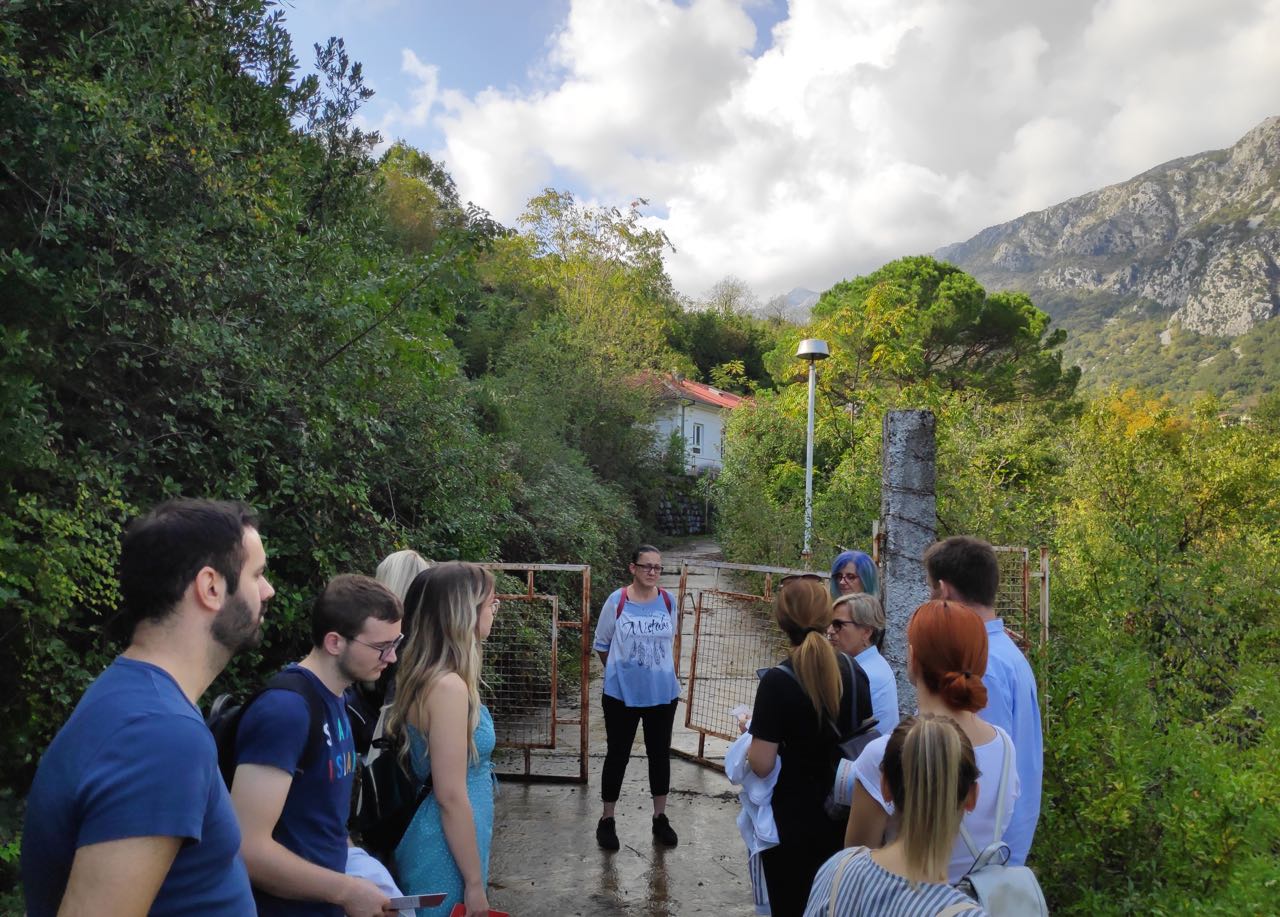 The first generation of the Traveling School of Transitional Justice was successfully completed by 12 participants: Vasilije Radulović, Ivana Vujović, Marija Radinović, Milena Radonjić, Miloš Spaić, Andrea Čvorović, Kristina Roganović, Anđela Purić, Vlado Laličić, Milica Međedović, Damir Suljević and Ana Puljiz.
Vlado Laličić, one of the participants, upon the completion of the programme was full of impressions. "This School helped me learn what was really happening in 1990s and what I could not learn through the formal education process. Visiting the war crime places made strong impression on me and definitely represents the most striking image about this topic. Through discussions with representatives of institutions, I expanded my knowledge about the position of state towards the process of dealing with the past. I hope that this programme will continue because it really contributes to raising awareness of important social processes," said Laličić.
Program participant Marija Radinović believes that confronting country with its wartime past is always difficult and time-consuming process. "War crimes committed at the territory of Montenegro during the wars of the 90s have remained unknown to most citizens or topic they do not want to know about or remember at all. In school and at the faculty, we do not learn about this. Hence, this programme represent great opportunity to learn about ten years of repressed Montenegrin history. Visiting the crime places (Bukovica, Herceg Novi, Morinj, Murino) was especially significant for me, as there I could partly feel and imagine horror that the victims of these crimes went through," Radinovic assessed.
Participants of the Traveling Transitional Justice School agree that this programme should be continued, but also that similar programmes should be introduced into the formal education system.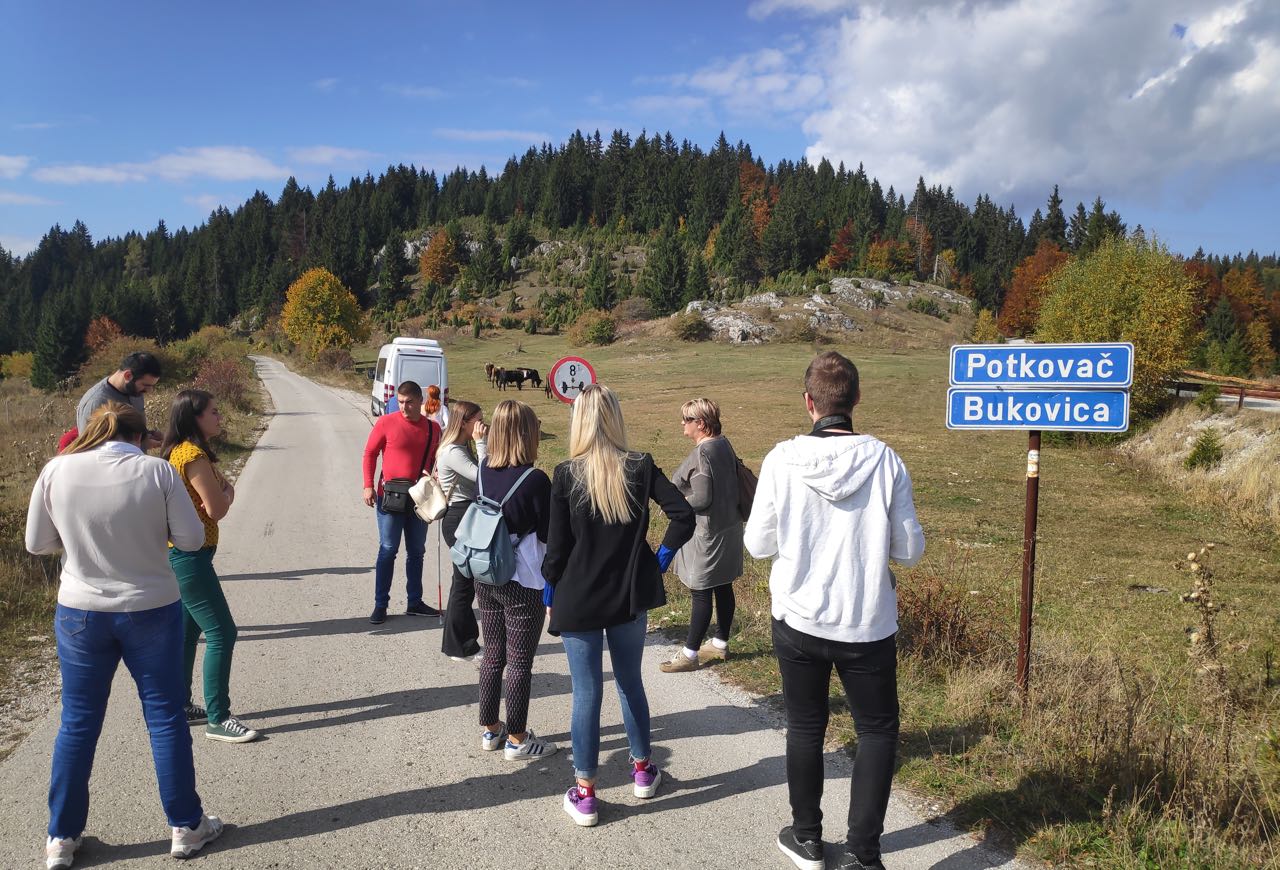 The project "Dealing with the Past – Building a Brighter Future" is supported through European Union funded regional programme "Divided Past – Joint Future".
Maja Marinović, Project Assistant