Centre for Civic Education (CCE), again this year, calls for wider social marking of 9 November – International Day against Fascism, Anti-Semitism and Xenophobia and reminder of tragic events and millions of victims of fascism and Nazism.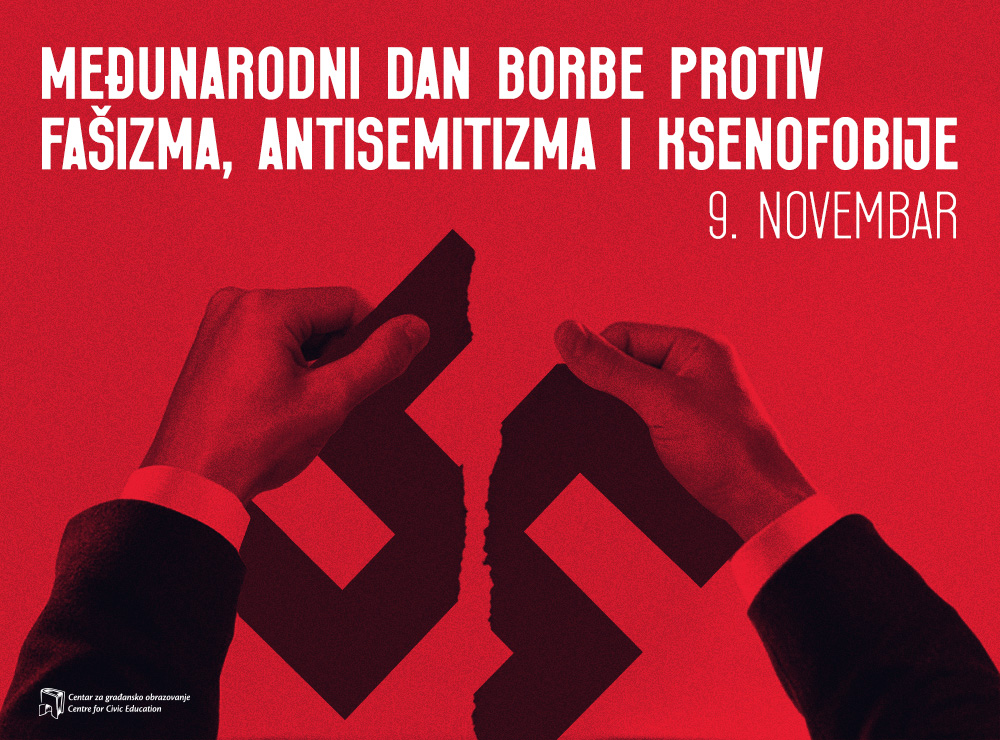 The passage of time, oblivion and increasing social relativization, both of crimes of the Second World War and the recent conflicts in the Balkans, contribute to growing presence of fascism within Montenegrin society. Justifying crimes and forgetting extremist elements that led to the horrors of those times, affect their revival and spreading in our society, which does not yet demonstrate sufficient readiness at all levels to oppose them.
Reminding of the horrors produced by Nazism and fascism, including the Holocaust genocide, should warn us and contribute to the higher level of sensitivity to injustice, violence and violation of human rights that Montenegro still faces.
The elements that characterize fascism and Nazism and which have pushed Europe into chasm of hatred, violence, discrimination, stigmatization and prejudice towards various minority groups (such as LGBT persons, Roma, persons with disabilities and ethnic groups), misogyny, religious (ideological) ) fanaticism, manipulation with detraditionalization of society, rise of hate speech in media, tendency to present critics of authorities as foreign mercenaries and "state enemies", and disciplining them through labelling and smear campaigns, in order to protect the acquired power and privileges of both the authorities and parts of the opposition, represent concerning contemporary form of fascist discourse in Montenegrin society.
Those who in their short-sightedness and interests, even in the Parliament, contribute to this discourse are clearly not aware of the profound consequences that it leaves behind.
Commendably, the anti-fascist values ​​on which contemporary Montenegro is based are frequently highlighted and there has been no anti-Semitism in its history. However, the long-time challenges facing our society reduce its resistance to evils that have pushed us many times into the abyss of inter-ethnic and inter-religious hatred in the twentieth century. Although Montenegro is investing heavily in the restoration and preservation of the anti-fascist heritage, we point to the insufficient preservation of anti-fascism at the local level and inadequate representation in the education system.
By marking 9 November, we pay tribute to all citizens of Montenegro who sacrificed their lives defending the ideals of anti-fascism, but also, we point to threats to the foundations on which our country is based. Namely, threats to tolerance, understanding, respect and multicultural harmony represent a threat to the weaving that binds our country, strengthens its democratization and ensures progress.
International Day against Fascism, Anti-Semitism and Xenophobia is marked all over Europe on 9 November, commemorating the Night of Broken Glass (German "Kristallnacht"), which took place in November 1938 in Nazi Germany, as a part of the systematic persecution of Jews, later called the Holocaust.
 Milos Vukanovic, Programme Advisor