On the occasion of 4 April – Day of Students, the Centre for Civic Education (CCE), calls on Montenegrin students to be more active in obtaining their own student rights and, consequently, better conditions for creating their future in Montenegro.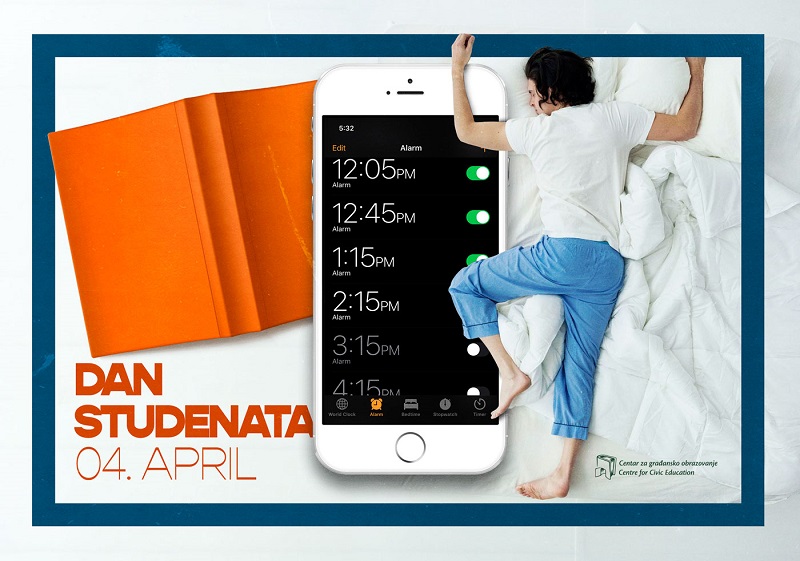 Although numerous, the student population, which today consists app. 25,000 students at Montenegrin universities, remains insufficiently visible and active within Montenegrin society. This is also noticeable when it comes to fundamental student rights, as illustrated in the lack of involvement of students in influencing their universities and professors to make greater efforts in order to ensure continuity of the work of the faculty units and certain level of quality of teaching in the days of learning at home, in the current state of affairs of a coronavirus pandemic. These days, considerable number of students have reported to the CCE that online teaching is not properly organized nor unified within the faculty units.
Additionally, part of the academic staff with dubious references, who cannot be a role model for young people nor create the necessary critical awareness in higher education and science, is still employed at the Montenegrin universities.
The student voice is barely heard when it comes to these issues, although it is of crucial importance for the quality of their studies and the power of the diploma they will receive upon graduation.
According to the CCE's findings for the needs of the 'Youth Study Montenegro 2018/2019', young people are partially satisfied with the quality of education system, and great number (62.91%) of them are fully convinced into existence of corruption in education. In the meantime, the number of young people who want to emigrate from Montenegro is continuously growing, which is worrying, because it seems that young people are giving up on their future in Montenegro without fight.
Despite the rhetorical desire of the Montenegrin authorities to retain young graduates and to return them after their education abroad, there is no developed systematic or strategic approach to this issue, nor is there any student initiative to do more in that direction.
Therefore, the CCE urges student organizations and students to talk publicly, more openly and concretely about the problems they face, as well as to suggest possibilities in which these problems could be overcome, because if the students do not fight for themselves and their future in Montenegro, nobody else will do it for them.
Snezana Kaludjerovic, Senior Legal Advisor