On the occasion of the World Intellectual Property Day, the Centre for Civic Education (CCE) is pointing out that intellectual property with innovations represents one of the development pillars of every society and that Montenegrin society also should devote more attention to it.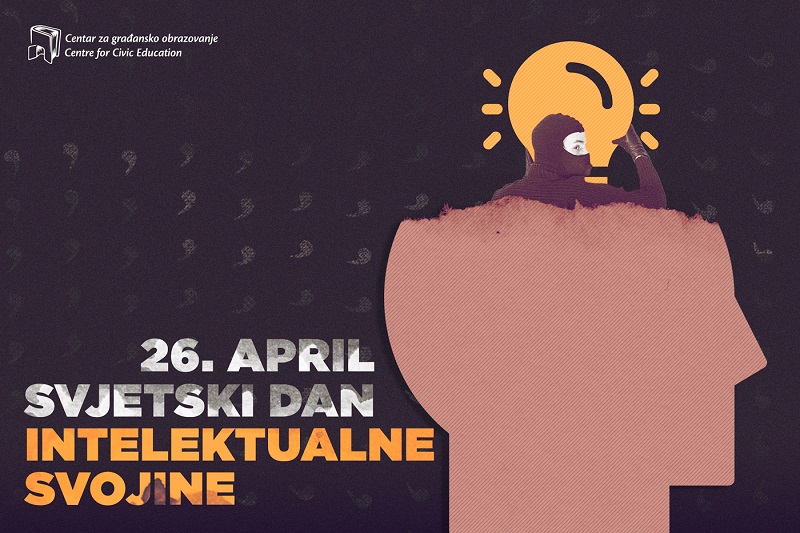 Intellectual property removes limits, it leads to genuine progress, and it helps in solving big problems and puzzles. Nowadays, when the entire world is facing challenges of coronavirus, the scientists are under tremendous pressure to find solution to this problem via vaccine or other forms of therapy. Hence, we have to be continuously aware of priceless contribution of scientists, innovators and researchers who work in dedicated manner and with integrity to make the lives of entire communities healthier, safer and easier.
However, we are also witnessing that sometimes real scientists get overshadowed by plagiarists who seek to earn academic titles by stealing the work of others. This requires a strong response by the academic and scientific community to defend the dignity of their own profession, but also to showcase the real path someone needs to tread through in order to become a scientist or a respectable member of the academic community.
Therefore, it is important to make distinction between those who pursue their own interests with dishonorable actions and true scientists and intellectuals who move the limits of what is possible and, in that way, earn support and respect.
Montenegrin academic community is facing a great challenge. By adoption of the Law on Academic Integrity, legal framework to prosecute plagiarists has been strengthened. It is encouraging that the Ethics Committee has made decisions that confirmed that there were several violations of academic integrity, more precisely it confirmed that professor Bojana Lakićević Đuranović plagiarized the works of her students Drinčić and Spahić. We remind you that this came as a result of complaints submitted by the CCE, one of which has led to an ongoing criminal proceeding. With regret, we note that the management of the University of Montenegro (UoM) has shown no proactivity to check the references of its professors and hence to begin the process of separating those that belong to the academic community and those that do not belong there as they have not demonstrated respect to the intellectual property of others.
CCE will continue to factually point to these anomalies, both to the academic community and to the competent authorities as well as to the general public, trying to contribute in this way to the advancement of higher education, which in its foundations must have respect for intellectual property and academic integrity.
World Intellectual Property Day is marked annually on 26 April, as established by the World Intellectual Property Organization (WIPO) in 2001, to raise awareness of importance of intellectual property and contribution made by creators and innovators to the development of mankind.
Snežana Kaluđerović, Senior Legal Advisor